Hi Techandle Follower,
Can Cameron Monaghan possibly be younger version of the Joker in Fox's Gotham? Probably so. That disturbing smile may well be sensed in every fashion. Tonight is the night!
Let's take the opportunity to shed light on "The Joker"s historical background:
Let's wind the time back to April 25th, 1940. It was the first time "The Joker" character appeared in Batman #1. It was a spring issue entitled "Batman: All Brand New Adventures of The Batman and Robin, The Boy Wonder!"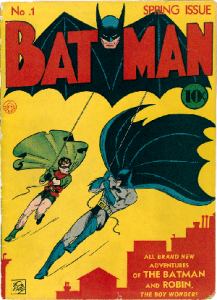 The Joker in Comics
Super villain The Joker, in his comic book appearances, is portrayed as a criminal mastermind. Introduced as a psychopath with a warped, sadistic sense of humor, the character became a goofy prankster in the late 1950s in response to regulation by the Comics Code Authority, before returning to his darker roots during the early 1970s. As Batman's nemesis, the Joker has been part of the superhero's defining stories, including the murder of Jason Todd—the second Robin and Batman's ward—and the paralysis of Batman's ally, Barbara Gordon. The Joker has had various origin stories during his over seven decades in publication. The most common story is where he falls into a tank of chemical waste which bleaches his skin white, turns his hair green and his lips bright red; the resulting disfigurement drives him insane. The antithesis of Batman in personality and appearance, the Joker is considered by critics to be his perfect adversary.
The Joker in Cinema
Our "bad boy" has appeared in a variety of media, including television series, animated and live-action films. The character's earliest on-screen adaptation was in the 1966 television series Batman, where he was played as a cackling prankster by Cesar Romero.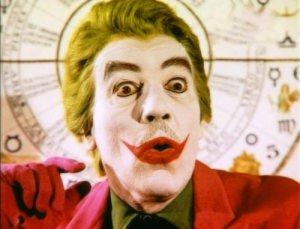 Played by Jack Nicholson, a more mature version of the Joker made his film debut in 1989's Batman, which earned over $400 million at the worldwide box office. The role was considered to overshadow Batman's, and was a defining performance in Nicholson's career.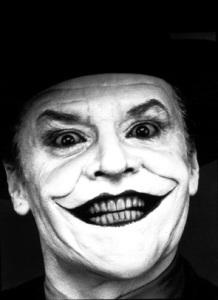 Following Christopher Nolan's successful 2005 Batman film reboot, Batman Begins, ended with a teaser for the Joker's involvement in a sequel, the character returned in 2008's The Dark Knight, played by Heath Ledger as an avatar of anarchy and chaos. While Batman Begins earned a worldwide total of $370 million; The Dark Knight earned over $1 billion and was the highest-grossing film of the year, setting several box-office records (including highest-grossing midnight opening, opening day and opening weekend). Ledger won a posthumous Academy Award for Best Supporting Actor for his performance, the first acting Oscar ever won for a superhero film.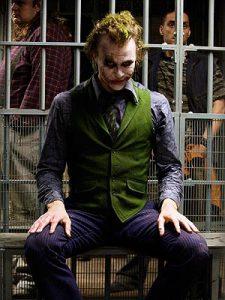 Ever danced with the devil in the pale moon light?
B.