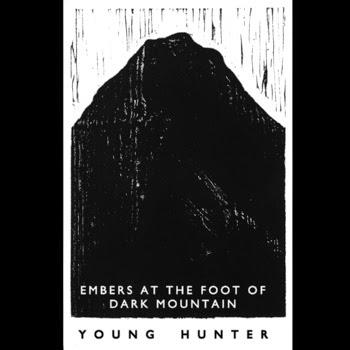 Not long ago, I read that Portland, Oregon band Young Hunter were about to start recording their new album.My first thought was, "Who?"My second thought was, "Cool name," although I've heard plenty of cool band names which weren't attached to music that lived up to the moniker's impressiveness.Is that my fault for burdening them with impossible expectations based on a name?Probably.(But come on, if you're going to name your band, say, Gigantic, fucking deliver, you know?)
Young Hunter's announcement snagged my attention, maybe because they originally hail from the Southwest desert (where I'm from), or perhaps because they recently relocated to the Northwest (where I now live).Hell, maybe it actually was their name.Regardless, I don't believe I ever had a choice-I've been an uncompromising seeker of new music long enough to acknowledge that sometimes the cosmos just wants me to hear something.And, while I've lost count of how many under-the-radar bands I've discovered through unlikely sources or apparent chance, I absolutely rely on it now.I keep my eyes and ears open, and the great music snob in the sky drops what I'm supposed to check out into my little universe.Thus did I end up with Young Hunter's most recent release, the three-song Embers at the Foot of Dark Mountain ep.
This record thrums with confidence.Years of handling A&R for a label with very little money taught me to look out for those unique talents that seem to come out of the artistic womb fully formed.Back then, if I'd heard a band this mature, I would've offered them a contract.
Calling this heavy rock does little to explain it.Yes, Young Hunter is heavy, but not because of crushing riffs or rage-fueled vocals.The music is resonant and hypnotic, the vocals smooth and restrained.But there's a blanketing weightiness to it, like an alchemical transmutation of "Why am I here?" into song.
"Welcome to Nothing" is an anthem for dislocation.It brings the metaphorical house lights down, then kicks in with the elemental rhythm of an urgent war drum."Trail of Tears" balances singer/guitarist Benjamin Blake's baritone atop a questing, bounty-hunter-in-pursuit vibe.It's cinematic stuff, bringing images of declining civilizations and extinguishing stars to my mind (something I only experience when the songs are really good).Patient but restless, expansive yet claustrophobic, Embers sounds like someone searching, and feels like things coming to an end.
Embers at the Foot of Dark Mountain was released in late 2013, and the band is crowdfunding their latest effort with a campaign on Kickstarter.Launched in mid-April, the project has until to amass $4,444 that will cover the costs of mixing, mastering, and vinyl production, not to mention rewards for their backers.
I have no idea how many fans Young Hunter has.Maybe there are fifty of us.Maybe there are ten thousand, and they'll have already met their funding goal by the time this is published.Even so, I couldn't take a chance of it not happening without trying to help.
Young Hunter accomplishes what thousands of artists have failed to do:they make resignation and disenchantment sound romantic*.Not everyone appreciates that in a band, but I think it's just about the ultimate compliment... which is why I (and perhaps you) absolutely must hear what Ben and his crew will do with a full album.Listen to "Welcome to Nothing" from the Embers EP, and maybe you'll hear what I hear.And, if you dig what you hear and want to support Young Hunter's Kickstarter, check out the details here.
* Jim Jarmusch achieved this with his typically under-recognized 2014 vampire masterpiece, Only Lovers Left Alive ... just to illustrate the quality of company Young Hunter are in.
"Welcome to Nothing" on YouTube: