Hi All,
yes this is an actual quote from a conversation I had with my best friend over music and fashion. Now, I will admit that my dress sense is a little more towards the hippie side of life, as is the music, but this was not a conscious decision just one that I seem to have fallen into and become pigeon holed. The whole conversation was based around the fact that I had spent 20 minutes singing very loudly to Janis Joplin – something that I urge everyone to do just for the sheer fun of it. The fact that I had done this didn't surprise anyone as I am known for my flowers in my hair and random outbursts about saving trees, but it did get me thinking about how music and fashion is no longer so clear cut.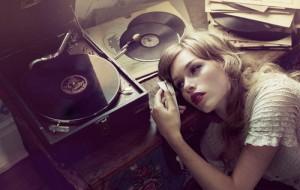 If you head back to the 70′s flower loving, guitar playing era, you wont need much time to spot someone in a floating maxi dress with daisies on her wrists. Much like the early 80′s with it's punk rock, spiked boot wearing, mohawk adorned people everywhere, up until the last 10 years music and fashion had clear boundaries. However this is no more and here i am going to try and figure out why……
Firstly I wanted to see if there was still some distinct definitions between the fashion we choose and the music we love.
The Modern Punk A/W 2013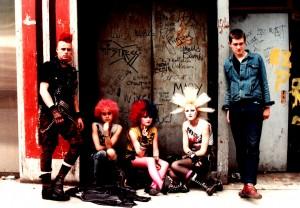 Firstly, yes punk does still exist – thank god because I love studs almost as much as tie dye!! Now though, punk is considered just a fashion trend and no longer a way of life – which I admit does not cover everyone's views on the movement and there are still people who enjoy the entire lifestyle, but this is a separate move away from them.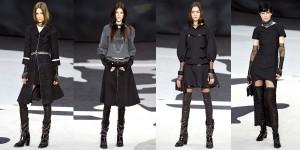 (Chanel A/W 2013)
Modern punk, although a fun take on the classic, is a little bit too obvious for my liking. It involves a large amount of black, tartan and studs. Don't get me wrong there is nothing wrong with this, it is just a little too obvious for my liking. For me I would want to blend in some vintage punk items alongside the muted modern version – I think "muted" is the best word here really and I understand why the world of fashion has done so, but still I enjoy mixing my fashion and music.
The boho, hippie influence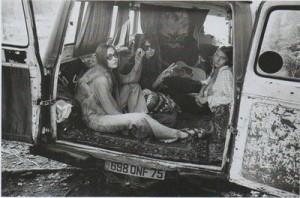 Anyone who knows me will categorically say I am a child of the 70′s (even though I wasn't yet born). For me it is a blend between the perfect music and freedom – freedom being the most important aspect. It is from here that I grew up to develop my own take on modern hippie, from flowers everywhere through to simply being at ease with my personal style, which is exactly what the hippie decade was about. I love nothing more than having bare feet placed firmly on the ground to remind me of the earth.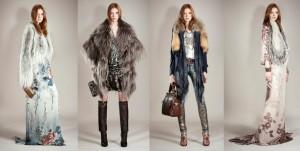 (Roberto Cavalli 2012)
My issue with modern boho is that it is stereotypical – yes hippies love ditsy florals and muted colours, but we love so much more than that and it isn't really even a choice. As this fashion movement is all about freedom, I am not suggesting that we turn our backs on modern hippie – quite the contrary as there are some stunning pieces out there. I just think that maybe it is time to head back to the music to lead us in our fashion choices?
I think, as with all art forms, fashion has moved on from taking it's inspiration from music and turned to the technological revolution which is fine, but for now I am going to keep my inspiration from the music I love.