The Award-Winning Production Heads to the North Shore's Beautiful New Theatre
Single, married or coupled, Company will make you pause for thought as Bobby and his sophisticated group of New York friends help him celebrate his 35th birthday. Blending the music of Tony Award-winner Stephen Sondheim, a book by George Furth, and original production and direction by Harold Prince, this upbeat musical won seven Tony Awards when it made its debut in 1970.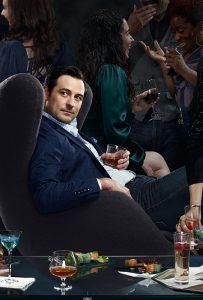 Company celebrates life, love, and marriage with all of its ups and downs. It's Bobby's 35th birthday and he's still single, something his friends want to change because they love him and want him to be happy. Trouble is, he's juggling three different relationships and trying not to commit to any of them. At this stage of his life, he's just trying to sort it all out and determine for himself…what does it mean to be alive?
This is the first time this show has been performed since 1989 and director William Brown breathes new life into the play by adding some contemporary touches. Brown previously directed Sondheim's A Little Night Music, so he truly understands Sondheim's approach. Thom Miller is the perfect Robert, handsome with strong vocals and boyish charms that reflect his insecurity and vulnerability. Christine Mild as girlfriend Marta is feisty and fun with a strong voice, but just a little too crazy to make it permanent. Lia Mortensen lends her talents as sexy Joanne, while Allison Hendrix as "sweet" Amy is delightful and sassy. Alexis Rogers is a standout as Sarah.
Sondheim's "Marry Me a Little," "Ladies Who Lunch," and "Being Alive" are also the show's memorable musical tunes that bring the story to life. Company is choreographed by Brock Clawson with musical direction by Tom Vendafreddo and original orchestration by Jonathan Tunick.
Company is playing now through July 31 at the gorgeous new Writers Theatre in Glencoe. For tickets, visit writerstheatre.org or call 847-242-6000. Head to Ogilvie Transportation Center for an easy train out to Glencoe.
Writers Theatre
325 Tudor Ct
Glencoe, IL 60022