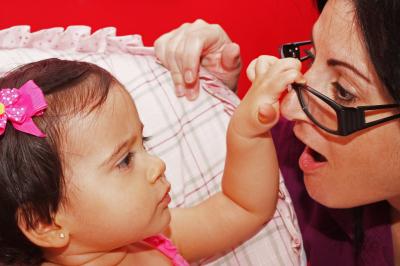 Image: FreeDigitalPhotos.net
When people ask me what I do, I am often greeted with critism and unwelcome remarks about my career choices. When I fell pregnant with my first daughter I quit my college course, when she was 9 months of age I decided it was time to start again. After months of juggling a stressful college course and being a busy mother to my daughter, I managed to pass my course. It was then I decided to put a hold to my career to have another child. When my second child came along, and my other half was promoted, I decided that being a stay at home mom would make the most financial sense, rather than paying out 2 lots of childcare. So here goes, a day in the life of a busy SAHM of two.
6:00; Wake up, make my partner's lunch for work and make my youngest child breakfast.

7:00, Youngest child wakes up, has his nappy changed and is fed breakfast.
7:45 oldest child wakes up and has breakfast.
8:30 Get children dressed and occupy them with an activity while I get on with the cleaning, this could consist of watching Cbeebies, drawing or painting etc. for my oldest child, the youngest usually placed in his play pen with his toys on in his Jumperoo.
10:00 (Yes it really does take that long just to tidy up and clean the downstairs only!) It's time to take the dog for a short walk to the park before lunch
11:00 it's time to start thinking about lunch
11:30 Time to make lunch, this usually consists of a pasta, sandwiches, omelettes, homemade pizza toasts or sometimes, plain old beans on toast!
11:45 (or possibly later if making lunch takes slightly longer) Give lunch to eldest child, and depending on the dish, feed the youngest (he is 9 months)
12:30PM Clean up the kids and the mess they have made (It's inevitable!)
13:00 put youngest down for a nap
13:30 Start an activity with the oldest child, usually consists of baking, painting or crafty things!
14:30 youngest child wakes up
14:45 this is the time we spend together usually watching Cbeebies or a children's DVD.
4:00 Make children tea, the current favorite is homemade Chicken curry with prawns.
4:30/5:00 feed the children
6:00 Bath time! I have a 3 seater bath so they both jump in together (thankfully!)
6:30 Pj's on and Daddy is home!
7:00 Wind down time, usually a shared story
7:30 Bedtime!
You would think that this would be the end of my day, but now it's time to make tea for myself and my other half, have a shower and tidy up again! This usually takes me up until 10pm which is bedtime for me before the whole day starts again.
 I'm sure people think I'm a lazy mom who gets to sit drinking coffee and watching Jeremy Kyle all day, but the truth is, I'm rushed of my feet, planning meals, thinking of different activities, cleaning and looking after both children and my other half. So next time you think being a stay at home mom is easy… Think again, sometimes I think a 9-5 would be a welcome break for me.
This post is a guest post