Designer-inventor Jaanus Orgusaar's modular, hexagonal housing concept creates space in geometric patterns. Slideshow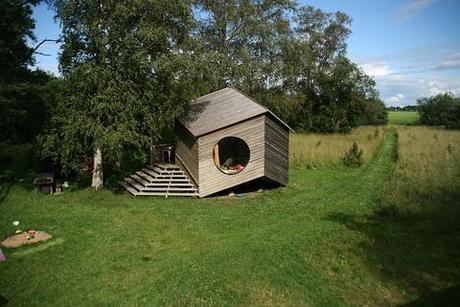 Jaanus Orgusaar's NOA cabin in the Virumaa region of Estonia is currently used as a summer cottage.
The rhombic dodecahedron may not sound cozy, but the NOA Cabin concept by Estonian designer Jaanus Orgusaar makes this shape, this basis of his intriguing housing concept, into something positively inviting. The cabin utilizes a shape found in nature (garnet, honeybee hives, diamonds) to create 270-square-foot modules that give the impression of a rounded interior due to a lack of acute angles. In a release about the cabin's construction, Orgusaar says it gives the interior an "almost sacral feeling to its round space,"
Orgusaar built the structure a few years ago, in a clearing near a pine and fir forest in the Virumaa region of Estonia, as a summer home for his family. Made from sustainable materials by the Woodland Homes construction company, the building boasts warm interior walls painted with limestone paste, and a wooden exterior dyes with iron oxide. It's currently just the right size for Orgusaar's family, but easily expands with another module.