WWTM is heading out on vacation from 8/17-9/3!  Still want a fix? Check the Facebook Page or Twitter during the break...ya never know when I'll feel the urge!  There will not be any e-mail blasts until Tuesday 9/3. Don't worry we still have this week!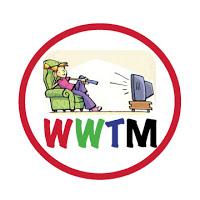 The answer to Tuesday's Trivia Question: Mork calling Orson, Come In Orson
FIRST FIVES: Sue McNamara, Michael O'Dea, Dan Realson, Monica Carafa, & Bobby Aguilear
Honorable Mention: Chris Lenge Sunday's Cable Top 5 Breaking Bad-AMC 2.9/5.9 True Blood-HBO 2.2/3.9 Keeping Up with the Kardashians-E! 1.4/2.8 Real Housewives of NJ-Bravo 1.1/2.4 Low Winter Sun-AMC 1.1/2.5 Monday's Broadcast Top 5 Under the Dome-CBS 2.3/10.1 CMA Music Festival-ABC 2.0/8.1 American Ninja Warrior-NBC 1.6/5.0 Get Out Alive With Bear Grylls-NBC 1.4/3.7
Mike & Molly-CBS 1.1/4.7
Monday's Broadcast Trendrr Top 5
CMA Music Festival-ABC 438,689
Breaking Pointe-CW 43,172
Under the Dome-CBS 30,609
How I Met Your Mother-CBS 17,197
American Ninja Warrior-NBC 12,216
Monday's Cable Top 5 
Love & Hip Hop Atlanta-VH1 2.2/4.1
T.I and Tiny-VH1 1.9/3.7
WWE-USA 1.6/4.3
Marrying The Game-VH1 1.6/2.9
The Big Bang Theory-TBS 1.3/2.8
Monday's Cable Trendrr Top 5
Love & Hip Hop: Atlanta – VH1 758,901
Teen Wolf-MTV 388,698
WWE Monday Night Raw-USA 260,716
T.I. and Tiny: The Family Hustle-VH1 30,833
The Writer's Room-Sundance 28,847
NEWS & INFORMATION:
- This year will be Sandra Oh's last on Grey's Anatomy, she's leaving the show at the end of it's 10th season to do other things I guess. I gave up Grey's the year Derek proposed to Meredith with all those candles outlining the house they would build together. Meredith always bugged the crap out of me and I was irritated by the proposal only on TV could someone find a gagillion matching candles, get them in that shape and have them all lit.  It really annoyed me and that was it.  I also gave up all medical shows that year too depressing and upsetting. I can't believe Grey's is still on the air, people love medical shows. How many seasons was ER on the air?(Yes, I'll give you bonus points for that one)  The big Christina news could bring back some viewers, but Grey's is still a top rated drama on ABC and doesn't need a big stunt to bring viewers in. They still do just fine and I'm betting with or without Christina the show will be okay if ABC renews it for an 11th season. 
-Next week's MTV Video Music Awards are always a huge deal ratings wise, but the VMA's are HUGE in Social Media too.  There was SO much interest in Tweet related sponsorship opportunities this year that MTV and Twitter are coming together with Twitter Amplify campaigns during the VMA's and many other shows and events in 2014. Twitter Amplify delivers advertiser supported content via Twitter before and during shows and events.  Tune in to check it out, the ad supported content will be featured in the pre-show, the live broadcast and all of the backstage moments as well.  Like I keep saying...social media is really at the forefront of TV viewing and will continue to enhance the viewing experience. Let's see if we can all figure out how to use it all to get the most value out of the new "live"viewing habit. 
-The following Facebook Facts were released Tuesday:
128 million users log into Facebook via web every day

This is 40% of all Americans

101 million users log onto Facebook via mobile every day

This is 33% of all Americans
-Lifetime renewed Devious Maids for a 2nd Season.  Marc Cherry and Eva Longoria must be happy. Didn't take long for them to find new jobs after Desperate Housewives ended. Anyone watching this one? 
-Netflix is closing one of its DVD distribution centers in Connecticut today, leaving them down to 42 locations. Netflix DVD customers have dropped from 10.1 million to 7.5 million in the past year because more people are streaming content whenever and wherever they can. DVD subscriptions have fallen from $320 million to $232 million over the same time span. It's true, don't remember the last time I needed something on DVD, there's always something I can find to stream if I need to.  
-TiVo is my DVR of choice, anyone who reads this blog knows that I had THE FIRST TiVO ever. So I need to give a shout out and congratulate TiVo for picking up a couple of Emmy Awards the other night. One as a partner of Time Warner Cable  for VOD dynamic ad insertion and one on their own for personalization and video search platform.  Congrats guys! 
Wednesday's Trivia Question:  What was Eva Longoria's character's name on Desperate Housewives?
WWTM-Kristy
Like me on Facebook at Watching Way Too Much
Follow me on Twitter at watchingwayt[email protected]
http://watchingwaytoomuch.com
[email protected]