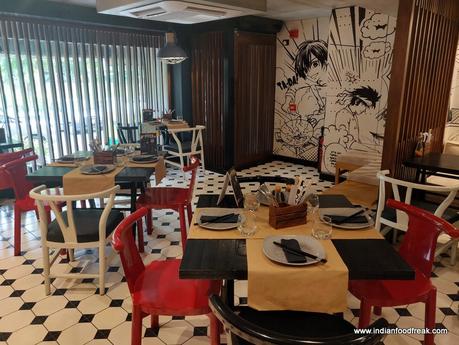 'You Mee' the sound of the name itself reminds me of Oriental countries due to the additional E in the Mee though at first thought I wouldn't have imagined it being the name of a restaurant. However it is so, a restaurant offering pan Asian cuisine with mix of Japanese, Chinese and Thai cuisine at the food hub of Greater Kailash II i.e at the M Block Market. Once I know what cuisine it is I realize I was thinking on the right track. The restaurant is an all day dining place with a casual relaxed ambience.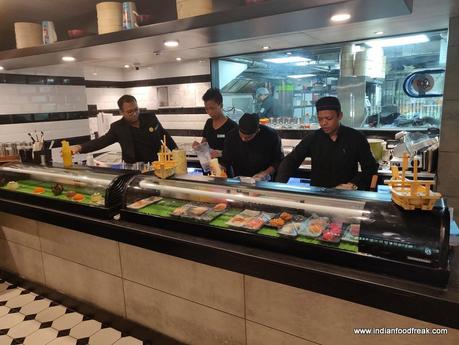 Located at the ground level You Mee has a fresh and lively look with walls painted with 'Manga' a japanese word referring to comics and cartoons. It is Japan's unique style of depicting cartoon characters which makes the place look cute, very youth friendly and lively with a nice neat look combined with wood.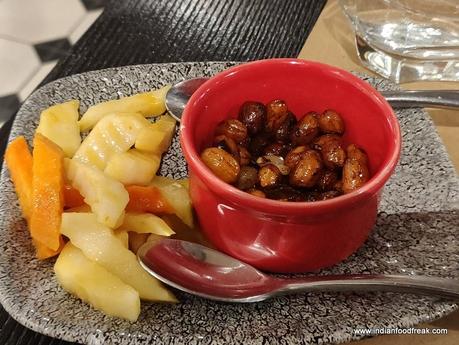 We are seated to begin the true Japanese experience of Sushi, Sashimi, Dimsum and Ramen which is an integral part of Japanese cuisine . One look at the Menu and the variety they offer in Sushi certainly impresses. We choose Super Philli Cheese Roll which has smoke salmon and creamy Philadelphia cheese and Tuna tataki consisting of crisp onion flakes, charred tuna, avocado and cheese. While we found the former absolutely delicious and is on our recommended list the latter was a bit spicy since it was high on Sriracha sauce. Considering it is Sushi one normally expects it to be mild. The restaurant offers Sushi with a choice of white or brown rice though white rice certainly remains the preferred one.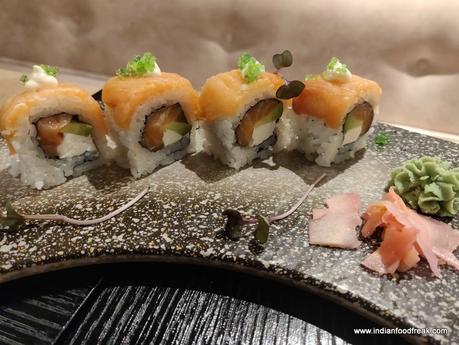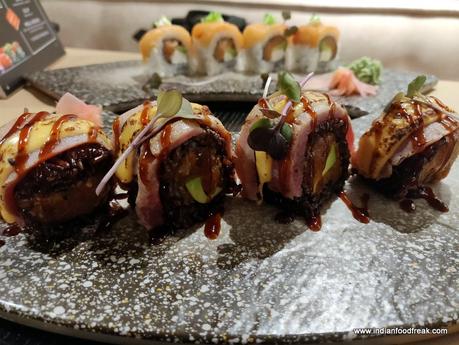 I ordered Asian Swirls one of their signature mocktail with orange chunks, kaffir lime with a hint of Japanese citrus and my friend ordered a coconut frappe to quench our thirst as it is a hot and humid day. Asian Swirls was such a refreshing drink. Citrus drinks usually give a freshness and especially so in this case where it was a well put together mocktail. I was happy to see the eco friendly straws in use.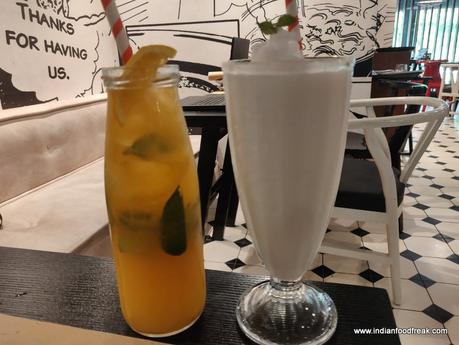 From the choices in Nagiri and Sashimi our picks were Sake Toro with charred salmon belly and Hamachi yellow tail Sashimi. Thoroughly enjoyed both especially Hamachi yellow tail. Their meats are fresh, the flavours of the accompaniments  just right, the presentations lovely which made the entire meal journey tempting and enjoyable.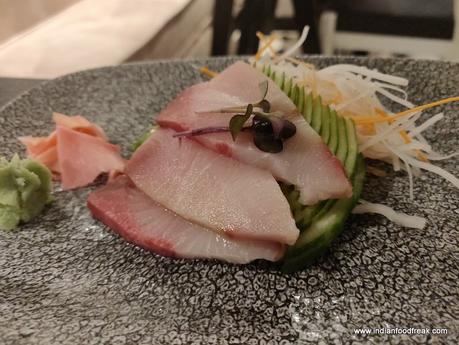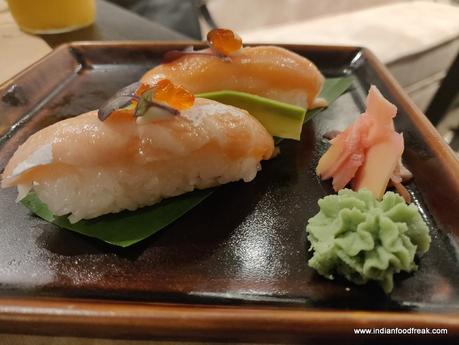 Dimsum are next on our food experience here  we make a choice of one and go for another one on recommendation. Prawn in hot yellow curry with Thai herbs was what we chose and was a delight to eat right from the coating to the filling and sauce. The yellow curry was delicious and irresistible to dip into now and then. The chicken and water chestnut dumpling was the next one we ate but did not take a liking to much. Somehow neither the filling combination nor the flavor did much for the taste buds so if you're a Dimsum fan this one can be avoided.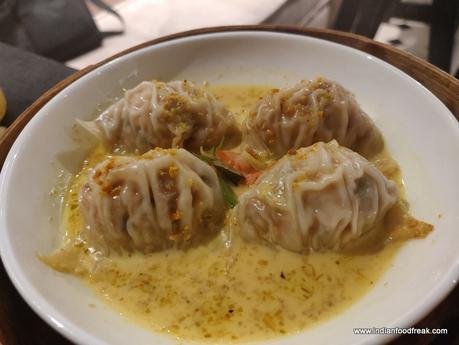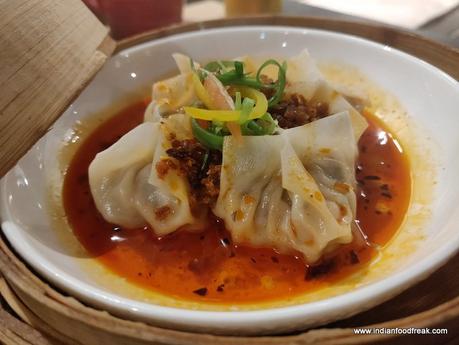 Am finally onto the highlight of the meal and while I write this my mouth is watering. We tried  You Mee Signature Ramen which had grilled chicken, prawns and calamari in miso ginger broth along with seasonal greens, bamboo shoots, wakame and egg. I had few bad experience trying Ramen at few other restaurants recently and I was much relieved to find a place doing good ramen. This dish would be enough for a person full meal in itself. Before we get to the dessert the last dish on our food is overnight braised pork ribs Japanese glaze. These mirin ,soy, sake glazed pork ribs with sancho pepper and micro greens leave you wanting for more. Made to perfection every time you bite into it you can't help but appreciate it again and again. Both these dishes are a must must have.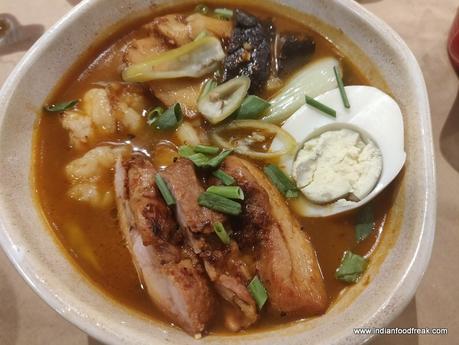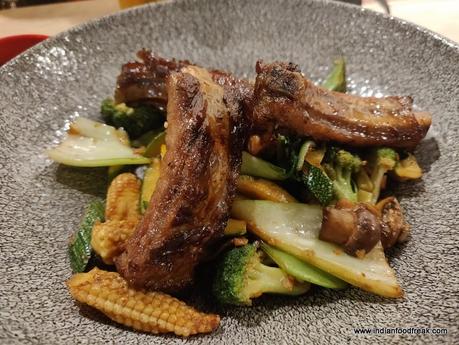 In no mood for dessert we opted for hot chocolate which was blended well with Vanilla ice cream topped with a marshmallow. Every sip of it was simply divine except for the sweetness which could have been slightly less but then I think it is subjective to personal taste.  Am I glad we chose to have Hot chocolate instead of a dessert. It is a must try at You Mee, though would be relished even more in winters.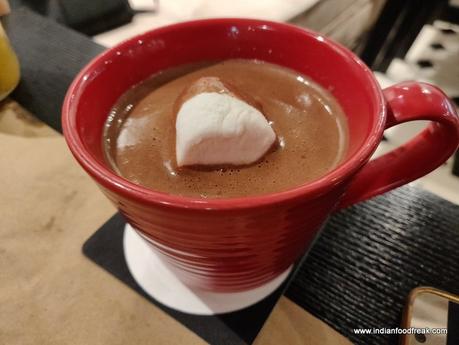 Ratings (Out of 5)
Food: 4.0 | Ambience: 3.5  | Service: 4.0 | Overall: 4.0
Meal for Two: Rs 2000   | Wheel Chair Friendly: No | Credit Card: Yes | Alcohol: Awaiting license
Address: You Mee, M 27, Ground Floor Greater Kailash 2, New Delhi 110048 | Phone: 011- 33105700
Disclaimer: This review was done on an invitation from the restaurant. Due judgment and care has been applied by the author to remain objective and unbiased in the review, but readers need to consider this review keeping this fact in mind