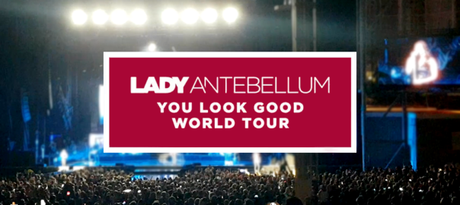 On a Summer Thursday night at the Budweiser Stage, Lady Antebellum made their triumphant return to Toronto, nearly 2 years exactly from their last trip on the Wheels Up Tour.
In 2015 we saw the trio come to town with Sam Hunt and Hunter Hayes. In 2017 they brought Kelsea Ballerini and Brett Young on the You Look Good World Tour. Both were great choices, and all three acts had the Toronto crowd singing, dancing, and owning the night.
Related: Lady Antebellum and the Wheels Up Tour Land in Toronto
If you haven't had the chance to see Lady A on stage. Find one and do it. As soon as you can.
First on the Budweiser Stage, sitting on his first #1 hit, and coming all the way from still underrated country landscape of California, was the incredibly talented and handsome Brett Young. Seriously, this dude has the entire package - his voice is rich and textured live, giving life to the songs that we've heard on the radio and his self-titled debut album.
Young understood his job on the You Look Good World Tour, he was great with the crowd, engaging and acting humble and kind. He worked the stage, and did all that he could with his four song set. Having listened to the album on more than one occasion, we would have been happy to hear twice as many songs... and we have the feeling that the next time we see Brett Young live on stage in Toronto, he'll have a whole lot more time to add to Close Enough, You Ain't Here To Kiss Me, In Case You Didn't Know, and Sleep Without You.
Get ready for more from this tall California country singer, he's here to stay.
The middle slot in the night's show belonged to another up and coming country star with hits to share. Kelsea Ballerini hit #1 with her first three singles at country radio, showing that she's a force to be reckoned with. And on Thursday night, the Tennessee native showed Toronto what she's working with in her first ever Canadian set.
Note: We've seen Ballerini live in Canada before, catching her on the 2016 Canadian Country Music Association green carpet and stage where she performed Peter Pan.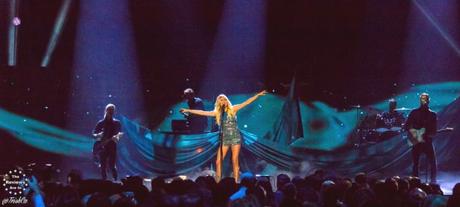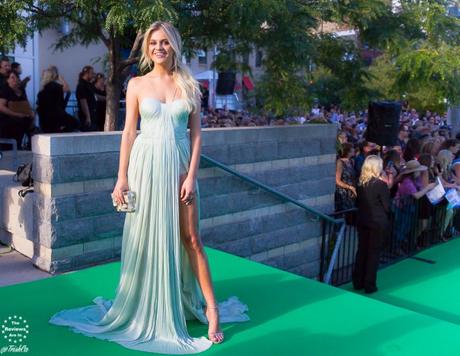 Ballerini brought the songs that her fans already know and love to the stage, and sprinkled in brand new tracks that we haven't heard yet, that she says will be on her second album, scheduled to come out before the end of 2017.
Tracks like Dibs, Love Me Like You Mean It, and Yeah Boy had lips moving and hips shaking. And it was especially awesome to see all of the dudes singing along to the 23 year old hit maker's songs. And those new songs, including Unapologetically and I Hate Love Songs, they're good. You're going to like them.
Kelsea also jammed her brand new single (that has a brand new video, click here), Legends and we're willing to bet that it won't be long before it finds a spot near the top of the charts too.
Last, loudest, and ready to party, Lady Antebellum took the stage to headline their You Look Good World Tour's Toronto landing!
Having seen Hillary, Charles, and Dave on this stage before, we felt like we knew what we were in for. But, when you're dealing with artists as talented as these three (and their amazing seven-piece band, including horns), there are still moments that WOW you, and make you fall in love with live music all over again.
American Honey, live in Toronto!

Note: Let's stick with the talent for a second... there is no overstating just how good these three performers are. Fans know the solo work of Hillary Scott and Charles Kelley, who both killed it with albums in 2016, but don't sleep on Dave Haywood. Playing guitar, mando, piano, singing on every track, he's top notch talent too.
Related: The Driver: Charles Kelley Album Review
On Thursday night the Toronto fans got to hear the hits in a 19 song set list that included covers of Tim McGraw, Shania Twain, and Beyonce, #1 singles I Run To You, Need You Now, American Honey, Our Kind Of Love, Just A Kiss, We Owned The Night, and fan favourites that had everyone standing, dancing, singing, and loving every minute of the show.
With songs from their latest release, Heart Break, joining the previous hits, the Lady Antebellum set list has become even more robust, and added the newness and freshness that keeps country fans coming back to see them on every tour, with enthusiasm and love.
As always, Lady A played with the crowd perfectly, leading sing alongs, showing love and appreciation for the support they've received over the last 10+ years, and playing their hearts out.
Without fear of talking out of turn, we feel confident in telling you that the amphitheatre crowd would have been glad to hear another 10 songs in the set, no matter how much later that would have taken us into Thursday night.
Like we said in the open, if you haven't seen Lady Antebellum live, do it. Find a way, find a show, and be there to experience it all, live and full of love.
Lady Antebellum, You Look Good World Tour Set List
Downtown
Our Kind Of Love
This City
Dancin' Away With My Heart
Heart Break
Compass / We Owned The Night
American Honey
I Run To You
Good Time To Be Alive
Thy Will / Hello World
You're Still The One (S. Twain)
Just A Kiss
You Look Good
Lookin' For A Good Time
Something Like That (T. McGraw) w/ Brett young
Crazy In Love (Beyonce) w/ Kelsea Ballerini
Love Don't Live Here Anymore
Encore
In The Air Tonight / Bartender
Need You Now
Also, Shania was in the house... how freaking cool is that?!