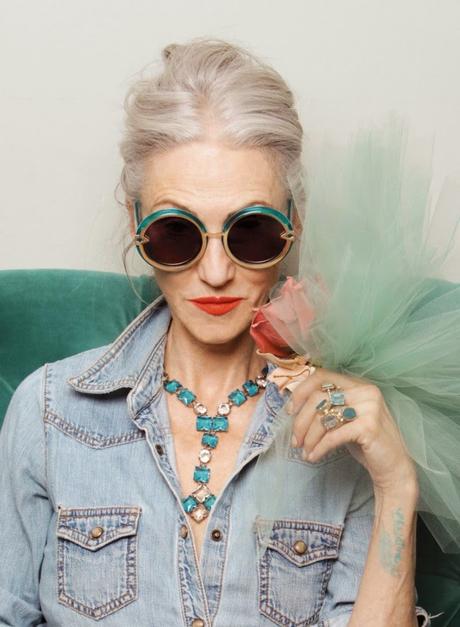 Source
The first time I saw a picture of Linda Rodin was while perusing Pinterest. Her look piqued my interest, and by clicking through to the source, I ended up on a website called Advanced Style. This blog is ran by a woman named Ari Seth Cohen (Not to be confused with Seth Cohen from The O.C.). She is a photographer in her early 90's living in New York. Advanced Style offers a refreshing new-take on fashion - or should I say an old-take? It's unfortunate, but it's not often you see fashion represented for those above the age of 50. I know that style is not something that you lose when you get old, because there are tons of women who refuse to dress conservative just because they've gone gray. I've seen them. And maybe it's not my place to say this, because I'm only 25 years old, but I do not think getting old is a bad thing! I don't think it should mean you have to become boring. I certainly feel that when I'm 50, 60, or 70 and older- I will still like the things I like now (to an extent). I know this, because I see pictures of really cool well-dressed women at those ages, and think to myself "That is so going to be me". So, the Advanced Style blog is extremely inspiring to me. And it's how I found Linda Rodin, who in my opinion, deserves the hashtag #goals. I could only hope to be as cool as her when I am in my 60's.
She's often seen (and photographed) with big, glamorous sunglasses; hot pink lipstick, bright silver hair, and her silver poodle - Winky. What I like about her look is that it is classic, comfortable, as well as consistent. She's often seen in denim, she's no stranger to a good pair of jeans. Her hair is gorgeous, and it makes me wonder why any women stress about going gray or why they spend lots of time and money covering up their gray hair. My mom has silver hair, and she hasn't dyed it for years. She's only 50, which is the new 30, but I love her hair. It's clear to see that the stigma against gray-ing hair is dissolving, especially when I've seen more than a handful of girls my age purposely dying their hair gray. Which isn't easy, mind you. You have to get the perfect whiteness and then use toner - or get it done professionally.
Linda isn't as obsessive with the sunglasses as, say Anna Wintour; and when she is without them, you can see that she barely wears any make-up. She likes bright lipstick colours, but all she uses on her eyes is Maybelline's Great Lash (you know, the pink and green bottle) which coincidentally is the same mascara my mom has been using for-ever. Linda's business is skincare. Her line Rodin Olio Lusso, also includes two fragrances. I haven't had the pleasure of using and of her products, I'm pretty sure they're sold at, like, Holt Renfrew. Probably a little out of my price range. But maybe one day!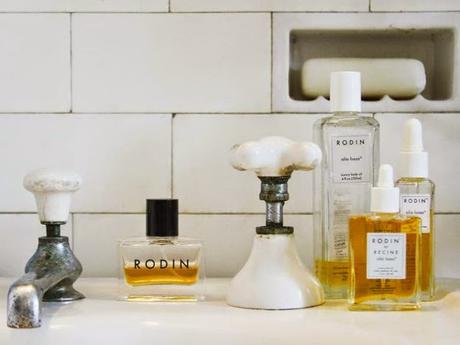 In her earlier years, Rodin worked for Harper's Bazaar. She worked as a stylist for the rich and famous (like, Madonna). She was also a model. In fact, she still is. Linda modelled for Karen Walker eyewear in 2013.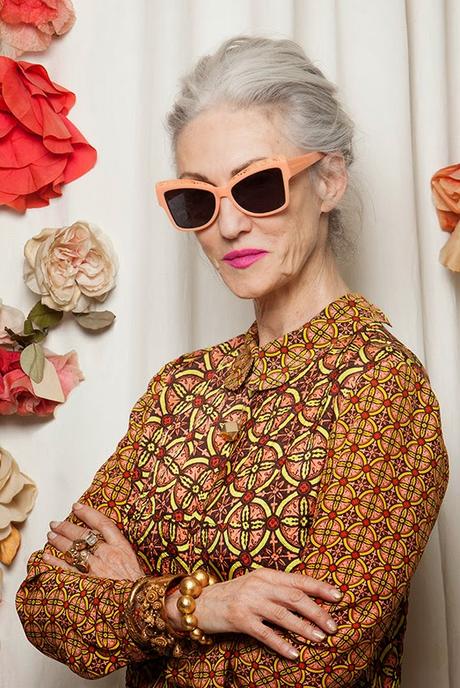 Karen Walker Eyewear Spring/Summer 2013
She was asked by the Olsen twins to model for The Row for their 2014 pre-fall Lookbook. She's also been featured in tons of magazines, including Vogue. The Coveteur did a great shoot with her, which showcased her amazing apartment. It is an absolute dream: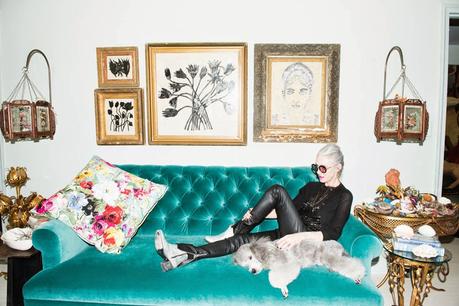 I absolutely love this couch. The color is fantastic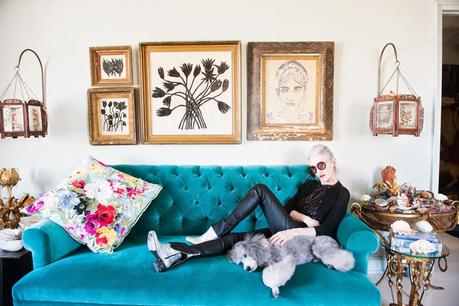 I also love how wide it is at the seat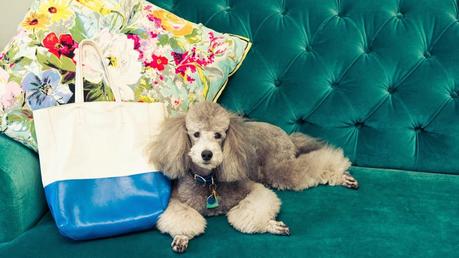 Linda's adorable poodle, Winky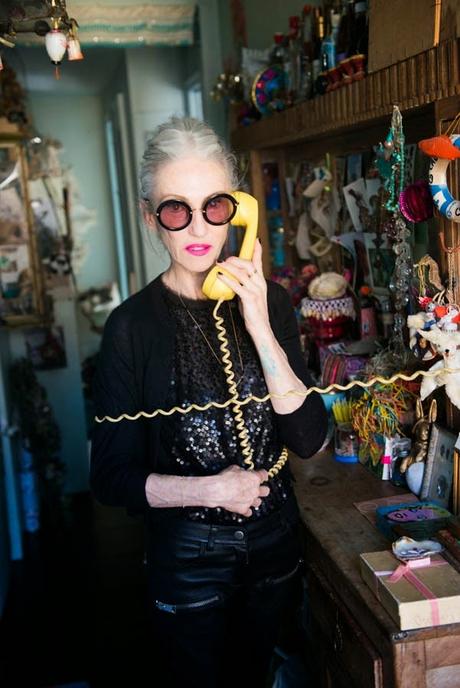 Source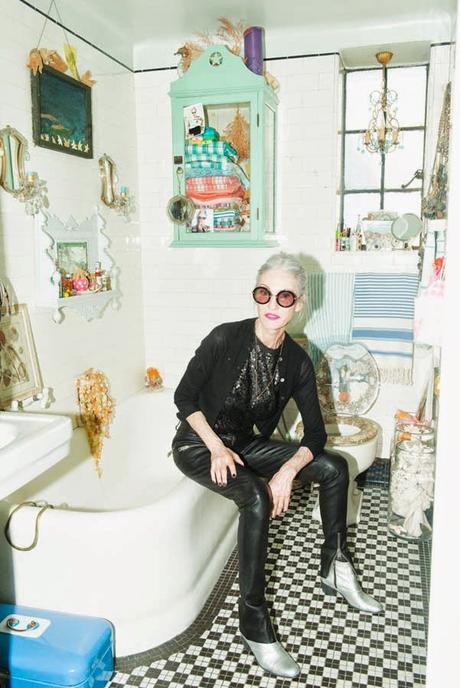 Her bathroom is under the sea themed and magical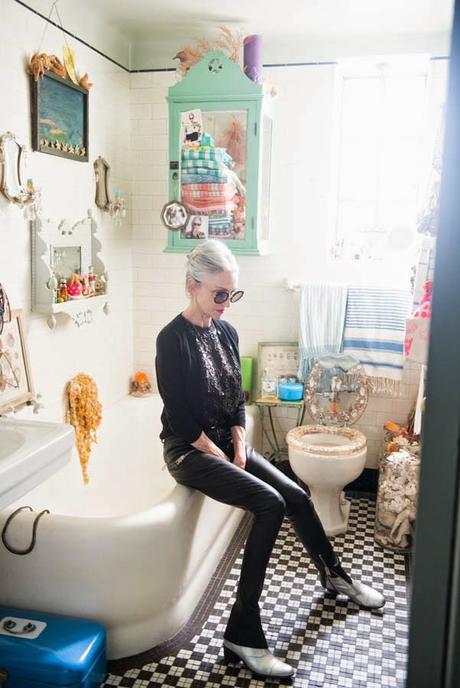 The black and white tile floor is so cute and so are her silver boots

And my favorite set of photos featuring Linda, Winky, and their incredible home, are credited to Audrey Kitching: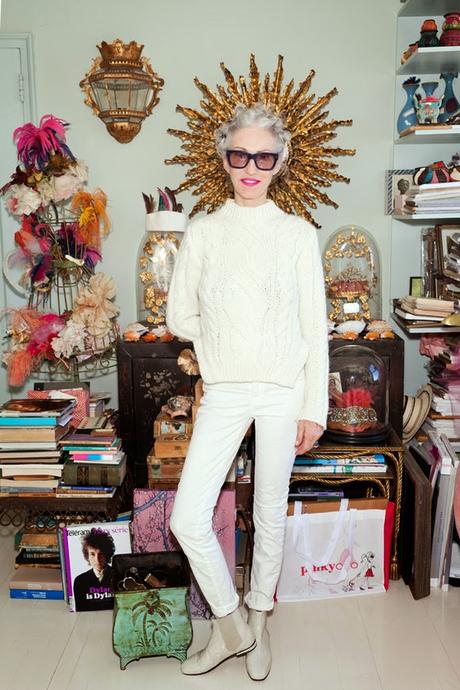 Linda's home looks absolutely filled with one-of-a-kind treasures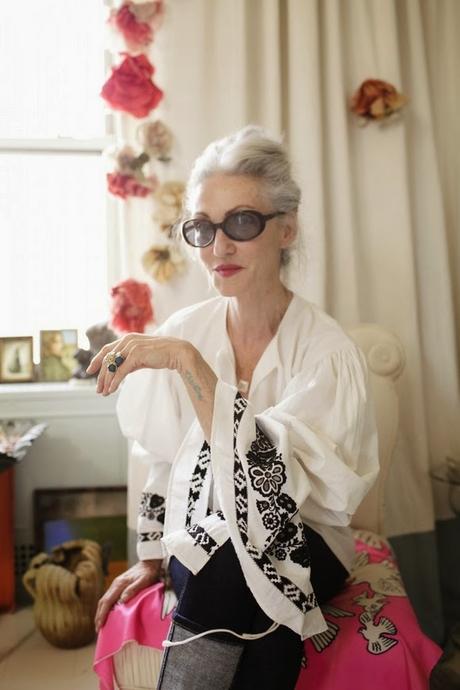 Source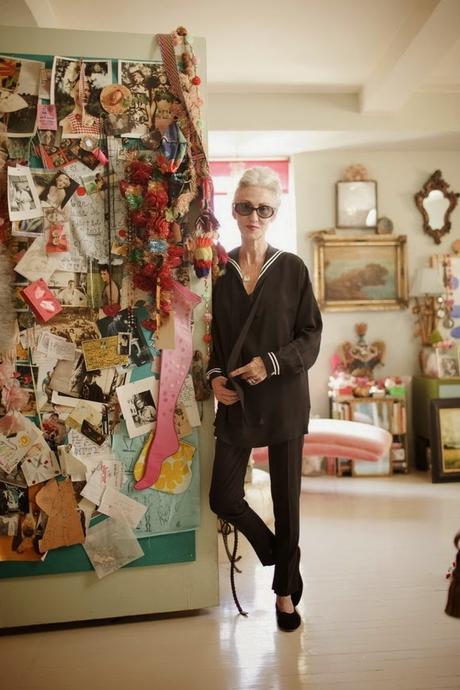 Source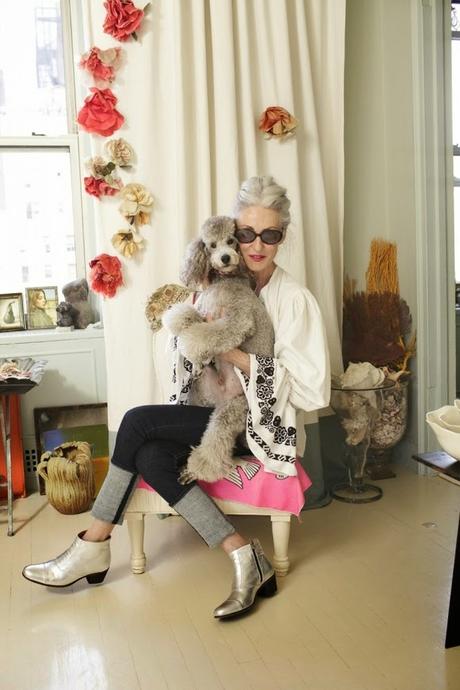 Linda and Winky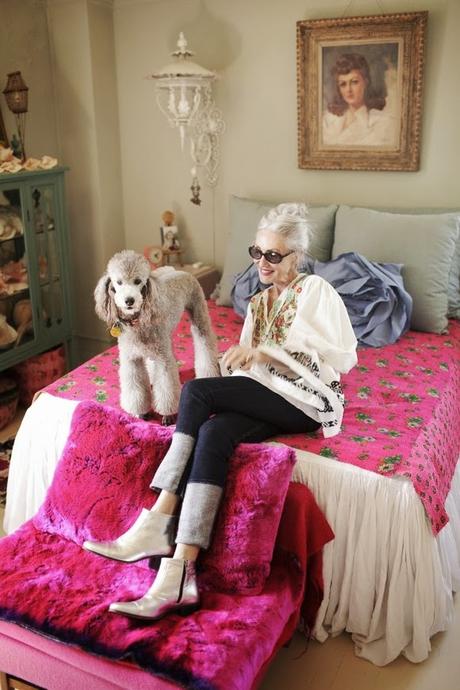 Source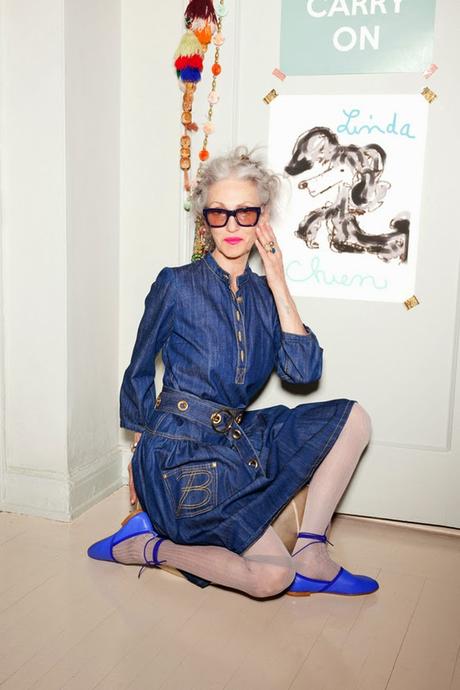 Denim queen in flats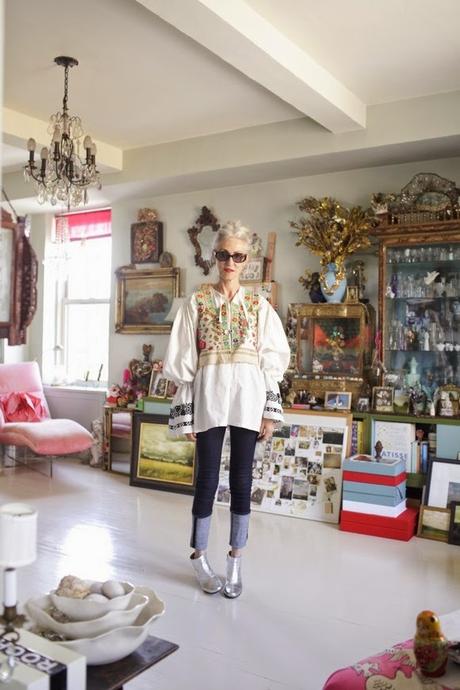 Looking fabulous in cuffed, skinny jeans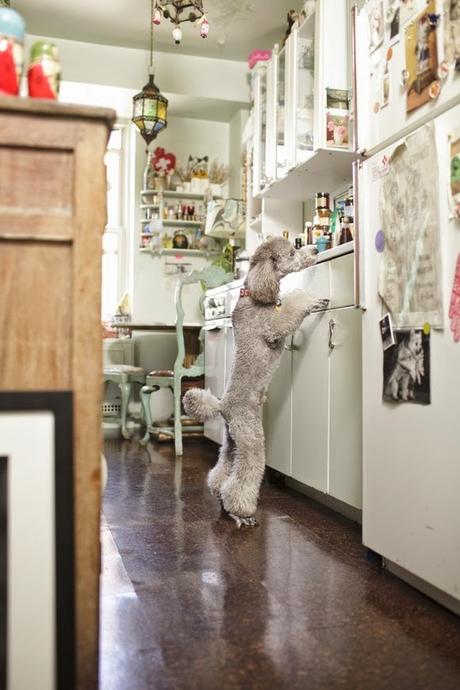 Winky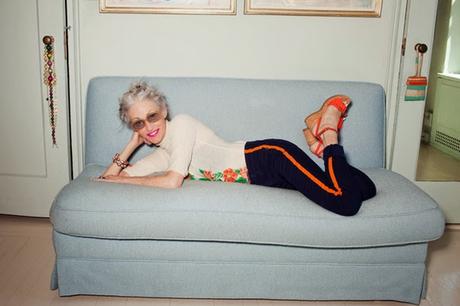 My favorite picture of her. She looks so full of life