Want proof that Kentucky Football is moving up in the world?  We now have our own Minifigure!!  From OYO Sportstoys, you can now own a UK Football player minifig, or even better, a UK Randall Cobb minifig!  (Better known in some circles as Lego men.)  You can check out the press release below:
OYO Launches Football Minifigure for Univ. of Kentucky Wildcats

For the first time, Wildcat fans and lovers of building block toys can unite their passions.

OYO Sportstoys is now selling building block minifigures wearing the full uniform of the Kentucky Wildcats.  In addition to team uniforms, the minifigures have rotating forearms and bending knees to allow them to run, sit, squat, and grip and throw a football. College football OYOs have one extended forearm and one bent forearm to allow for a variety of position-specific poses.  Each figure is about one inch tall and comes with a football, a helmet with removable facemask, water bottle and a rectangular stand, all in a special package that can be used to display your collection.

Each OYO Minifigure, which is compatible with popular toy building blocks, has its own unique identification code, called a DNA number, which identifies when it was produced and sets it apart from other figures in each new product release.

In addition to Kentucky, other available SEC schools currently available include LSU, Texas A&M, Georgia and Auburn.  Schools from major conferences are also available and more top schools are continually being added.

"We're thrilled to add college football to our growing list of products," said Tom Skripps, president of OYO Sportstoys. "The demand for buildable sports product has been amazing and we're excited to tap into the passion of Kentucky football fans."

OYO Sportstoys retail for an average price of $12.99 each and are available for purchase at major retail outlets, stadiums and online at www.oyosportstoys.com.  Check the OYO Sportstoys Web site for more detail on store listings.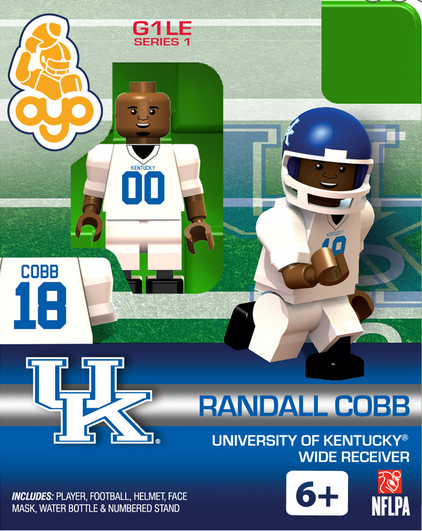 Be on the lookout for use to have some giveaways for a few of these figures soon.