I expect many of you know the very talented Lucy from Button Fayre who creates stunning designs in gorgeous fabrics and super cute buttons.
However Lucy is here today to share with us a craft that she is still a beginner at, and to say that if you fancy doing something you should just try it out. Over to you Lucy….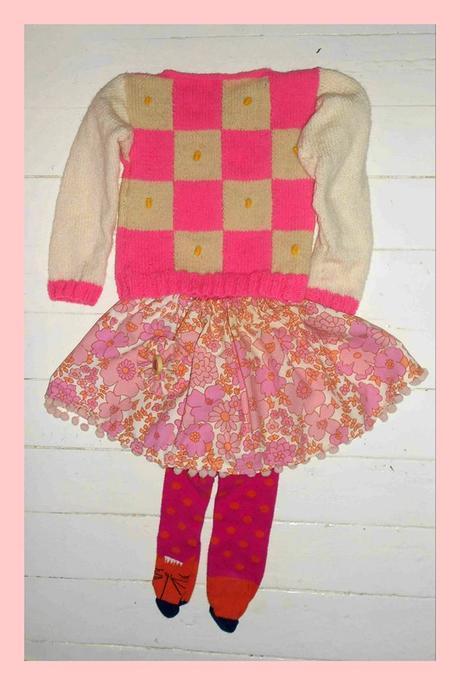 "
I thought this might be another perspective from a knitting point of view because I can't really knit to save my life. Well, I can very basically but my tension always goes wrong or I end up with holes and I can't follow a pattern to save my life! 
So, I was very proud when I recently finished this little jumper for my 3 year old twin girlie and it took me 6 weeks!! 
It's nothing compared to the things 'real' knitters can do but I'm quite proud of myself for at least having a go.
It's not the very first thing I've ever made but it's the first more complicated thing really as usually it's squares to make a blanket with. I crochet but can only do squares or flowers.  I made the pattern up myself too, it was pretty simple, just two squares for the front and back and then the sleeves that I added stitches too as I went up."
I think we can all agree that for a first attempt this little jumper is lovely. If you want to start knitting make sure you enter my giveaway for the book Knitting Basics and there is another giveaway coming tomorrow which will run through until the end of the month.
If you want to see more of Lucy's designs you can find her on her website, Pinterest, Facebook and Twitter. This cushion by the way is an example of what Lucy creates in her day job! Isn't her work just beautiful.