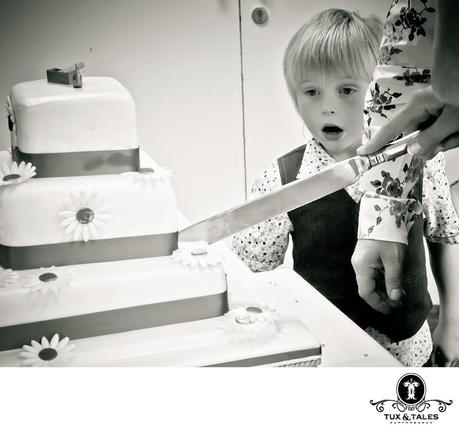 One of the greatest things about being a wedding photographer is watching the children. Heck – sometimes I think brides and grooms with little ones should hire a separate photographer just to follow around the children for the day because there are usually so many good moments that you never have to point your camera at a child for longer than a minute before they do something fabulous.
I particularly love this photo because it is one of those moments where capturing the moment triumphs over technical concerns. My camera had been set to expose for the bride and groom (who were much more illuminated than their son who was standing in their shadow). However, when the little best man pulled this face, it became 'setting be damned' and I just snapped away. If I had changed settings the moment would have been gone.
Sure, it took a few extra minutes in photoshop to brighten the exposure, and there are small technical imperfections in the photo – but who is ever going to notice when they see the fabulous expression on his face?
Sometimes as photographers we get all caught up in the specifications and technicalities and it takes the kids to bring us back to what really matters.
{lang: 'en-GB'}