Okay,  so here is the thing – I love looking at photos. Seriously, when people invite me to their house, they nearly have to rip me away from their family photo albums. Some people complain about how their Great Aunt Margaret shows them photo after photo of old, dead relatives they never met. Not me….no….I say 'Bring em on Auntie Marge!!"
I even like looking at pictures of other people's long lost relatives. It's sick – it's wrong. I know this.
So, in this vein, I thought it would be fun to dig back through some of our favorite photos and take a peekie pie at them again.
It is part of the obsession – I am seeking help.
In the mean time, enjoy our new "Picture of the Week" feature.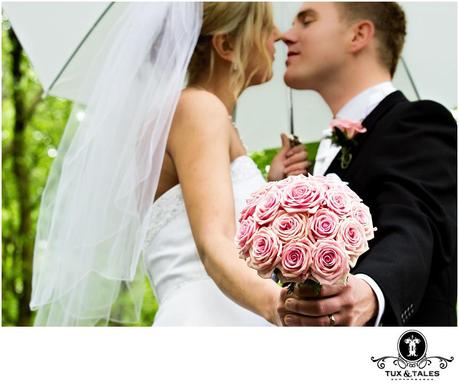 I'm not ashamed to admit it – I am a
sucker
for rainy day brides. I love pictures of brides in wellies with brollies of all shapes and sizes. I love the fun and carefree nature of a bride who isn't afriad to 'dance with the mud' in her wedding dress. I know that somewhere in the lore of old wive's tales, rain on your wedding day is (no – not ironic) good luck – and I completely agree. Any bride and groom light enough in spirit to brave the rain on the biggest day of their life – has the right stuff to make a long and happy marriage.
I love this photo of Candy and Nathan at their Chevin Country Hotel wedding. I love the romantic kiss….I love the classic petal pink roses…I love the big white brolly….I love the adventurous spirit that took Candy and Nathan out into the rain……
{lang: 'en-GB'}