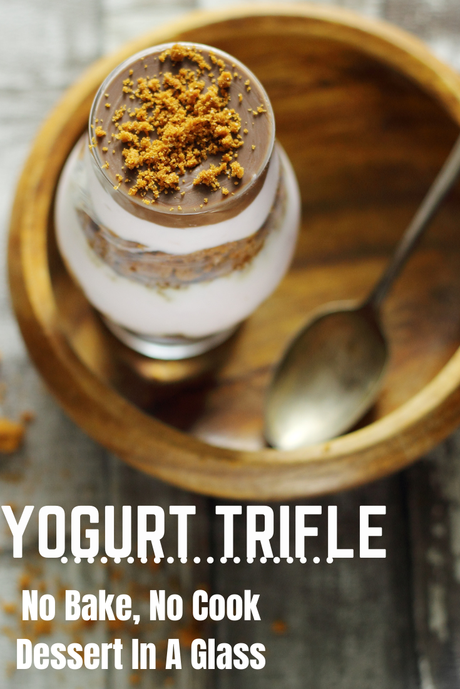 It was 5 years ago when I went to Istanbul Turkey when I first tasted a yogurt enriched with kefir and it was a love at first sight for me. Beautifully fermented and so authentic that my body immediately realised that I ate something good. What is Kefir, if you ask? Kefir or kephir (ke-FEER), is a fermented milk drink similar to a thin yogurt that is made from kefir grains, a specific type of mesophilic symbiotic culture. If you want to know more about the health benefits of kefir I highly recommend you read this.
Now, I am someone who takes probiotics supplements everyday because my gut health is not that good. So when I was recently asked if I would like to try products from the company called Biotiful Dairy, I instantly said yes and was so excited to give it all a try because their products are loaded and enhanced with kefir. Their portfolio of products is so interesting and attractive, from Original Kefir Drink to Kefir Cheeses. From Kefir+Protien deepened Drinks and Yogurt to Kefir Ice-cream and Kids Friendly Kefir range-they have it all covered.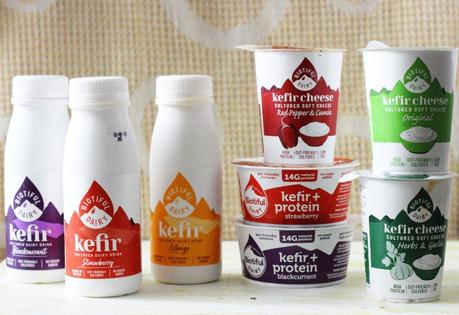 Biotiful Cultured Dairy Milk is a great alternative to those sugar loaded drinks. On a dull afternoon while we played chess we gulped on Mango and Strawberry flavoured yogurt drink and were absolutely hooked. Nutritious Dairy drinks that are light and fruity- smooth, luscious bursting with fresh flavours.
I also tried my hands on Kefir Cheeses and I can bet they are amazing alternative to cottage cheese, feta cheese or those cheese spread you get in the market. There are so many ways you can use these cheeses in day to day recipes such as in sandwiches, omelettes, on your salad, over crackers with some tomatoes or just have them as a dip with crunchy cucumber and carrot sticks. I used two big spoons Herbs & Garlic Cheese into my tomato pasta and it made it so creamy and just so yum. The cheeses can beautifully flavoured and so light on tummy-you have to try them.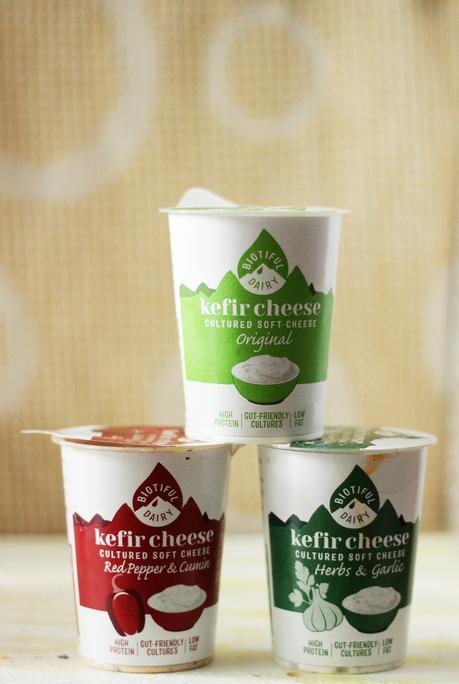 Biotiful also sent me Kefir + Protein snack tub which combines the gut-friendly benefit of Kefir with the high-protein creaminess of Quark. It has a pure, natural taste and a delightfully thick and creamy texture. This is a perfect after meal dessert idea or just to beat your hunger pangs during the middle of the day. You can add in some chopped fruits or berries or even top up it with handful nuts to make it even better and scrumptious. One day, when the temperature went up, I skipped my lunch and had mango and blackcurrant flavoured from this series and I was completely filled up and sufficed.
To tell you more about Biotiful Dairy; they produce cultured Kefir Dairy drinks and snacks using British milk and the ancient method of fermentation. The result? Cultured milk drinks and snacks that are naturally lower in sugar, full of gut-friendly cultures and high in protein. Almost all of their products are:-
Billions of gut-friendly bacteria

High in protein & calcium

Source of Vitamins B12 & B2

No sugar added

Red Tractor approved farms

Free of artificial colours, flavours and preservatives

Gluten free

Suitable for vegetarians

Kefir made in the UK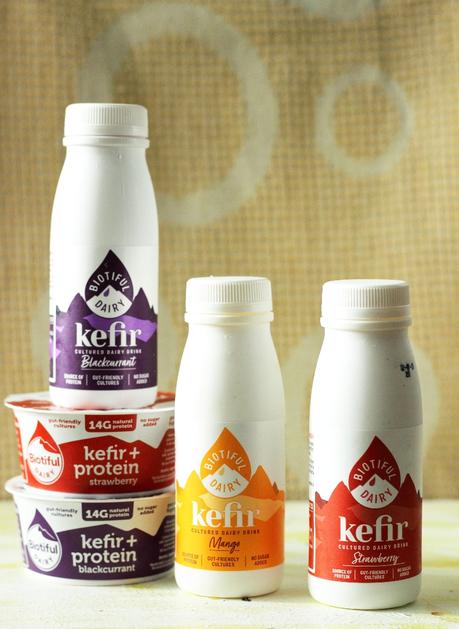 When I was left with
Strawberry flavoured Kefir + Protientub
, I knew I wanted to create something with it. I understood that this 'just rightly' sweet snack will make a perfect dessert. Desserts in a glass are my all time favorite ones. Easy to make, easy to serve and looks beautiful too! So, with that thought I decided to make
Yogurt Trifle
. No bake, no mess, no cooking-easy peasy summery Yogurt Trifle.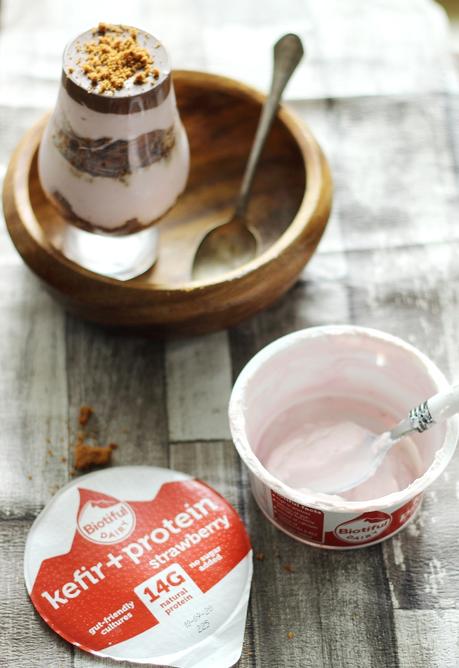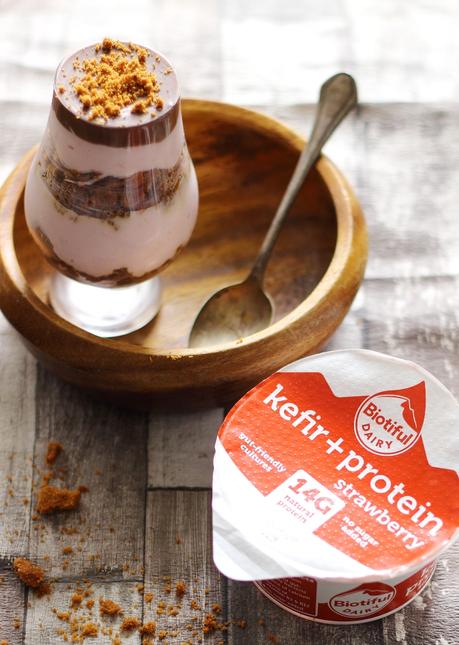 This layered gorgeous looking dessert gets ready in a jiffy and there are tons of variations you can do here. I used Lotus Biscoff biscuits as my first layer but you can use any digestive biscuits, oreos, cream biscuits, cookies or even granola or crushed cornflakes. For the second layer I used Biotiful Dairy's Kefir + Protien Starwberry tub but you can use any flavoured yogurt, fresh cream or just plain yogurt too. For the final layer I chose to use melted chocolate, but you can opt for caramel sauce, dark chocolate gauche, melted white chocolate or even fresh fruits or nuts. There are so many ways you can mold this recipe as per your choice and preference.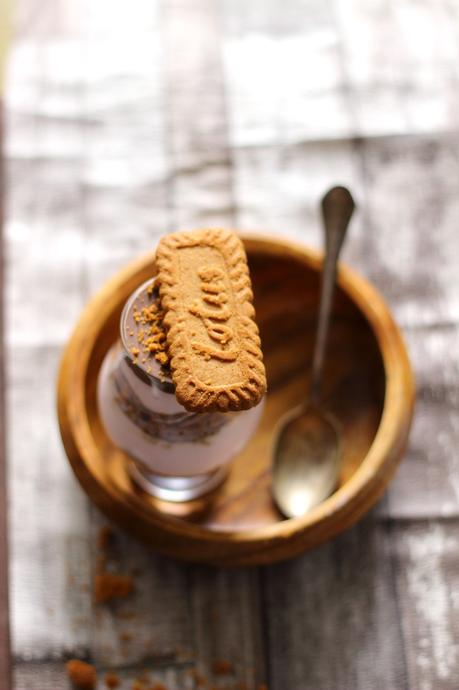 ½ cup of crushed biscuits. I used lotus
2 tablespoons butter
1 cup flavoured yogurt. I used Biotiful Strawberry
4 Tablespoons melted chocolate
Method:
Melt the butter in the microwave for 10 seconds. When done add in crushed biscuits and mix well. You should have crumbly biscuits.
Take a glass in which you want to serve the trifle and start layering.
Add in around ¼ cup of crushed biscuits to the bottom of the glass and press well.
Beat the yogurt well so that it becomes creamy. Top the yogurt on the biscuits layer. Around ½ a cup.
Add on biscuits layer on the yogurt now. Around ¼ cup of it.
And then top it off with the remaining biscuit mix.
Finally add the melted chocolate on the top. Keep it in the fridge and serve cold.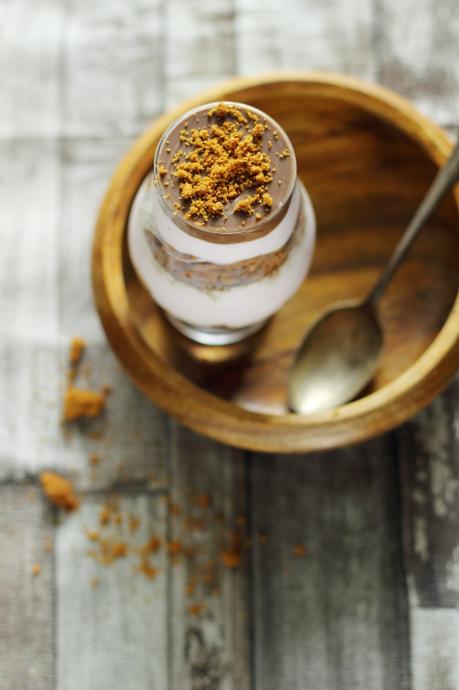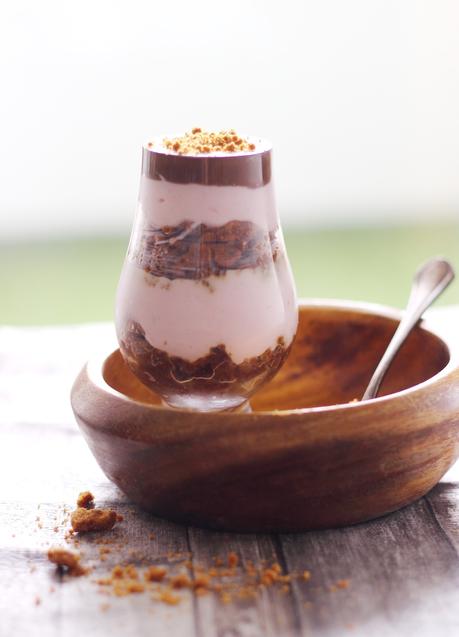 Notes: 

The amount of ingredients you use is also dependent on the size of the glass you are serving.

I like my desserts to be rightly sweet, so if you like extra sweet then you might need to add some honey or sugar in the yogurt. I feel that biscuits and chocolate balances the overall sweetness well.
Disclaimer: I was not paid or told to write positive review. The post is based on my experience and is unbiased. Thanking Biotiful Dairy  for products for review.