by Baxter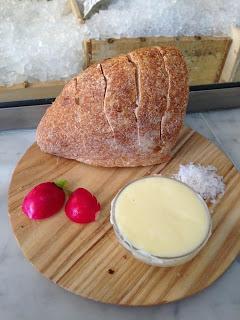 Fresh Bread and Fresh Butter
made and photographed by
Rosie Gibson
It is always a bit bittersweet for me come mid-July when I return from my annual yoga retreat at the Feathered Pipe Ranch (link to their website here) in Helena, Montana. It is a magical place for my students, and me, and most of our every-day needs are met by the staff at the Ranch, freeing us up to dive deep into the yoga and community. 
At this year's retreat, I focused on many of the concepts we talk about here at Yoga For Healthy Aging, including therapeutic sessions on topics ranging from arthritis to digestion. One of the lovely things about going on these sorts of retreats is that all of your meals are prepared for you, and all you have to do is show up for meal times. The Ranch is no different, and they pride themselves of the variety of healthy, mostly organic foods that they prepare for us each year, from Indian to Thai to Mexican, to the "Toledo Lunch" (a throwback to my childhood favorite, grilled cheese sandwiches and tomato soup). In addition, they always have tempting desserts, from fruit cobbler to fresh baked cookies and cakes to something outrageous called Chocolate Decadence! The downside to this, at least from my perspective, is that the food is served buffet style, so there is the daily opportunity to overeat, despite the overall healthy options provided (minus some of the desserts, of course!)
I have to remind myself to be more mindful about my eating when at the Ranch. It is very easy to make a second trip up for some more of my favorite things, even when my first plate of food was more than sufficient to satisfy my hunger. Satiety is different than eating until I feel "stuffed." which unfortunately happened a few times last week. But because I was also on retreat in my own way, even though I was teaching twice each day, I was able to have the time to meditate consistently first thing in the morning for about 15 minutes. I found that as I sat quietly focused on my breath or simple mantra (see
How to Start a Meditation Practice
), I became acutely aware of how my body was feeling and responding to the previous days food choices. I also would recall if I woke in the middle of the night with indigestion, gas, bad dreams, or the urgent need to use the bathroom. This feedback allowed me to more consciously set an intention around my food choices for the rest of the day.
Since I tend to desire more processed sugar than is healthy for me, (is it really healthy for anyone?), I began to modify my breakfasts, the only meal I prepared for myself in the little teacher's cabin kitchen, leaving out the jam on my toast and adding in a piece of fresh fruit to satisfy that sweet taste desire that I have. And I began to notice that my energy levels were higher for the rest of the morning as the week progressed. Quite motivating! I have to admit that dessert time was still a tough one, but was at least more mindfully dished and consumed than earlier in the week. 
Surprisingly, I realized I was looking forward to being back in my own kitchen where I could more easily design my meals for not just quality, but also quantity.  All these insights and behavior changes and choices arose directly out of the introspective practices of yoga, like simple breath awareness. They were there for me, and they are available for you, too. As we keep reminding you, consistent practice is a key feature of transformational practice. Guess it was good I did my meditation first thing today again, and my continued healthy, well-proportioned meals choices are reflecting it!
I've been thinking a lot about healthy eating and healthy digestion because my two-part online course at Yoga U is coming up soon. To sign up for the course, you can register here. For a free audio interview with me on yoga for healthy digestion, download the interview here.