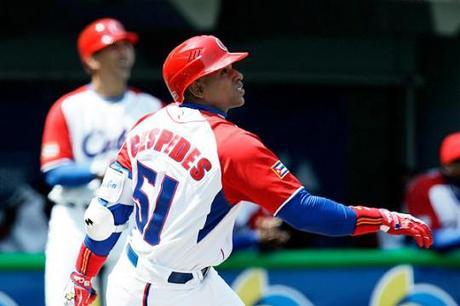 Cuban slugging sensation, Yoenis Cespedes, who has been rumored to have six MLB teams interested in him this offseason, can now officially negotiate with teams in the U.S. after receiving his travel visa in the Dominican Republic this week.
The 26-year-old outfielder is first meeting with Miami Marlins officials on Wednesday, according to ESPN. Cespedes, who recently defected from Cuba, has been playing in the Dominican winter league while being courted from various teams in the U.S. Along with the Marlins, the Chicago Cubs, Chicago White Sox, Detroit Tigers, Baltimore Orioles, and Cleveland Indians have all reportedly shown interest in Cespedes this offseason.
The Marlins, who have already signed Mark Buehrle, Jose Reyes, and Heath Bell this winter, would seem like a natural fit for Cespedes. Miami has a large Cuban population and will likely see a surge in popularity this season with their new free agent signings, along with their move to a brand new ballpark. In an interview with ESPN.com, Marlins team president David Samson claimed that signing Cespedes would be a luxury that the Marlins don't necessarily need after their flurry of activity this winter.
"We want him, but we don't need him,"

- David Samson, Marlins president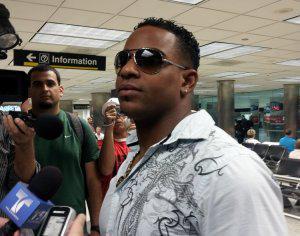 Yoenis Cespedes arrives in Miami this week
There has been much speculation about the five-tool Cuban slugger this offseason. Cespedes became somewhat of a hot stove sensation after his promotional video appeared on YouTube and other websites frequented by baseball fans in the last few months. After setting the Cuban National Series home run record during the 2010-2011 season, Cespedes defected from his native country in hopes of breaking into the major leagues. Contract figures for Cespedes have him possibly inking a deal anywhere from $30 million to $60 million from one of his potential major league suitors.
The Chicago Cubs were supposedly the team with the most interest in Cespedes last month, as Cespedes himself claimed that he had dined with Cubs officials on more than one occasion. Dayan Viciedo, the Chicago White Sox's likely starting right fielder this upcoming season had reportedly reached out to Cespedes in a recruitment effort initiated by Viciedo, who also hails from Cuba.
Like Yu Darvish, Daisuke Matsuzaka, and other international baseball players before him, Yoenis Cespedes has posted impressive numbers in his home country's league, while MLB teams looking for the next big prospect are willing to pay out huge money for a player who has zero major league experience. Of the six teams interested, chances are that not all of them are realistically looking to lock up Cespedes, but may be helping drive up the price for rival teams. The Cubs and new president Theo Epstein may be testing the Cespedes waters as they have been aggressively decreasing payroll and plugging in veteran players on the cheap. The chances of the Cubs wanting to fork over $50 million to an unproven talent are pretty slim.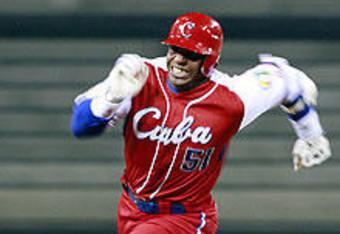 What is all the hype about? A look at Cespedes' numbers in the Cuban National Series, Cuba's amateur baseball league, will reveal a talented player who has risen to the top of Cuban baseball. While he's well over the age of a typical MLB prospect, he may be entering his prime, and if he can adjust to major league pitching rather quickly, he could give a major league team a big return over the next five years. Here are Cespedes' hitting lines for each of his Cuban National Series seasons* (Serie Nacional teams play 90 games per season):
2003-2004   .302/.382/.503
2004-2005   .313/.403/.540
2005-2006   .351/.444/.649, 23 home runs
2006-2007   .303/.402/.541, 17 home runs
2007-2008   .284/.342/.552, 26 home runs
2008-2009   .323/.411/.601, 24 home runs
2009-2010   .345/.426/.617, 22 home runs
2010-2011   .333/.424/.667,  33 home runs
* Statistics courtesy of Baseball-Reference.com
While posting near a 1.050 OPS over three full seasons (270 games) in the Cuban National Series is an impressive mark, who knows how that will translate if and when Yoenis Cespedes faces major league pitching.
With the MLB's new collective bargaining agreement in place, and a spending cap for international signings looming, Cespedes, along with the recently signed Yu Darvish of Japan, may be the last breed of $50 million foreign free agents.
With Cespedes finally on American soil this week after a winter's worth of signing rumors, it will be interesting who will take a chance on the Cuban outfielder, and for how much.
-James Kries