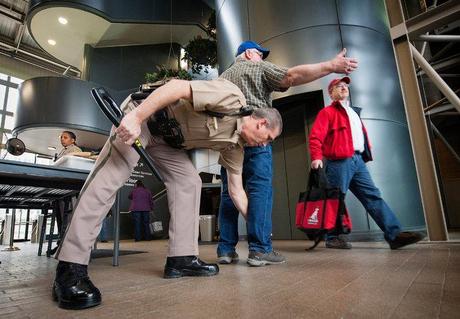 Launch media viewerWichita City Hall, which already had metal detectors and security, is one of the few public buildings in the city where concealed weapons will still be banned. 
Yessirree, Bob! Good old wild, wild West Kansas is in none other than the New York Times today and if it isn't on slashing education funding, well then, it must be on gunz in that state and what a good idea they are:
Keeping Public Buildings Free of Guns Proves Too Costly for Kansas Towns
It seems the Kansas Republican legislature screwed over their own populace by making it EXTREMELY EXPENSIVE to NOT allow guns in public spaces, all the time, everywhere:
WICHITA, Kan. — Reasoning that more guns mean greater safety, Kansas lawmakers voted last year to require cities and counties to make public buildings accessible to people legally carrying concealed weapons.
But for communities that remained wary of such open access to city halls, libraries, museums and courthouses, the Legislature provided an exemption: Guns can be banned as long as local governments pay for protections like metal detectors and security guards, ensuring the safety of those they have disarmed.
It turns out that in Wichita, the state's most populous city, and in some other towns, the cost of opting out before the Jan. 1 deadline was just too high.
"It was essentially being foisted upon us," said Janet Miller, a City Council member in Wichita. The city applied over the summer for a six month exemption but voted last month not to extend it after the police estimated that it would cost $14 million a year to restrict guns in all 107 city-owned buildings.
While Republican-majority legislatures across the country are easing restrictions on gun owners, few states are putting more pressure on municipalities right now than Kansas. The new law has forced some local  leaders to weigh policy conviction against fiscal pragmatism in a choice that critics say was flawed from the start: Open vulnerable locations to concealed side arms or stretch meager budgets to cover the extra security
measures.
The ignorance, callousness and even stupidity of this is nearly mind-numbing for anyone who cares more about lives than the presence and/or ownership of weapons.  And this, ladies and gentlemen, is why, as we all intuitively know:

It only stands to reason. It's logic.  Well, it's logic to everyone except
weapons-all-the-time-and-everywhere
supporters. Statistics and research (you know, that scientific stuff?) show it, time and again, across the world, yes, but even in studies in the US, from state to state:
Homicide - Harvard School of Public Health
And get this, even Kansans are against this lunacy:

According to a 

poll

last year by Fort Hays State University, about 56 percent of Kansans strongly or somewhat opposed allowing concealed firearms in schools, hospitals and government buildings.

So to heck with what Kansans even think or feel or want, the Republican legislature is going to shove guns on them everywhere, for everyone, representative governm

ent be damned.

I fully expected their own--I mean, our own--Kansas state capitol building to be exempt from this ban but no, they took their commitments to insanity there, as well, I found:


What they lack in common sense and intelligence, at least they try to make up for with consistency.  Consistently stupid and irresponsible.
So thank you, very Republican Governor Sam "Slasher" Brownback and the very Republican statehouse. Once again, foisting things on the Kansas public Kansans don't even want, like additional tax breaks for the already-wealthy and corporations, heavy and copious tax increases for and on the backs of the middle- and lower-classes and--again, yahoo!--deep cuts to the education system.
Yeehaw, indeed, Kansas.  Giddyup.  The new state slogan:  Kansas, forward!  Into the 19th Century!