The Tawdry Ways of Operatic Royalty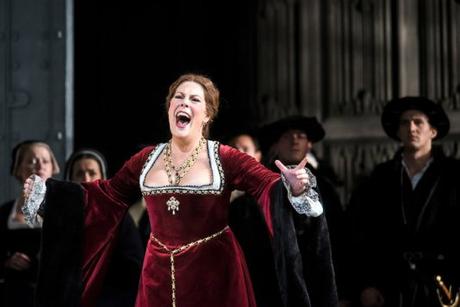 Sondra Radvanovsky as Anna Bolena (Photo: Ken Howard)
Opera is such a fascinating subject! There's no end to the plots and personalities depicted in them; a steady stream of individuals placed in complicated situations, sometimes by their own doing and sometimes by the machinations of others.
In fact, opera is the great leveler of the high and mighty, as well as the low and the commonplace: aristocratic kings and noble princes, haughty queens and ice-cold princesses, gnomes and giants, mythical and magical creatures, simple seamstresses and impoverished poets — all are brought down to meet their fate in the end, whether it is never-ending love or everlasting torment.
Too, historical and fictional portrayals are one of opera's myriad delights. A guilty pleasure, if you will, for lovers of the form. We mortals, who dream of better lives for ourselves and for our friends and relatives, simply dote on the foibles of those who believe they are over and above the natural order of things. Know that in opera, there is no such thing as the "natural order."
Opera — and those talented souls who wrote the scores and fashioned the librettos — was originally intended to uplift one's being or spirit to another time and another place. In identifying ourselves with the characters depicted onstage, we feel transported by them and, in a sense, commiserate with them (admittedly, to a limited extent) in the quandaries they are inevitably confronted with. This goes for most works in the standard repertoire, but especially those that follow the lives of the self-styled rich and famous. And not just due to one work, but to several.
Some of the more, shall we say, "out-of-the-way" curiosities can be found in such an ignoble protagonist as the fabled wife killer Duke Bluebeard, portrayed in two distinct interpretations, i.e., Bartók's darkly shaded Bluebeard's Castle (1918) and Dukas' Ariane et Barbe-Bleue (1907), along with Offenbach's earlier 1866 satirical opéra-bouffe Barbe-Bleue, which makes light of the serial killings by bringing back those supposedly deceased ex-wives to marry six princely suitors.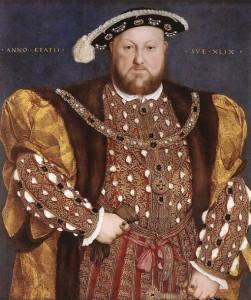 Hans Holbein portrait of Henry VIII
Among the royals, there are several versions of the British House of Tudor, notably Camille Saint-Saëns' rarely heard Henri VIII ("Henry VIII") from 1883, which dramatizes the philandering ruler's attempts to divorce his Spanish queen, Catherine of Aragon, in order to marry the lovely Anne Boleyn. Henry's only child from Catherine was a daughter, Mary Tudor, or Mary I of England and Ireland, identified in history as "Bloody Mary." She served as queen from 1553 until her death in 1558. Her husband (or consort) during her short reign was none other than Philip II of Spain, who we know from Verdi's Don Carlos.
An opera entitled Maria Tudor by the Brazilian composer Antonio Carlos Gomes, depicting Mary's alleged love affair with the fictional Italian adventurer Fabiano Fabiani, premiered at La Scala in 1879 with an all-star cast headed by soprano Anna D'Angeri as Mary, mezzo Emma Turelli as Giovanna, tenor Francesco Tamagno as Fabiano, baritone Giuseppe Kaschmann as Don Gil, and bass Édouard de Reszke as Gilberto. Unfortunately, the opera was an abject failure at its first hearing, due mostly to a highly partisan local crowd.
In dealing with King Henry VIII's other daughter, the temperamental Elizabeth I (whose mother, you may recall, was the beheaded Queen Anne), we are not only faced with Donizetti's two treatments — Maria Stuarda, i.e., "Mary Stuart," from 1835, in which the Virgin Queen puts in a truly memorable appearance (even though the two cousins never met in real life), and Roberto Devereux from 1837, documenting the rise and fall of Elizabeth's lover, Robert, 2nd Earl of Essex — but an earlier 1815 setting of her story, Gioachino Rossini's two-act Elisabetta, Regina d'Inghilterra ("Elizabeth, Queen of England").
Less well known than those of his rival Donizetti, Rossini's piece concerns itself with the affairs of the Earl of Leicester, the jealous queen's commander of the army, and his secret marriage to Matilda, the daughter of Mary, Queen of the Scots(!); in other words, our friend Mary Stuart. Essentially, it's the same old tale (more or less embroidered, of course) as Donizetti's Maria Stuarda, in which Robert, Earl of Leicester, also plays a prominent part.
Be that as it may, Elisabetta is probably better known to musicologists as having been pasted together from several different sources, among them the composer's thrice familiar overture to Aureliano in Palmira which was later reused in The Barber of Seville. You can't keep a good melody or tawdry tale down, now, can you?
The Other Boleyn Girl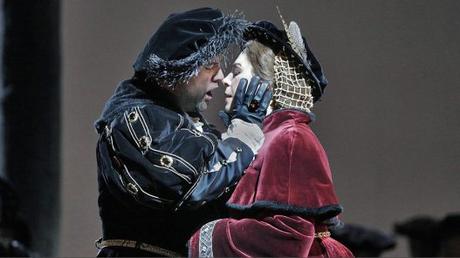 Henry VIII (Ildar Abdrazakov) & Anne Boleyn (Sondra Radvanovsky)
Of the many bel canto works scheduled to be heard this season, the most highly-anticipated involve the Metropolitan Opera's first-ever presentation of Donizetti's complete cycle known as the Tudor Trilogy. This was quite a major undertaking for the company, but a long-delayed one in my view. The now-defunct New York City Opera had previously staged the works back in the halcyon days of the 1970s for their erstwhile singing sensation, the lively and bubbly Beverly Sills.
It's a shame the Met never got around to giving Ms. Sills a better vehicle to showcase her singing and acting talents in one of the above-mentioned coloratura specialties. Barring the misconceived Sandro Sequi/Nicola Benois production of L'Assedio di Corinto ("The Siege of Corinth") by Rossini, of course, in which she made her belated company debut on April 7, 1975, alongside Shirley Verrett, Justino Diaz, and Harry Theyard. Still, better late than never, I always say!
The trilogy started the ball (or the heads) rolling with Sir David McVicar's version of Anna Bolena on the Saturday matinee broadcast of January 9, 2016. Originally, the opera had its overdue Met premiere back in 2011, with Russian diva Anna Netrebko in the title role (for the background and review of Anna Bolena, as well as some historical perspective on the bel canto period, see the following links: https://josmarlopes.wordpress.com/2015/06/15/met-opera-odds-and-ends-the-works-i-couldnt-miss-and-those-i-wish-i-had/, and also: https://josmarlopes.wordpress.com/2015/06/15/met-opera-odds-and-ends-the-works-i-couldnt-miss-and-those-i-wish-i-had/).
The cast for this revival of Anna Bolena was spearheaded by the ravishing Sondra Radvanovsky as Anne Boleyn. She will be featured in all three Donizetti works over the course of several months. Serbian mezzo-soprano Milijana Nikolic made an unscheduled Met Opera and radio broadcast debut as Anne's rival Jane Seymour, replacing the previously announced Jamie Barton.
The other cast members included mezzo-soprano Tamara Mumford as Smeaton (who is smitten, you'll pardon the pun, with Anne), tenor Stephen Costello as her former lover Lord Percy, bass Ildar Abdrazakov as King Henry VIII, and bass-baritone David Crawford as Anne's brother, Lord Rochefort. Marco Armiliato conducted, without a score I am told.
Initially, I found McVicar's production rather drab in setting, with the prevailing gray and black color scheme oppressing. But the vibrantly colorful costumes by Jenny Tiramani, and the superb choral work under Met Opera chorus master Donald Palumbo, were truly exceptional. In any case, the glamour and glitz should come from the singing, which was obviously the case with the incredibly agile Ms. Radvanovsky.
The Callas Connection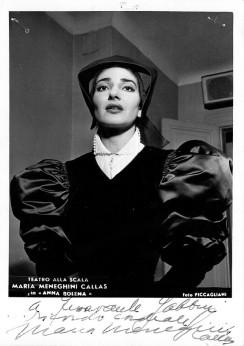 Maria Callas as Anna Bolena, La Scala, Milan, 1957
The legendary prima donna, Maria Callas, was one of several major artists to revive the long dormant bel canto repertoire, and this neglected work in particular, with the premiere of the legendary April 1957 Luchino Visconti production at La Scala, Milan. Her co-stars on that gala occasion happened to be equally legendary: Giulietta Simionato, Nicola Rossi-Lemeni, Gabriella Carturan, and Gianni Raimondi. Her conductor was Gianandrea Gavazzeni. We'll be discussing La Divina Callas in a minute.
What struck me most about Anna Bolena were the ever-present echoes of the forthcoming Lucia di Lammermoor, which debuted in 1835, five years after Bolena's completion, especially in the extended scena ed aria near the end, just prior to her execution.
The character of Anne Boleyn may have been on her way to her death, but the singer in question, Sondra Radvanovsky, was alive to every nuance that the role could offer. Parallels to be drawn between Radvanovsky's Anna and Madame Callas' interpretation were absolutely necessary and justifiable. It was uncanny, to these ears, how Sondra's overtones were so very like those of Maria's way of singing of the part. Radvanovsky held her own throughout that lengthy death scene in which she rose to tender heights of poignancy.
The final tableau, a tour de force mad scene of sorts, finds Anne warbling a variation on the song "Home, Sweet Home," with the nostalgic line "Be it ever so humble, there's no place like home,"  especially telling. Surely, the bel canto style was at its most persuasive and emotional in this context, with sedate ornamentation and delicate vocal turns.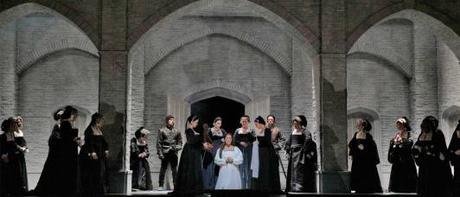 Sondra Radvanovsky in the final scene of
Anna Bolena
(Ken Howard / Met Opera)
Touching, affecting, and evocative of better times, the tune reverberated quietly throughout the house and surely must have touched listeners' hearts, both at home and in the theater, with its aptness and simplicity. Donizetti played the same trick again, with his use of the English national anthem, "God Save the Queen," in the overture to the last work in the Tudor Trilogy, Roberto Devereux.
Russian bass Ildar Abdrazakov's Henry VIII (called Enrico in the score) also compared favorably to other exponents of this part, i.e., Rossi-Lemeni, Cesare Siepi and Nicolai Ghiaurov. Although he has no solo to his name, musically I found Abdrazakov to be slightly more throaty and dry-voiced in the lowest reaches, but he looked authoritative and smashing in the monarch's regal robes. Stephen Costello'a light-toned tenor felt strained in higher passages, coming in just under the note on several occasions.
The other artists Nikolic, Mumford and Crawford (sounds like an advertisement for a patent law firm) were all fine and acceptable in their parts, with maestro Armiliato conducting about as well as anyone can, given what he had to work with. Donizetti is one of those Italian operatic composers whose every number ends in practically the same stop-and-go manner (if you don't believe me, try listening to his L'Elisir d'Amore — afterwards, we'll talk). There is much to admire and like about the Tudor Trilogy, which only gets better as it goes along.
We can see now why Callas was so taken with Anna Bolena, but not for the reasons she may have thought of at the time. An ironic connection to her own life occurred when she was faced with her lover Aristotle Onassis's desertion, dumping her for former First Lady Jacqueline Kennedy, the widow of slain U.S. President John F. Kennedy — a strange twist of fate and an uncanny resemblance to the notorious acts of Henry VIII.
Callas had left her husband and longtime manager, the much older Giovanni Battista Meneghini, in 1959, two years after she had met Onassis at a party given by admirer Elsa Maxwell in her honor after a performance of Anna Bolena in Milan. While Onassis was still legally married at the time, he and Maria had a torrid affair aboard his yacht.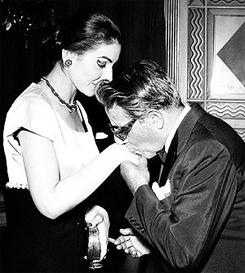 Callas with Onassis
Almost ten years later, in 1968, Onassis left Callas to marry Jackie. The marriage lasted until his death in France, on March 15 1975, though he never stopped seeing Maria clandestinely and on the side. Callas herself passed away two years later in Paris, of a heart attack. Some believe it may have been due to a broken heart.
In a September 2011 Opera News article about the real Anne Boleyn, author Adrian Tinniswood quoted the nineteenth-century writer Henry William Herbert, who penned the Memoirs of Henry the Eighth. Herbert wrote: "If nothing in [Anne Boleyn's] life became her like the leaving of it, at least that became her well."
One could say the same for Maria Callas, Anna Bolena's greatest interpreter. No champagne wishes or caviar dreams were served at either of their funerals.
Copyright © 2016 by Josmar F. Lopes