There's regular pub food, and then there's Japanese izakaya food. It's a combination of snack food and delicious Japanese dishes.
Yaki onigiri is no exception, as it's a tasty and savory grilled rice ball with a fluffy and sticky interior glazed with a soy or miso umami flavored sauce.
The rice balls are an ideal snack to enjoy alongside alcoholic drinks.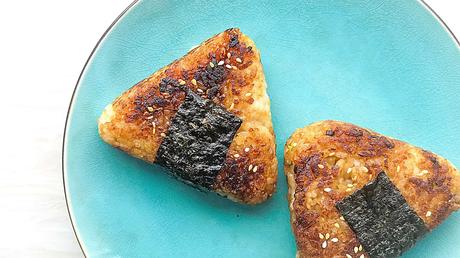 Something about this savory dish with its crispy texture makes it the perfect snack to have at home too. The inside of the ball remains soft and sticky, so it just melts in your mouth.
Yaki onigiri is the grilled cousin of the original steamed rice onigiri. I dare say the crispiness makes it even tastier!
Easy yaki onigiri you can make yourself
The recipe is easy to make, and you can "grill" your rice balls in a cast iron pan on those days when you don't feel like bringing out the BBQ.
All you have to do is shape your rice balls, coat them in sauce, and grill them to crispy perfection.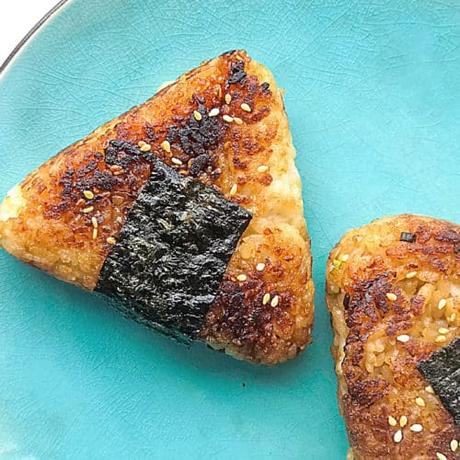 Print
Yaki Onigiri recipe
Just a quick heads up, to make the best yaki onigiri, you need to use special short-grain rice called Koshihikari. It gives the rice balls a soft and fluffy texture. You can find this rice in most Asian supermarkets or on Amazon. Luckily, sushi rice is another great substitute, and it's much cheaper and more accessible, so I highly recommend good-quality sushi rice for this recipe. The reason you can't just use any rice you have in the pantry is that you need to use sticky rice, or else the yaki onigiri won't hold their shape and texture, and they can fall apart while you grill or fry them.
Course
Appetizer
Cuisine
Japanese
Keyword
Sticky-rice
Prep Time
5
minutes
Cook Time
40
minutes
Servings
3
rice balls
Author
Joost Nusselder
Cost
$5
Equipment
Ingredients
1

rice cooker cup (¾ US cup)

sushi rice or Japonica (koshihikari) rice

1

cup

water

2

tbsp

soy sauce

1

tsp

miso paste diluted in 1 tsp water

1

tbsp

butter

1

tbsp

vegetable oil

1

tsp

sesame seeds

toasted for garnish
Instructions
The first step is to cook the rice in a rice cooker for approximately 20-25 minutes or according to package instructions.
In a small bowl, mix the soy sauce, miso paste, and dilute it with 1 tsp of water.
Once the rice is cooked, wet your hands, so the rice doesn't stick, and scoop a handful of rice into your hand. Shape the rice into a big round or oval ball. You can make any shape you prefer, including triangles, but a ball is the easiest to make, especially for beginners.
Once shaped, squeeze the rice ball firmly to help the rice stick and maintain its shape. You must make three rice balls.
Heat the oil in a cast-iron pan. Add half of the butter and wait until it starts to melt. Now place the three rice balls.
Brush the soy and miso sauce on each rice ball. Grill the onigiri for about 7 minutes on one side until they are well browned and cooked.
Now flip over, brush each with soy and miso sauce and add a small piece of butter on top of each. Continue to cook for another 5 minutes or until crisp and golden brown. The butter will help the rice develop a nice crispy crust.
Once ready, plate and garnish with a sprinkle of sesame seeds.
Notes
Some people have trouble molding the rice into the desired shape because it can start to fall apart and crumble. The problem could be due to the rice, but I have a handy tip for you. Cover your palms with a light coat of potato starch, and then shape the balls. The starch helps the rice grains stick together.
If you like the flavor of toasted buttery rice, I recommend cultured butter because it delivers an authentic milky butter flavor.
You can use any miso, but I recommend a light yellow or red miso because it has less of a fermented flavor and it's less salty.
What is yaki onigiri?
Yaki onigiri (焼きおにぎり) is a grilled rice ball. Yaki means grilled, and onigiri is a rice ball, so as the name suggests, this food is a grilled and stuffed rice ball that can have a round, triangular, or oval shape.
Each rice ball has a crispy exterior and a sticky, fluffy inside similar to a mochi ball.
The most common stuffings range from umeboshi pickled plum to salted salmon, katsuobushi (skipjack tuna), kombu, and spicy cod roe.
Each rice ball is glazed with an umami sauce which is usually soy sauce or miso. The glaze gives the rice a crispy brown appearance.
However, the original yaki onigiri balls are made with rice only and don't have any stuffing.
Usually, the rice balls are then covered in crispy nori seaweed for that extra crunch.
There are many new and innovative stuffings too, but these are the most popular. Of course, you can keep it simple and grill the rice without stuffing like many Japanese people like to do.
Yaki onigiri is commonly served at casual bars called Izakaya. They are considered snack foods that pair well with alcoholic beverages like beer and sake. Think of yaki onigiri as a type of tapas or pub food.
Most izakaya will pan-fry or grill the yaki onigiri on a barbecue grill. The traditional recipe calls for grilling the rice balls over charcoal which gives them that smokey flavor.
Is yaki onigiri healthy?
Most snacks aren't very healthy, but yaki onigiri is pretty healthy.
Since they are snacks, you're supposed to eat a couple of yaki onigiri at a time, and as with all other foods, excesses are unhealthy.
If you're having this traditional yaki onigiri, then each rice ball should have less than 250 calories, so it's not too bad.
Onigiri is high in sodium because of the soy and miso glaze, but you can make them healthier by using only light-sodium soy sauce.
The good news is if you skip the butter and use gluten-free soy sauce or tamari, then yaki onigiri is vegan and gluten-free.
Yaki onigiri recipe variations
Yaki onigiri is a variation of traditional steamed rice onigiri wrapped in Nori seaweed.
The toasted rice is very popular, and you can customize the recipe to suit your preferences and cravings.
Glaze sauce
The most common glaze for yaki onigiri is soy sauce and/or miso paste. I've combined soy and miso for this recipe because it gives the rice have an umami flavor.
The umami flavor complements the rather bland flavor of short-grain rice. But, another great alternative is unagi sauce, which is a thicker type of sweet soy sauce.
It's usually used as the coating for grilled eel dishes like unagi don. You can find unagi sauce here.
Stuffing
As I mentioned before, the basic yaki onigiri recipe doesn't have stuffing, but when you get bored of the plain stuff, there are many yummy stuffings you can put inside the rice balls.
Most fillings are a form of seafood or kelp products. The reason is that, as you know, sticky rice is perfect for sushi, and sushi has a similar flavor to yaki onigiri.
Therefore, it's no surprise that sushi rice and seafood pair well.
Also read: The 21 types of sushi to know for your Japanese restaurant trip
Here are the most common yaki onigiri stuffings:
umeboshi pickled plum
salted salmon
katsuobushi (skipjack tuna)
kombu
spicy cod roe
tuna
Okaka / umekaka
prawn
chicken
vegetables
Vegan
If you want to make a tasty vegan yaki onigiri, you can easily do it. If you're adding a filling, go for vegetables.
You can also add sauteed takana (mustard leaf), Negi miso (leek and miso), mushrooms, including shiitake and matsutake, or daikon radish and other microgreens and leaves.
Soy sauce is the perfect vegan-friendly glaze, and it still gives a nice savory flavor and crispy crust.
There's no need to add butter if you want a vegan recipe. Or, you can substitute it with plant butter.
You can then wrap the rice balls in Nori kelp, and you have a very tasty vegan yaki onigiri recipe!
How to serve yaki onigiri
Yaki onigiri is best served hot because then it still retains its crunchiness. It maintains the crispiness for about 3 or 4 hours, but then it starts to get soggy.
Make sure you never cover hot onigiri because the condensation ruins the texture.
There are two ways to enjoy onigiri:
You can use chopsticks and break each rice ball up into smaller pieces and eat them like that.
You can eat the rice balls like you eat sandwiches: simply pick them up and take a bite. You can even dip them in a tasty sauce for extra flavor.
Since yaki onigiri is a snack, you can pair it with all kinds of foods and side dishes to make it a complete meal.
It's savory so that you can have it with sweet foods or other savory dishes and even soup.
Here are the most common foods served alongside yaki onigiri:
Vegan gyoza
Regular gyoza (dumplings)
Miso soup
Corn soup
Egg drop soup
Japanese clear soup
Tamagoyaki
Hojicha green tea
Dipping sauce
Looking for more inspiration? Read 43 of the best, most delicious & unusual Asian food to Try
Origin of yaki onigiri
Onigiri originates in the Heian period (AD 794 -1185). In that period, the rice was shaped like an egg and cooked but not grilled.
It was called Ton-jiki, and it was the precursor to onigiri as we know it today. The dish was eaten as part of bento lunch for farmworkers or as picnic food.
It was only a few centuries later that yaki onigiri and stuffed onigiri became popular. Sometimes in the 18th century, the recipe was improved, and the onigiri was wrapped in Nori seaweed.
Yaki onigiri, or grilled onigiri, was seen as a snack food rather than a complete meal for breakfast, lunch, and dinner. Thus, it became a staple snack in pubs, bars, and fast-food restaurants.
Until you can visit an authentic Japanese pub, you can make the yaki onigiri at home and serve them during parties, BBQs, or snack on them while watching your favorite TV shows.
Good to know: How do you say "thank you for the food" in Japanese?