The Golden Flute
(Adventures of Lilli and Zane #1)
by Catherine Lanigan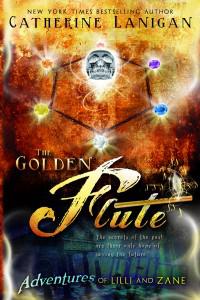 Published: June 12th, 2012
Publisher: Cedar Fort, Inc
Format: E-Book
Pages: 304
Cover Art
I really love this cover. It is bright, fun and catches the eye. It also fits in well with the plot of the novel and isn't just a few random images thrown together or a girl in a prom dress who has no business being there (covers have been annoying my recently!) This is an awesome, well put together cover. Do like.
Plot Synopsis
Masterfully written by award-winning author Catherine Lanigan, this thrilling action story keeps you guessing through every twist and turn. Cross continents and connect the clues along with teen treasure hunters Lilli and Zane as they try to stay one step of ahead of danger, find the ancient artifacts, and keep them far away from their enemies. A must-read for adventurers of all ages!
My Rating:

First Line:
''The main streets were blocked with noontime honking cars, ear-splitting motorcycles, and angry, shouting cab drivers"
Pocket-Size Review
This is a brilliant YA/MG book full of everything you would want: adventure, excitement, well-developed characters and a little bit o' love. 
Highs: The settings, the great adventure and certain characters had me awwing and hugging myself!
Lows: The strange mystical elements were sometimes overdone and DEFINITELY too much cheese in parts!
Review
This book didn't disappoint me. It delivered exactly what I expected; a glorious, epic adventure to the backdrop of gorgeous historical cities (Cairo, London and Paris). It had a magical element that added something different and meant you never knew what was about to happen! I think a lot of children would love this book; I know I would have!
The beginning of the novel throws you right into a mysterious and intense scenario that grips you straight away. We have a woman moving through Cairo terrified and extremely shifty and, even though we have no idea why, it is thrilling! I found the writing extremely good in this section and it brilliantly hooked me into the book and made me want to find out what it was all about! I felt scared and suffocated which is a reflection of a very well written passage I think!
The main characters in this book are lovely and very well rounded. Lilli reminds me of Luna Lovegood because of her attitude and style; she has that very individual, unique, cultured and even perhaps Parisian air about her that made her very likeable and memorable. Zane was a very sweet character/best friend to Lilli/maybe more and it worked. Although I have to say he was a tad on the boring side. As soon as a potential love interest is described as a 6-foot sports captain or some variation I get completely turned off. Predictable and not too appealing for the non-sporty among us! I prefer glasses and geekiness and maybe a guitar. My favorite character had to be Teddy, Zane's brother. He is a wonderfully intelligent 8 year old who has so much charm and charisma- if I ever have a son please let him be the reincarnation of this character! We are first introduced to him as he rushes round the house looking after his family and sorting everyone else's life out. He reminded me a little of Oskar from 'Extremely Loud and Incredibly Close' which is no bad thing at all.
There is a traveling aspect to this book that really added a nice dimension and made it feel like a PROPER adventure! Crossing continent, money no object, fleeing cities and running against the clock- just because they are children that doesn't mean they have to be solving a mystery in their local town about a stolen...cow or something! It also meant we had the glorious and cultural backgrounds of gorgeous, old cities such as Cairo, Paris and London known for their treasures and artefacts, and it was nice to see Europe being used in this old-fashioned way! However, I did find the depictions of England and London in particular very stereotypical! We don't all talk with Cockney accents and say old bean you know! It was a little Americanised, which is fine because obviously it only niggled me because I am from the place and know a lot about it, and I don't think it would spoil other's enjoyment at all. It was a little unbelievable how they fell asleep against the stones of Stonehenge...I'm pretty sure they are more protected and guarded than that (but don't hold me to that...I could be wrong!)
I did like the bad guys in this book. Good and bad is very clearly defined, so the evil were very evil (the DEVIL in fact!) At times it was like the film 'Rat Race'; so many bumbling criminals and henchmen were chasing Lilli and her father! Bishop Carrington is the one who is really creepy- particularly because he is a bishop for some reason! You are left wondering who or what is this strange man. 
There is a lot of magical influence in this book- mystical/gods/gods playing chess/ ghosts/ dreams/ feelings and hunches/ unbodied voices- which I liked because
 at the end it was explained rather than merely leaving everything to ludicrous coincidence. There was a really nice scene where Lilli's father goes into the sphinx which becomes like a Tardis with a huge secret chamber full of treasures like the Cave of Wonders in Aladdin. Complete with Jafar waiting outside I must add.
This book had everything I hoped for and I can't wait to see what adventures Lilli and Zane (AND TEDDY I HOPE!) go on next!
Other Thoughts
This Book has Inspired me to Read: It made me want to go back to m Enid Blyton days! Famous Five anyone!?
Three Words to Describe this Book:
Epic, Adventurous, Sweet