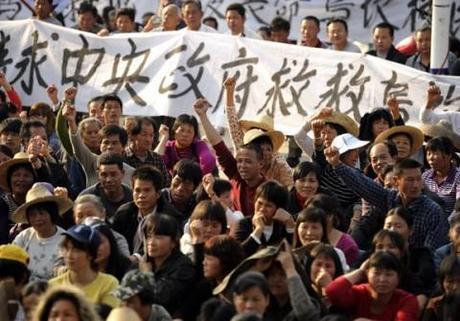 Protestors in Wukan, China. Photocredit: http://www.giantrobot.com/news/occupy-wukan-china-protest-continues/
Wukan, a fishing village on the Southeast coast of China, in Guandong, one of China's richest provinces, has become the focus of media attention. It managed to turn itself, however temporarily, said The New York Times, into an "autonomous zone." Why have the villagers done so? They claim that land has been sold illegally by village officials; they are also angry about Xue Jinbo, one of the village advocates, dying whilst in police custody. Police officers, reported the BBC, claim that he died of "sudden illness", but his family claim that he was "beaten to death."  China has struggled to cope with dissent, reported Reuters, especially on the internet. It has jailed writer Chen Wei, who will be tried  for "inciting subversion" online – for advocating democracy. There have also been protests about the construction of a coal-fired power plant, in the town of Haimen, 75 miles from Wukan, where police have reportedly fired tear gas at protesters.
So what about the Wukan villagers? They've chased away officials from the Communist Party, and even seen off police officers, having barricaded the village – although the blockade has now ended. The protest has been going on since September, and the villagers have been keeping in touch with journalists from Hong Kong and across the world.  Chinese state media were banned from reporting on the story. Officials from the Communist Party have been to Wukan to negotiate – and the BBC reports that a deal has apparently been reached. The Daily Telegraph says that villagers' demands have been met, including the release of three people who were arrested for protesting. Commentators agree it's a step in the right direction, but the Communist Party must act properly.
"We are not a revolt. We support the Communist Party. We love our country," said a poster in the village's "press centre," quoted on The New York Times.
Close to Hong Kong. The reason this is happening in Wukan, said Edward Wong in The New York Times, is that they are very close to Hong Kong. He quoted a historian, Yuan Weishi, from Sun Yat-sen University in Guangzhou, who said that the inhabitants watch Hong Kong TV so " ' have a better understanding of civil society and the rule of law.'"
"The initial error of the local government in the Wukan incident was its failure to head the reasonable demands of the villagers, which escalated reasoned petitioning into excessive actions," The People's Daily editorial said, quoted on the BBC.
Villagers are within the law. The question is, asked Stanley Lubman in The Wall Street Journal, whether the Chinese government will now implement legislation on rural land seizures, as well as "cracking down on corruption." If the Communist Party don't act, it will be risky – growing "rights consciousness" in other towns shows that. The Wukan villagers were simply invoking their legal rights, and by doing so they highlighted some serious issues about the slowness of the government in responding to "illegality in rural property transactions" and corruption in general. Forced land sales happen because local governments are pressured for economic growth. Beijing should, nationwide, address the problem comprehensively to raise "rights consciousness and the rule of law, rather than treat each protest as an isolated incident."
More on China

China sends pandas to Scotland
A twelfth Tibetan self-immolates in response to Chinese oppression