Yes, everything does have to be a contest.
Although, the article in Burger Business does not say that if you finish the new 7×7 Steakburger at Steak 'n Shake, you get it for free. You still owe them $7.77.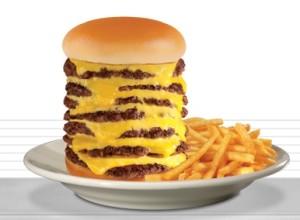 Going ahead with that eighth patty would, of course, be ridiculous.
So, it's not a dare in the same sense as the Full o' Bull Platter at Fort Worth's Cowtown Diner, where you get a refund for polishing it off.
As one of the few chain restaurants to exceed the relatively modest triple-stacked burger (according to BB), Steak 'n Shake's calculation is clearly that this tower will bring in a certain kind of late-night clientele. Here is a pretty good sampling of the demo I'm picturing crammed into a rusty 1990s model American car some night piling out as soon as the car pulls up to Steak 'n Shake and falling all over the pavement laughing because one of them farted:
And, of course, the demographic for the 7×7 includes all those who care about the ongoing rivalry between Joey Chestnut and Takeru Kobayashi.
So, like, why? Why does a certain segment of the population want to dare itself to eat like this, when we all know it's wrong? How can it be good business to tempt people to hilariously misbehave and mistreat their various internal organs and body chemistry?
I guess it's kind of funny. Fond memories of ridiculous behavior does bond people, and I suppose being the venue of an affectionately recalled night of foolishness is a reasonable goal to boost your late-night business.
As long as the shift manager has a decent sense of humor. And a mop.
In the end, though, I don't know why for sure. I started this post thinking I'd arrive at some kind of answer besides "it's kind of funny" and "humans love competitions, especially goofy-slash-gross ones." I suppose we could ask the unofficial spokesman for the notorious Heart Attack Grill in Las Vegas.
Except, y'know, like, too late.
I see no reason not to end with this footage of Kobayashi taking on a Kodiak bear: