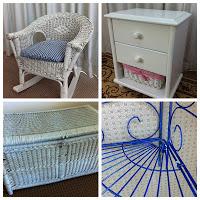 It's no secret that part of keeping a tidy house is knowing what to throw out and when... but being a crafty little mother, it's oh so tempting to pick up some of that road side 'trash' and turn it into a little treasure.  That's what I've been busy doing this week; painting worn out old furniture rather than blogging about papercraft the way I probably ought to!
Inspired by the recent help I've been giving a friend for her beach house, I couldn't help but say "oh nice!" when I saw a giant wicker blanket-box sitting beside some broken debris on the side of the road.  Sure it looked a bit battle scarred from some sort of run in with a few splashes of dark gray paint, it had certainly had seen better decor-days and had a something of a lean to it, but it was still standing... Since wicker has always screamed "beach house!" to me, I pulled over and grabbed the basket and whipped up a batch of the palest blue paint in an old coffee jar by mixing white-gloss and a tiny-touch of bright blue.  The basket still leans, but it's wavy texture looks to me like sea-waves rolling in, and the not-quite-consistent blue-white way that it's painted (thanks Little Lotti and Mimi) gives an aged-patina to the new paintwork.
After the success of the first re-painting project with my daughters, I took a punt and picked up a set of bedside drawers (missing one drawer), and painted it bright white and popped a wicker basket into the bottom opening.  Next trip to the hardware house I'll cost those little gingerbread-brackets that you put on veranda posts, and see if they come small enough to pop the scrolls into the corners to decorate the bottom shelf instead of the basket... or I'll just pull the pink liner out of the basket so that we stay in seaside-mode.
I then painted a road-side wire pot-plant rack in bright blue and a child's wicker rocking chair that we were given years ago in an off-white gloss and will reupholster the little seat cushion using a blue&white tea-towel to give it a more nautical look... if only I could get our puppy Dash to stop chewing on the armrests - cheeky pup!!!!
So much to do and so little time (my migraines have been shocking, and of all the family members, I'm finding the new-school routine hardest to get used to... at preschool "school starts at 9 o'clock" is a fairly arbitrary statement, at "big school" however, they mean it!  And yes, I am an organised person, but my 3 year old is notoriously unhappy about wearing shoes, and no matter how early I start the "let's go!" routine... we always seem to be running late!)
PS - thank you to those 'random strangers' who read the article about me in Prevention Magazine and sent me messages of support / queries about how to start your own groups.  My website has a $5.50 ebook on how to create your own little self-support group, or you can read more on this blog about how to proceed - the first step is to invite someone for a cup of coffee and start talking (and remember to invite someone that you think you can help, not someone who you think can help you - it's a subtle but enormous difference!)
Stay crafty,
Linda.