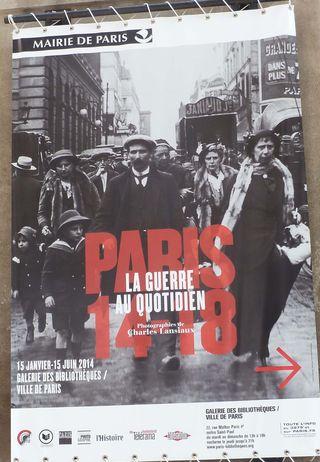 There are two splendid exhibitions of photographs about WWI aka the Grand War aka the War to End All Wars; the first, this at the Galerie des Bibliothèques de la Ville de Paris in the Marais, you know the place where they make it impossible for old people to go down and up the stairs, which has photos of daily life (quotidien) that reminded me of my friend and colleague Professor Ronald Rosbottom's forthcoming book "When Paris Went Dark: The City of Light Under German Occupation, 1940-1944."
2 Wow's
The second terribly moving exhibition is on the grilles of the Luxembourg Gardens of the WWI battle sites photographed as they stand today; the horror and waste of lives is stunning.
And most moving is King George's statement below the photo of the Tyne Cot Commonwealth War Graves Cemetery and Memorial to the Missing "We can truly say that the whole circuit of the Earth is girdled with the graves of our dead. In the course of my pilgrimage, I have many times asked myself whether there can be more potent advocates of peace upon Earth through the years to come, than this massed multitude of silent witnesses to the desolation of war."
3 Wows.