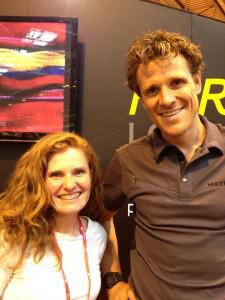 I'm not quite sure what the etiquette is when you're introduced to rowing royalty. Is a curtsey in order, or just a handshake? What's the correct form of address? It was these important matters of protocol – together with a very real fear that I might blush or drop my notebook – that were preoccupying me as I waited to interview rowing legend James Cracknell at Leisure Industry Week, where he was a brand ambassador for Matrix Fitness.
When it came to it, I really needn't have worried. Cracknell was totally unstarry, laid back and charming. Lounging in an armchair, he kicked off the interview by offering me chocolates. He had me, as they say, at hello.
We started, naturally, by discussing the Olympics. What, I asked, were the highlights for him?
"I really enjoyed Ali Brownlee in the triathlon", he said. "He's such a nice bloke; he races hard and made the most of it – I'm so pleased that he won. It's a shame Jonny got on his bike too early but there you go…"
"Watching the GB women get the first gold medal – that showed the men up, really – was another. It was great for our sport to get the first medal, because if it had been the 31st gold medal it may not have the same impact, so that was really good. I also enjoyed watching Rudisha [David Rudisha of Kenya who broke the world record for the 800m] – I thought he was the performance of the Olympics."
One of the most talked-about crews at the Olympics was the New Zealand men's pair, who broke the record set by Cracknell and Pinsent at the 2002 World Championships. How was it seeing that broken, I wondered? Cracknell considered for a moment, perhaps wondering how much he should say.
"A lot of world records got broken this year and a lot of them went to people who didn't really deserve to take them off the people they did", he said. Gosh. I laughed nervously, not sure if he was joking. He wasn't.
"Like the Canadian 8+", he went on, "who got the world record in the men's 8+, off a really quick American crew who not only had the world record but broke the world record winning the Olympic final in Athens – now that's the place to do it. The Canadian crew – yes, they got silver in the Olympics but our 8+ would have got silver if they'd raced for it. The Canadians didn't really race for gold and they won silver, whereas our boys raced for gold and got the bronze – the silver meant nothing to them."
Cracknell was happier about his own record being broken, though. "That New Zealand pair is the fastest pair ever and the most consistent ever. Matthew [Pinsent] and I were quick but we weren't consistent; Steve [Redgrave] and Matt were quick and consistent whereas those guys are really quick and really consistent and they fired everyone out of the event.
"They broke the world record winning their heat by nine seconds. We broke the world record in a final at the World Championships which we won by a while but we didn't win by nine seconds, and we had a big opposition; it was a real, pressurised race. We'd lost to the Aussies when we'd raced before so it was a grudge match, and the record was a consequence of the race. They [the NZ pair] deserved the record and I was really happy for them. They're a really special crew and if it was going to go to anyone I was delighted that it was them."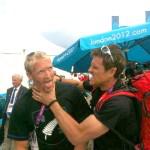 Cracknell congratulates the Kiwi pair. Image courtesy of James Cracknell.
Cracknell broke off suddenly and started fiddling with his phone. Perhaps I was boring him, I wondered, panicking slightly. Then he leant over, grinning, and showed me a photo on his phone.
"I saw one of them afterwards…" he said.
And what about now, I asked. Does Cracknell ever row these days?
"No, I've sold my single now and I've bought a canoe". He looked over at Olympic canoeist Tim Brabants, who was giving an interview on the other side of the room, and raised his voice a little, grinning again. "I've gone down the evolutionary scale", he said, loud enough to be heard. "The only thing is I have to stop using my legs. He [pointing at Brabants] will say, 'You're using your legs,' and I'll go, 'Look at your legs;  they ain't there. I've got bigger legs than you and I stopped eight years ago.'"
One reason why Cracknell's legs are still in shape might be that he still uses the erg.
"Rowing is arms, legs, heart and lungs; only cross country skiing does the same. The two biggest VO2 maxes are cross country skiers and rowers because you use your arms and your legs. Rowing is a great foundation… and let's face it, we ain't going to be a cross country skiing nation!"
The holy grail for Cracknell is finding an erg that is quiet. "I've got one at home but it's too noisy with the kids", he says. "I'm working with Matrix to develop a rower based on spinning; it could transform the home market."
It's hard, somehow, to imagine Cracknell confined to home for long. What about the adventurous side of him that takes on challenges others would consider insane? I ask what drives him to keep attempting arduous and even dangerous challenges.
"Olympics aside, I think having a goal is really important for anyone and then for me it's about getting yourself into the right shape, choosing the right kit and learning a new skill, so you combine all of those things… I always like to learn something. The reality is if you're in decent shape for anything you'll enjoy it more, whether it's a marathon, whether it's a cycle ride, the étape, whatever it is. If you're prepared properly you will enjoy it more. You may enjoy the build-up more if you don't train but the day or the week or whatever will be horrible."
What, I asked him, is your next challenge going to be? Is there a sport that you haven't done or a mountain you haven't climbed?
"I don't know, to be honest", he said. "Mountains not necessarily… I'd like to do some multi-sport stuff."
It seemed only right to end with Olympic legacy. I asked him what advice he would give to anyone inspired by the Olympics to take up rowing.
"If you're starting rowing now, don't get put off by the winter; that's the first thing. Go down to the rowing club with a mate so you've got someone to learn with. No matter how fit you are, you have to learn how to row and so the frustration will be not being able to get that tired for a while and if you're a fit person that's a really frustrating thing, I can imagine, so just keep at it. Unlike football, unlike many other sports that require a certain amount of skill and co-ordination, rowing is a sport where you will get out what you put in – more than any other sport I've done I've found that. And stick at it, enjoy it."
Not bad advice for someone who claims to have moved down the evolutionary scale…