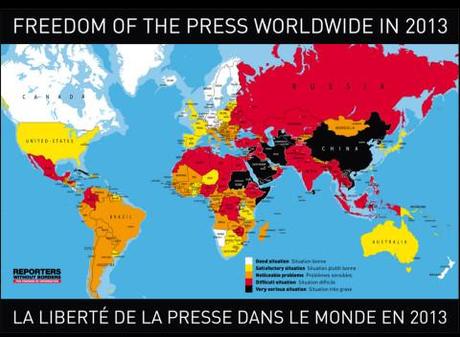 From Reporters Without Borders via The Guardian.
Today is World Press Freedom Day — a day for celebrating the vital role that a free media plays in democracy.
With journalists and media institutions increasingly under attack — both in conflict zones like Syria and in places like Hungary that were once considered consolidated democracies — in 2013 it is more important than ever to focus on  the role that the media plays in a free society. While almost 40 percent of the world's population now lives in a "free" democracy, just one in six live in societies with a fully free media, according to Freedom House's most recent Freedom of the Press rankings. Freedom cannot be sustained without a strong, independent, inquisitive, and open media environment. 
At CIPE, work with the media falls under the broader banner of "access to information." Reporting on government budgets or the economic platforms of political candidates is among the most important work that journalists do when it comes to holding political leaders accountable, but it requires skills that many journalists lack. Many of CIPE's programs engage with think tanks or directly with reporters, editors, and opinion-makers to help them build the skills to independently analyze and report on economic and financial news.
From the other direction, CIPE also works with business associations and chambers of commerce on advocacy programs that frequently include calls for greater openness and transparency around government operations. CIPE partners have worked to pass freedom of information laws in countries such as Egypt, Indonesia, Afghanistan, Romania, and Slovakia.
But no amount of government transparency will lead to democratic accountability with an active, informed, independent media capable of using this information to provide unbiased information and analysis and hold policymakers to account.
In honor of World Press Freedom Day, all next week the CIPE Development Blog will feature stories about CIPE's access to information programs from around the world. Stay tuned!
Jon Custer is Social Media/Communications Coordinator at CIPE.