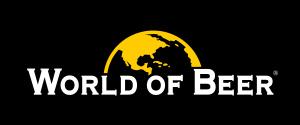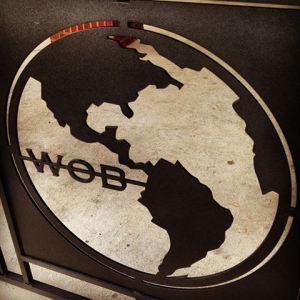 Last September an article appeared on this blog about the soon to be open World of Beer on the Southside in the Tinseltown area. At that time the estimated opening date was November 2012. Then, in October, another article appeared here that said the opening date had been moved to February 2013. Well, those articles were clearly not accurate. But, take heart! World of Beer – Southside is definitely opening next week to the great relief of its owners and management and the great enthusiasm of Jacksonville beer lovers.
World of Beer started in 2007 as the dream of two entrepreneurs from Pensacola. Scott Zepp and Matt LaFon, brain-stormed and opened the first World of Beer in the Westchase community of Tampa, Fla. Since then things have only gone up. In 2010 the duo's concept caught the eye of former Outback Steakhouse president Ben Novello and former Outback Steakhouse Executive Jim Pollard. With the backing of these industry titans, World of Beer (known affectionately as WoB) expended its concept of an approachable craft beer bar nationwide.
In fact, according to the company's website, World of Beer is, "…is a truly uncommon establishment where the experience is as essential as the product." And this philosophy is evident in the extensive training the company puts all new-hires through. Before any team member can hit the floor of a WoB location, they must go through two weeks of Beer School where they learn not only what beers they will serve, but also the history, flavor profiles and characteristics of the brews they will serve.
The website goes on to say, "…having the most extensive beer selection is not enough. It is important that a broad spectrum of patrons, from the beer aficionado to the casual beer fan, can enjoy the best beers on the planet and increase their beer knowledge in a comfortable and upbeat setting. By combining a friendly environment with an exceptionally knowledgeable staff, World of Beer creates an atmosphere where patrons feel at home, as if they are visiting a neighbor and not just a neighborhood bar."
Tony Vera, General Manager of the store opening next week in Jacksonville, has been with the company two and a half years and is a believer in the company's deeply-rooted belief that craft beer should be approachable to all.
"Hospitality and product knowledge are what separate us from other bars," Vera says. "Our goal is to be a neighborhood bar where you can go to meet great people and enjoy great beer." It does not hurt that his store will open with 50 craft beers on tap and approximately 550 bottled beers.
"We have an entire cooler of Belgian beers that includes an entire shelf of Trappist ales. We also have a cooler of German beers, and a wide selection of craft ciders."
To encourage guests to continuously learn about and taste news beers, WoB also has a Loyalty club that rewards members for trying new beers. "It costs $15 to sign up, but for that you immediately get a WoB t-shirt," Vera says. "At different levels of achievement members get different awards. At 50 different beers tasted, members receive a commemorative t-shirt; at 100 they get a mug. But, when member reach 250 different beers they get a plaque with the saying of their choice on it, displayed at the store for all to see along with a commemorative polo-style shirt." Vera went on to say that elite members who reach the 500 different beers mark get a catered party with a $250 bar tab.
There are also nightly specials to entice guests to visit. On Mondays, service and health care industry workers enjoy 50% off select drafts from 9:00 p.m. to close. Tuesdays are reserved for Loyalty Card holders who receive 25% off all bottles – the better to drive up their tally towards those great rewards. On Wednesdays college students and faculty get half off select drafts from 9:00 p.m. until close. Ladies get 50% off wine and select drafts all day Thursdays along with active duty and retired military. As if that were not enough, one Sunday per month WoB hosts a Customer Appreciation cookout. And, do not forget about happy hour weekdays until 7:00 p.m. when all drafts and wine is $1 off.
Vera also shared that WoB – Southside plans to obtain several firkins that it will ask local breweries to fill with special treatments of their brews for the exclusive enjoyment of their guests. He also expressed that he is interested in putting in a beer engine that would further educate and delight guests on real ales.
The first Jacksonville World of Beer is schedule to open to the public on Monday, July 1st. The list of brews on tap opening day is impressive and held rather close to the vest. But, after a bit of arm-twisting, portions of the list were shared for publication here.
Look for these beers on tap opening day:
• Dogfish Head 61 Minute IPA
• Sierra Nevada Hoptimum
• Petrus Aged Pale
• Weyerbacher Blithering Idiot
• Pyramid Weiss Cream
• Chimay White
• St. Bernardus Abt. 12
• Shipyard Smashed Pumpkin
• Victory V12
• Dogfish Head Aprihop
• Stone Self Righteous
• Brooklyn Silver Anniversary
In addition to the fanfare, and exceptional tap list, of opening day, plan of swinging by Wednesday, July 3rd for a huge Intuition Ale Works event that will feature 25 kegs of the Riverside brewery's beers and visits by the owner and brewer, Ben Davis.
Vera, who started with WoB as the GM of the chain's second store located in Sarasota, Fla., says that the Southside store is only the beginning for North Florida. He is charged with helping to develop the area and has his sights on opening locations in Jacksonville Beach and St. Augustine. If the success of the company at its other locations is any indication, Vera's dreams are likely to soon become a reality.
World of Beer — Jacksonville Southside is located at 9700 Deer Lake Court. Hours of operation are 12:00 noon to 2:00 a.m. daily.