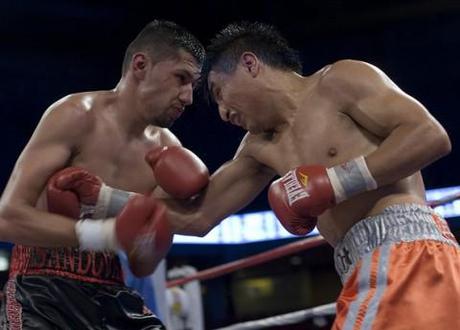 Boxers slug it out. Photo credit: kate.gardiner
Dereck Chisora, the British boxer involved in the disgraceful Munich press conference brawl with countryman David Haye,
has been slapped with an indefinite ban by the World Boxing Council
for his behavior before and after his heavyweight bout with Vitali Klitschko.
Besides brawling with Haye, Chisora also slapped opponent Klitschko at the weigh-in and spat water in the face of his brother Wladimir before the high-profile fight.
The WBC said it was "one of the worst behaviours ever by a professional," reported the BBC. The body demanded Londoner Chisora should seek anger management treatment before it considers whether to lift the suspension. Jose Sulaiman, president of the WBC, said the authority would also look to impose a "serious" fine on the Zimbabwe-born fighter.
"Boxers are gentlemen and show to the world an example of honor and fair play when, after a tremendous battle, they go to the center of the ring to pay respect to each other," said a WBC statement. "Dereck Chisora is not going to tarnish the sport for those born in the humblest beds, who become sports heroes of the world to live a life of dignity and pride."
Warren: Everyone is entitled to natural justice (even Chisora). Chisora's manager Frank Warren reacted angrily. He told BBC Radio 5 live: "I don't understand how someone can be banned without having a hearing. I've never ever heard of anything like that … There were some things which he did which absolutely were wrong and he shouldn't have done, and I'm not condoning that but there were a lot of things happening behind the scenes. All this stuff needs to be taken into consideration before anyone decides what happened. Everybody is entitled to natural justice no matter what they've done."
"Chisora and Haye are fighting the good fight for the abolition of boxing on my behalf. And doing it more eloquently than I ever managed," said abolitionist Simon Barnes at The Times (£).
Boxing is abolishing itself. Simon Barnes of The Times (£) wondered, "why should I carry on campaigning for the abolition of boxing? I gave up years ago. These days I'm happy to leave the job to people such as David Haye and Dereck Chisora. They don't need me. Thanks to such people, boxing continues to work on abolishing itself." Barnes dismissed the Munich brawl as a "sordid little punch-up" and expressed no surprise that it happened: "Boxing apologists had to say it was shameful and disgusting and so forth, and by doing so implied that this sort of thing is somehow exceptional. But elsewhere in sport and out in the wider world, people just shrugged. A shameful and disgusting thing happened in boxing. No, really? Next thing you'll be telling me that someone entered a brothel and had sex in exchange for money." "I'm not saying all boxers are shameful and disgusting," said Barnes. "It's just that boxing is a sport that increasingly disgusts people. Not in a loud and strident way; just enough to look away. As a result, boxing is less and less a part of mainstream sport."
"It is a cheap and easy jibe to say that boxing cannot become more disreputable. Cheap and false," blasted Jeff Powell of The Daily Mail. "The majority of professional boxers are brave, honourable and dedicated, sporting before their fights and then gallant in victory or defeat. It is the courage and dignity of those young men – as well as the sport itself – which has been most carelessly betrayed by two of its most prominent heavyweight brethren."
Boxing authorities' pussy-footing leniency partly to blame. "Neanderthal brawl needs to be watershed moment for British boxing," insisted Jeff Powell at The Daily Mail, who, writing before the ban, said that "nothing less will suffice than a ban for Chisora and the notifying of Haye … that should he ever apply to be relicensed he, too, will have to serve a commensurate sentence. Equally as vital, if not more so, the (British Boxing) Board (of control) must re-examine, stiffen and commit to rigorously enforcing boxing's code of conduct. The brawl in the Halle was the ugly, demeaning and inevitable consequence of the pussy-footing leniency with which the minority of errant boxers have been treated by the authorities down the years." Powell said that "had Chisora been dealt with severely after he bit an opponent in the ring or when he beat up a girlfriend, he might have paused for thought before slapping Vitali Klitschko's face at the weigh-in before their fight, spitting at Wladimir Klitschko during the ring announcement and, later, advancing menacingly on Haye. Similarly, had Haye been sanctioned for his serial abusing of the Klitschkos and his crude comparing of his fight with Audley Harrison to 'gang rape,' he might have been less inclined to indulge in the screaming and ranting which provoked the post-fight violence in Munich." "It is no excuse to claim that tempers and adrenalin inevitably run high in physical contact sports," boomed Powell. "The most powerful justification for prize-fighting – the last gladiatorial combat legalised by society – is that it instils discipline and self-control in young men while helping them climb out of the gutter of poverty and away from the street gangs. No purpose is served if they then are allowed to bring their violence and aggression to press conferences and weigh-ins. The only place for fighting is in the ring, within the Queensberry Rules. If they doubt that, let them be reminded that the law in this country deems the fists of professional boxers to be lethal weapons if used outside those ropes."