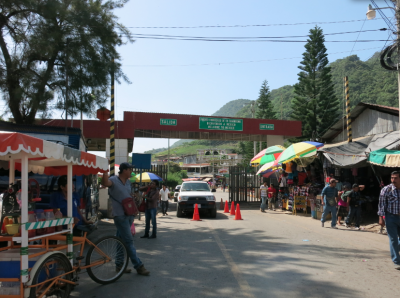 World Borders: the Frontera between Ciudad Cuauhtemoc in Mexico and La Mesilla in Guatemala.
Time for another installment of World Borders, and yes that means another journey with my passport exiting one land and entering another land. This was actually the first ever border I crossed in Central America and I only did it recently on the first of August, so here's a run down of my journey, which started in the city of San Cristobal de Las Casas. Here's how to get from Mexico to Guatemala on the Ciudad Cuauhtemoc to La Mesilla crossing.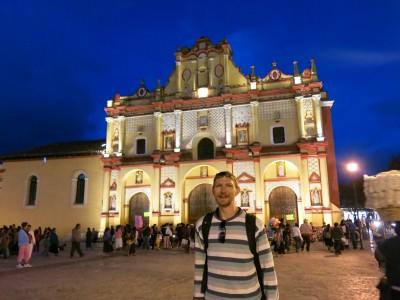 This world border series began in San Cristobal de las Casas, Mexico.
Bus from San Cristobal de las Casas to Ciudad Cuauhtemoc, MEXICO
OK the most obvious and best way to get from San Cristobal de las Casas to the border city of Ciudad Cuauhtemoc is by bus. We used the company OCC. You can book your buses in two places:
1. San Cristobal de las Casas bus terminal.
2. Bus ticket office on Real Guadeloupe, San Cristobal de las Casas.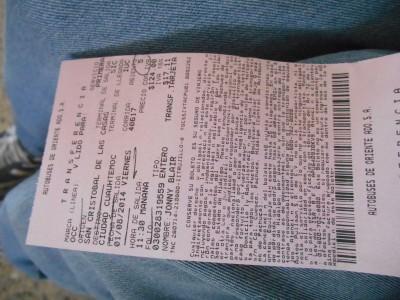 Bus ticket from San Cristobal de las Casas to Ciudad Cuauhtemoc.
My bus ticket cost 124 Mexican Pesos and was due to leave at 11.30 am. Price varies depending on time of year, time of day etc.
Leaving San Cristobal de las Casas, MEXICO
We turn up 30 minutes before our bus is due. We check our bags in (standard on Mexican buses) and we wait for the bus to be called.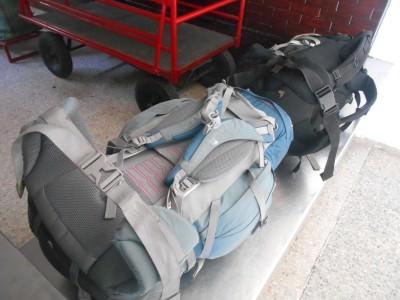 Checking our bags in at San Cristobal de las Casas.
Just make sure you get your bag tags so it's easy to retrieve your bags on arrival.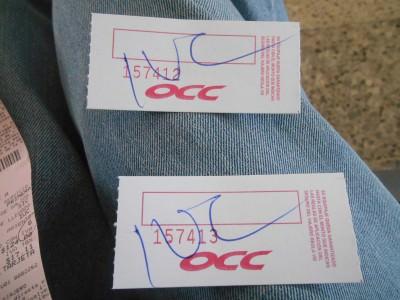 Bag tags for OCC.
At 11.40 am we are called to our bus which had a slight delay and had arrived from Tuxtla Gutierrez.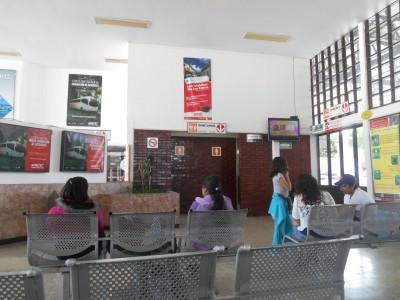 Waiting for the bus.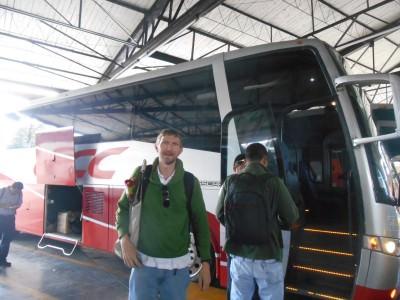 About to board our bus at San Cristobal de las Casas.
We board and leave San Cristobal by 11.50 am. It's a pleasant departure and fond farewells from a great city – loved it!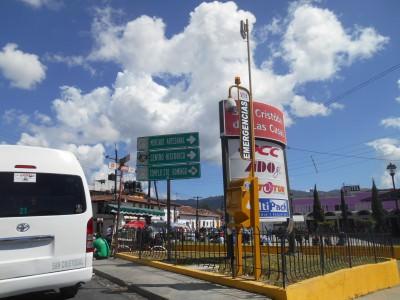 Fond farewells to San Cristobal de las Casas.
San Cristobal de las Casas to Ciudad Cuauhtemoc
This bus journey is occasionally scenic and always smooth. We pick up more passengers, and some get off at Comitan. I sip my last drink in Mexico, on route which is a can of alcopop featuring tequila. I get some blogging done in my notebook and the journey to Ciudad Cuauhtemoc takes almost 4 hours (we expected slightly less).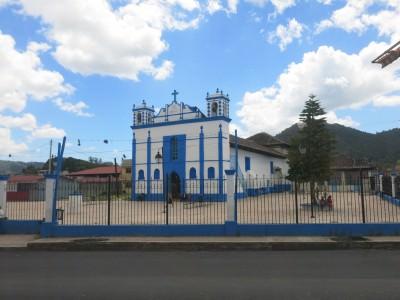 A church as we left behind San Cristobal de las Casas.
Leaving Mexico at Ciudad Cuauhtemoc
Your first step once you get off the bus and get your bag is to get your Mexican exit stamp. Be prepared for a delay. The bus will drop you off right by immigration but we had to wait 15 minutes or so for someone to arrive at the immigration desk. You get your exit stamp and you have now officially left Mexico. Easy.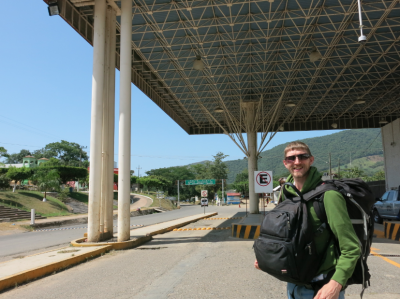 The immigration checkpoint in Ciudad Cuauhtemoc, Mexico.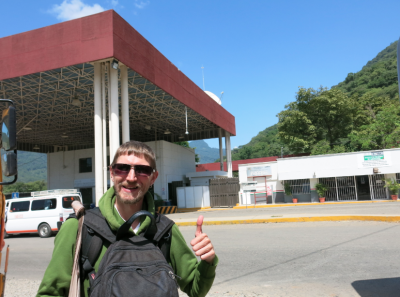 The immigration checkpoint in Ciudad Cuauhtemoc, Mexico.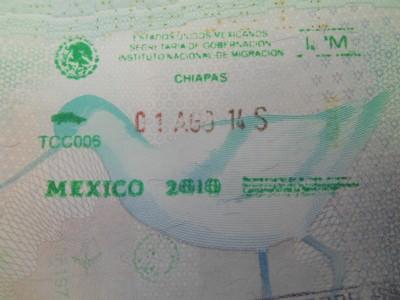 My Mexico exit stamp.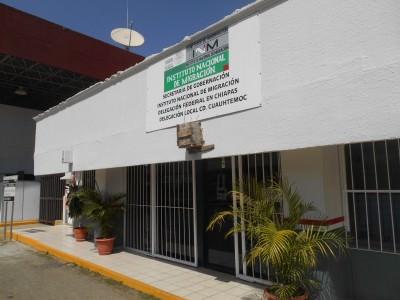 The Immigration Building in Ciudad Cuauhtemoc where you get your exit stamp.
Shared Taxi to the Border
The actual border between Ciudad Cuauhtemoc and La Mesilla in Guatemala is about 4 kilometres down the road so you need to get a shared taxi.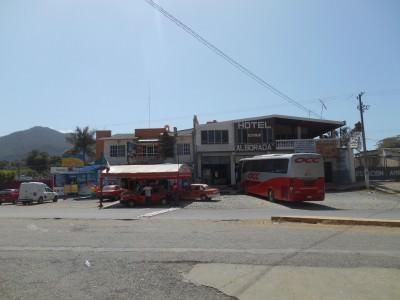 You get a shared taxi from here. They are orange. Right opposite the immigration building and next to the bus station.
Simply wait until the orange taxi fills up with people and off you go. It only took a few minutes for the taxi to fill. The price of the taxi is a fixed rate of 10 Mexican Pesos per person. 7 people squeezed into our taxi – 3 in front, 4 in back.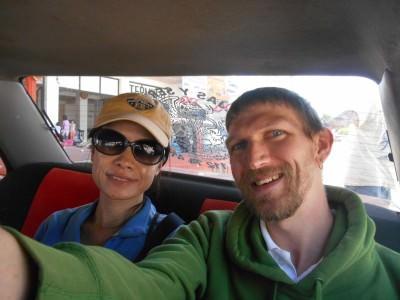 In our shared taxi to the border.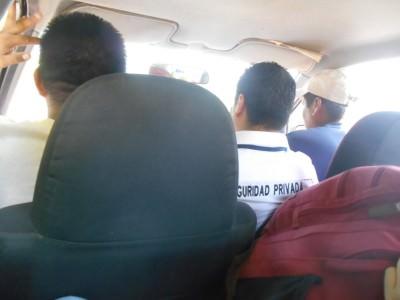 Our shared taxi had 7 people in it.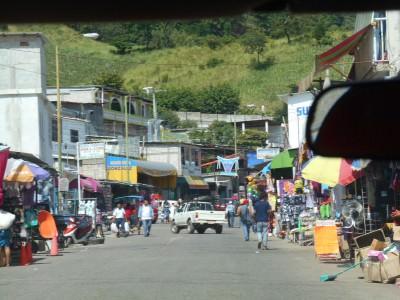 Arrival at the very last point in Mexico at the border in our shared taxi.
When the taxi drops you off you are still in Mexico and there are a few roadside shops and markets, simply walk under the obvious red border gate and you are now in La Mesilla, Guatemala.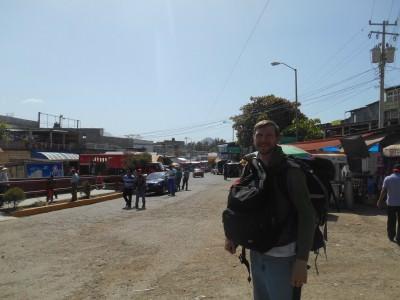 Just before leaving Mexico.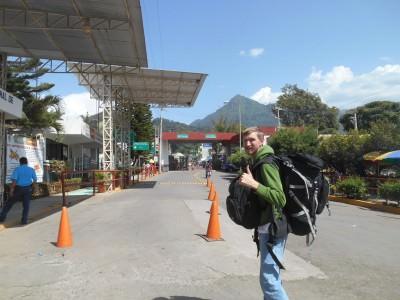 World Borders: Mexico to Guatemala at Ciudad Cuauhtemoc.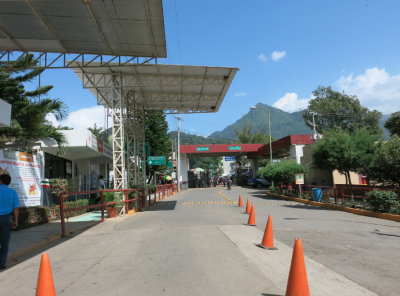 This red overhead bit marks the actual border, just walk across.
Entrance stamp at La Mesilla, Guatemala
Once across the border on foot, the Immigration Office for Guatemala is on your right. You can't miss it.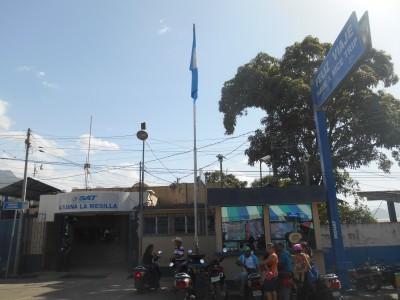 The Guatemala arrival immigration section.
While it's supposed to be free entry and a 90 day tourist visa stamp granted, there is pure corruption at play here. So we rock up to the desk and hand in our passports. They then demand 20 Mexican Pesos off Panny for her passport back. Just at that moment I decided to swap all my Mexican Pesos for Guatemalan Quetzals – the rate you get on the border is actually OK and saves hassle.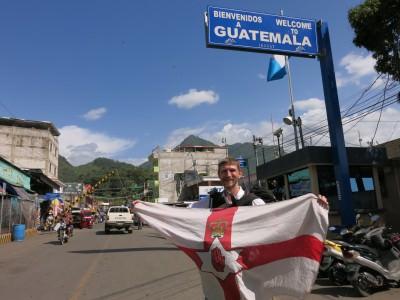 Arrival in La Mesilla in Guatemala.
Panny concedes and hands them her last 20 Peso note which I'm angry about. But she says sure it's only $2 US. For me it's the principle rather than the amount. I go mad at the guys and tell them in as much Spanish as I know that they are corrupt and they can't do that. Then he won't give me back my passport unless I also have 20 Mexican Pesos. Good news for the corrupt wanker is that I don't have 20 Mexican Pesos. But alas there is not much we can do here. We have argued our point and we are in a rush to get a tuk tuk then a chicken bus and al we want is into the country. Panny hands over her dirtiest worst 2 US dollar notes, I nab my passport and we're in. SO be aware they will try to charge you – we got scammed and you might too. After all that boiled down, it was time to move on and realise it was only a heated argument and $4 US for 2.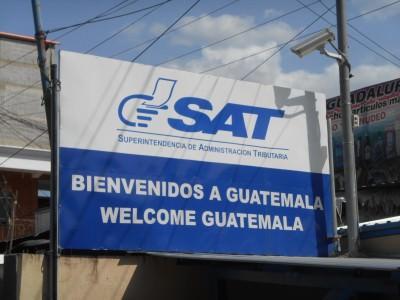 Bienvenidos and give me 2 dollars for my lunch please.
We were now officially in Guatemala.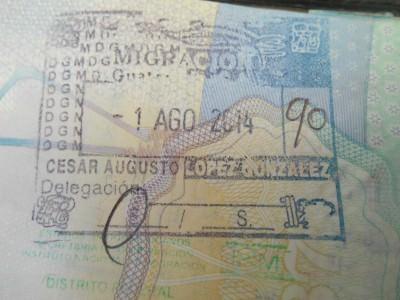 Entrance stamp for Guatemala at La Mesilla – with a fee – ouch!
Getting to La Mesilla bus station by Tuk Tuk
There are tuk tuks to take you to La Mesilla bus station. Hop on and pay 5 Quetzals and off you go. Enjoy the ride through the town.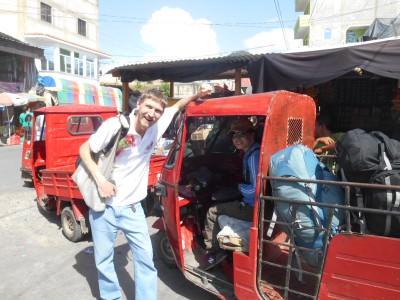 Getting a tuk tuk in La Mesilla, Guatemala.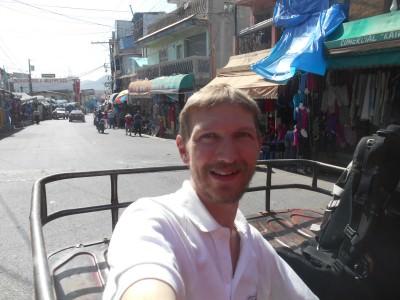 View from the back of the tuk tuk as we breeze through La Mesilla!
Getting from La Mesilla to Huehuetenango by Chicken Bus
We had booked into the Hostal 7 Orejas for the night in the city of Quetzaltenango and needed to get there before dark, as the last chicken bus is meant to be around 4pm and bus stations in Guatemala are not considered too safe at night.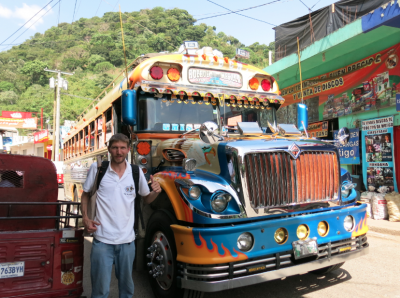 The chicken bus from la Mesilla to Huehuetenango.
We got a chicken bus for 20 Quetzals all the way to Huehuetenango. They fire your bag on the roof and don't always tie them up – so be aware of that and ask them to tie them up. Keep your own bag in front of you during the chicken bus ride.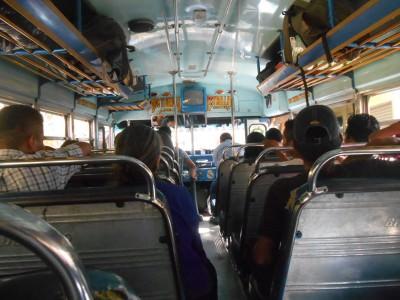 The chicken bus to Huehuetenango.
As a bonus a kid gets on and sells me a beer – Brahva – my first Guatemalan beer ever and it only cost 5 Quetzals. I'm relaxing and we're on route to Quetzaltenango, via Huehuetenango! Epic!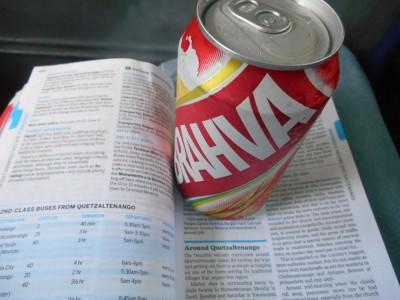 My first ever Guatemalan beer – 5 Quetzals for a Brahva.
Getting from Huehuetenango to Quetzaltenango
On arrival at a fork junction in Huehuetenango we change chicken buses and are now on route to Xela (Shella) – which is another word for Quetzaltenango! It was a long day of 2 chicken buses, 1 normal bus, 1 shared taxi, 1 tuk tuk, 2 normal taxis and a fair bit of walking.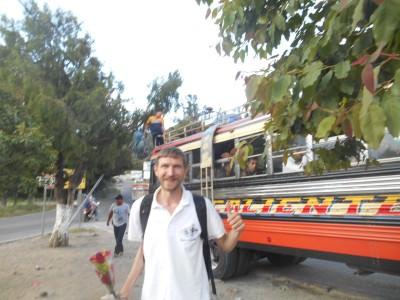 Changing chicken buses in Huehuetenango!
The bus to Xela takes about 3 and a half hours in the end and is through rocky roads. We arrive in darkness to the bus station in Xela and have to grab a taxi to our hostel! Mission accomplished!
I hope this guide helps you cross the border from Mexico to Guatemala!
Here are my videos on how to get from Mexico to Guatemala:

Join 13,000 Monthly Readers! If you enjoyed this article and LOVE travel and SAVING money, get e-mail updates from Don't Stop Living – a lifestyle of travel! (It's Free)

Jonny