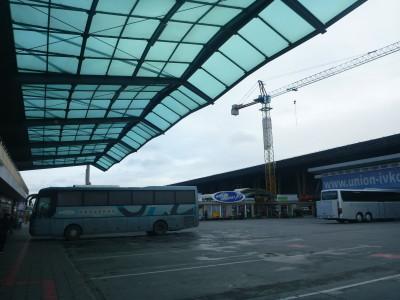 World Borders: How to Get from Bulgaria to Macedonia (Sofia to Skopje bus)
In my ongoing World Borders series this time I report on how to get from Bulgaria to Macedonia. I based myself in the capital city of Sofia just before heading across the border – you should aim to stay in the 10 Coins Hostel there – one of my favorite ever hostels. From Sofia, I decided to take the bus across the border all the way to Skopje, Macedonia (or the Former Yugoslav Republic of Macedonia to give the country its full title).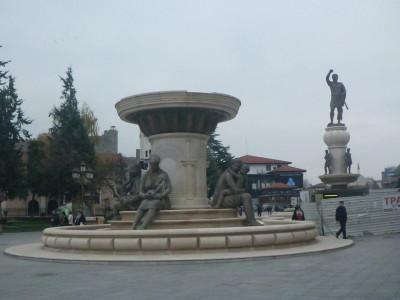 Skopje, Macedonia.
Buying Your Bus Ticket in Sofia
Head on the Sofia Metro (fast, efficient, clean, easy to understand and cheap) to the main bus station which is also where the main train station is. The name of the bus station is Central Bus Station, but don't go inside!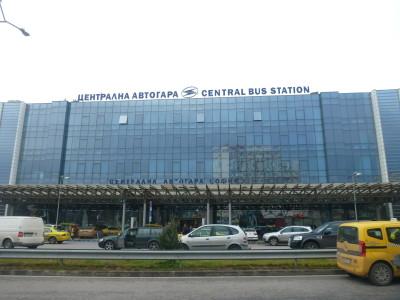 Outside the wrong bus station
Please note there are two bus stations beside each other here. I firstly went into the massive indoor one pictured above and asked around for buses to Skopje, Macedonia to no avail. So you need to come outside of the main station and cross the road to the smaller outdoor station in like a square courtyard with the buses in the middle and the ticket offices all around it.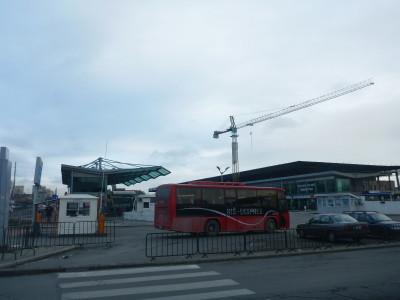 The correct bus station for heading to Skopje Macedonia.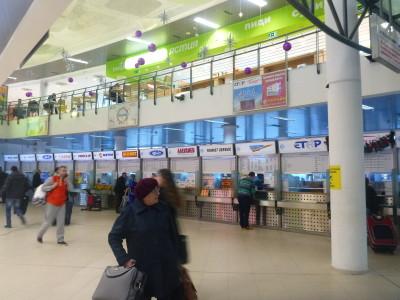 The wrong bus station for heading to Skopje Macedonia.
There may be more than one company operating buses from Bulgaria to Macedonia, but the one I used was called Matpu, and I recommend them. In local writing it looks like MATnY.
Matpu Ticket Office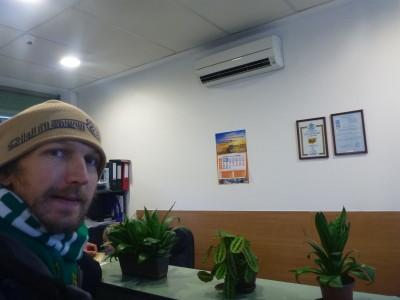 Inside the Matpu ticket office.
When I went there were 3 buses per day: 9.30 am, 4pm and midnight. The bus costs 32 Levya (about 16 Euros). You show your passport and pay for your ticket in cash (Levya only).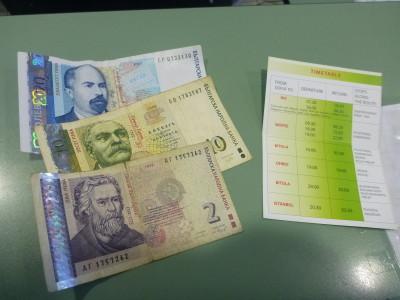 32 Levya for the ticket from Sofia to Skopje.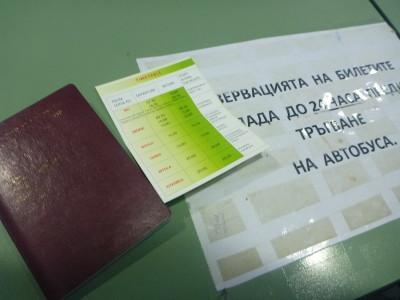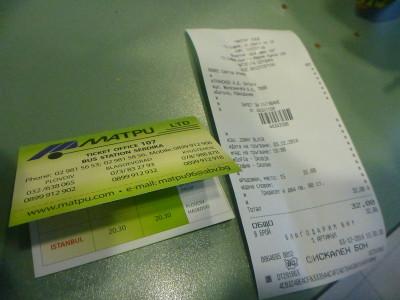 I got my ticket around 3.40 pm. The bus wasn't full and I was there in December time. It probably will be busier at other times of the year. There was no need to book it in advance for me but if you want to make sure of your ticket, I'd recommend it. I then used up the rest of my Levya buying some beer and snacks for the journey.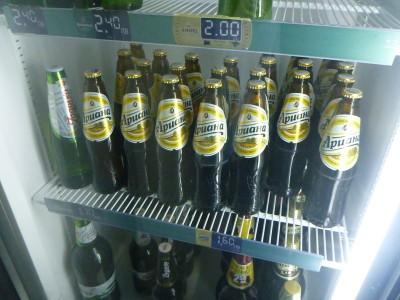 A final Bulgarian beer for the journey.
Leaving Sofia, Bulgaria
We left sharply at 4pm and it was still bright. We head west towards the border point at Gyueshevo.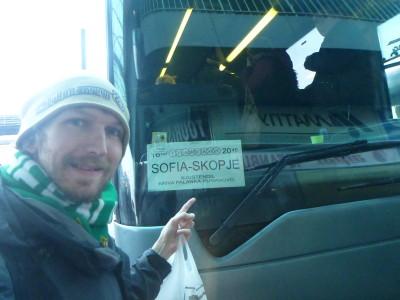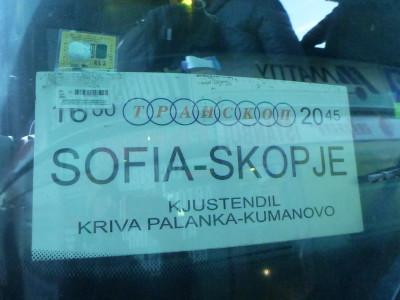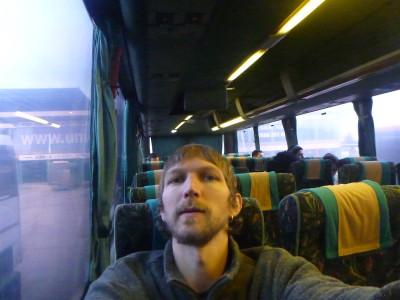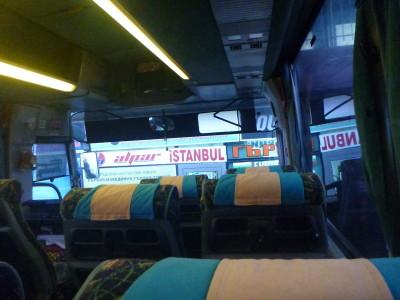 Leaving Gyueshevo, Bulgaria
The journey towards the border isn't too memorable – nothing much to see but I got some reading and planning done and enjoyed my beer. It was dark by the time we got to the border, around 6.30 pm. You don't need to get off the bus to leave Bulgaria.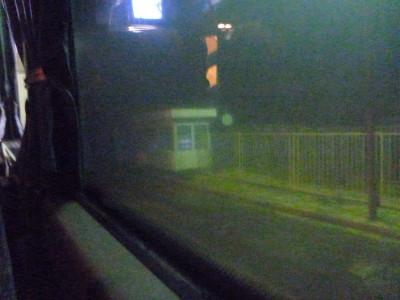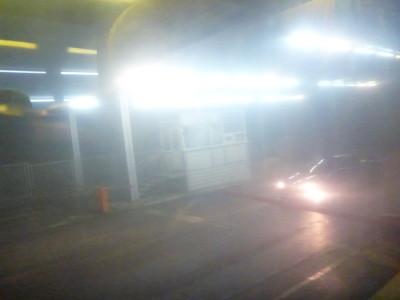 Arrival in Delcevo, Macedonia
First thing I have to tell you, is that even though it is a dark border, and looks like it should be the same time, it's not! Macedonia is one hour behind, so move your watches back one hour – you have gained an hour. You get your passport checked on the bus again. EU citizens do not need a visa to visit Macedonia. I didn't get an entry stamp either, but I was now in Macedonia.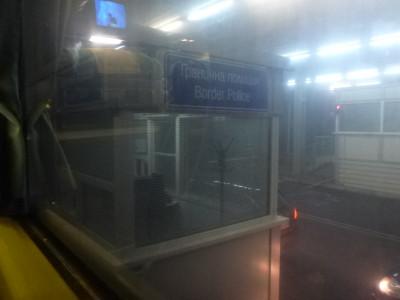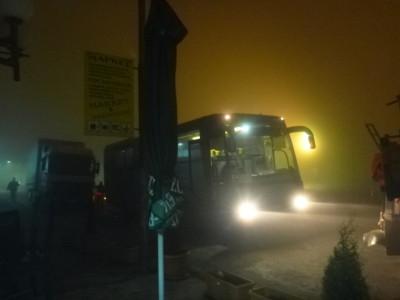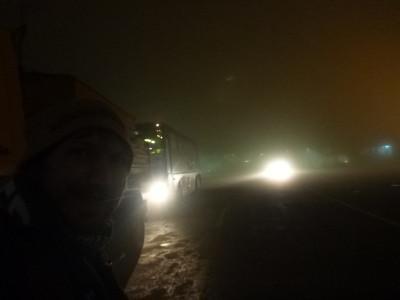 In Macedonia they use Macedonian Denars and as I arrived in darkness, there was nowhere to change my US Dollars or Euros into Macedonian Denars, so I had to wait until I arrived in Skopje. However after the border check and arrival on the Macedonian side, we got 20 minutes time and there was a bar and shop open. A local Macedonian lady allowed me to buy a Macedonian beer using a $1 US note – I did ask her nicely though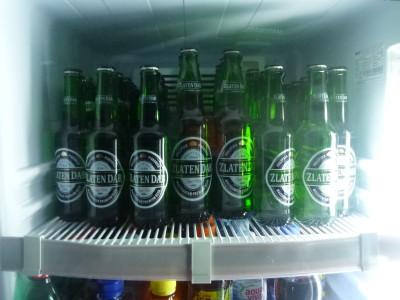 A Macedonian beer for the journey onwards.
I then got back on board, enjoyed my Macedonian beer and we were less than a few hours from Skopje, the capital city. We did make another stop on the way where some passengers got off. It was dark and I couldn't work out where it was but probably Kocani or Stip.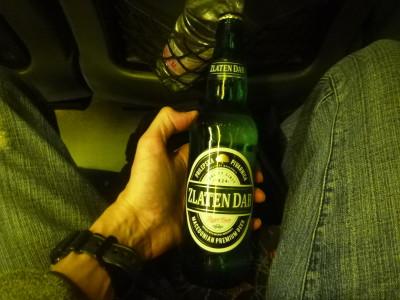 Enjoying my Macedonian beer on board.
Arrival in Skopje, Macedonia
Around 8.10 pm I arrived in Skopje, Macedonia, though it felt later due to the time difference. The entire bus journey took 5 hours 10 minutes, but time wise it only elapsed 4 hours 10 minutes. I headed on foot to my cool hostel – the City Hostel Skopje and was ready to explore a new country and city.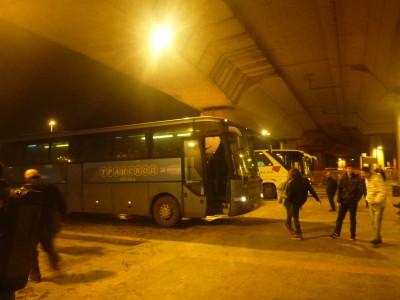 Arrival in Skopje Macedonia.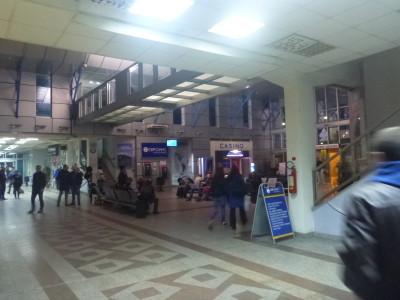 Arrival in Skopje Macedonia.
I haven't written much on Macedonia yet but I loved it! Skopje is a fabulous city, I really recommend it.
Here are some videos from my journey:

Join 15,017 Monthly Readers! If you enjoyed this article and LOVE travel and SAVING money, get e-mail updates from Don't Stop Living – a lifestyle of travel! (It's Free)

Jonny