Don't Stop Living - Jonny Blair - a lifestyle of travel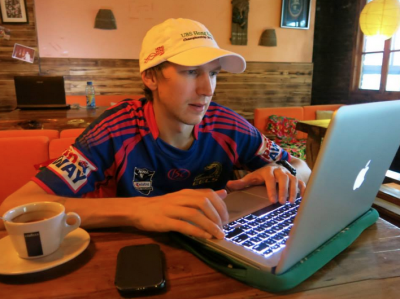 Working Wednesdays: I'm a Business Backpacker these days…
Today on my working Wednesdays I wanted to share my latest career move with you all to get you thinking "outside the box". I'm inventing a new term for myself, as of today. I might be a budget backpacker, I might be a hardcore backpacker and I might be a perpetual backpacker. However I want to be known from now on as a business backpacker. Yes a "Business Backpacker"! With a desire to explore the world, a background working in bars and customer service jobs and a degree in Public Relations, I took the notion of travelling the world, writing about it and somehow, thanks to my readers, my advertisers and the travel industry, I'm now a business backpacker. Some might call me a professional travel blogger, a travel writer or even just another blogger. But guys and girls, for the last 6 months or so I've become a "business backpacker" – it's the lifestyle I've craved, carved and created for myself, all from my experience of travel, my passion for writing and the internet…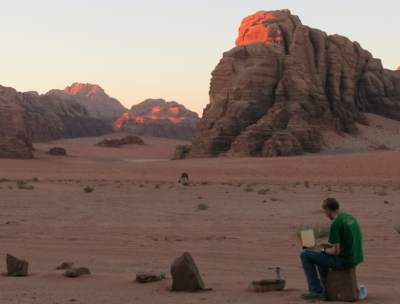 Business Backpacker – Jonny Blairs travel blog – working in Wadi Rum Jordan. That's right "working".
What is a Business Backpacker?
OK, this is how it works. First and foremost I am a traveller. My style of travel is to get my backpack on, head to places nobody else has ever been, meet some locals, meet some fellow travellers, have a good time and tell everyone about it. I write all my stories from first hand backpacking. This blog has almost 1,500 first hand travel articles on it. I write them all myself about places I've been and explored. Through this platform, Don't Stop Living has opened new doors for me in life. That's the way things have panned out for me.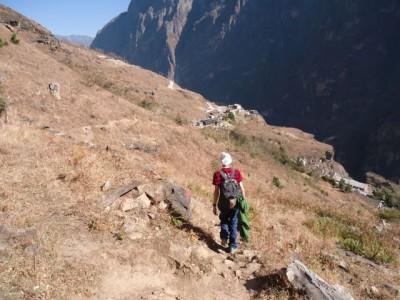 Backpacking in China's Yunnan Province, always dreaming of bigger things ahead…
This website, as well as being my love, my joy and my passion, is also a business. I hadn't really shared this notion with any of you before. But it's a new year, we're in 2014, I've been travelling to places like Iran, Iraq and Nagorno Karabakh recently and things have changed since I chopped broccoli on the remote farms of Tasmania, just 4 years ago. While I used to earn money working in bars and farms, I now earn money through writing about travel.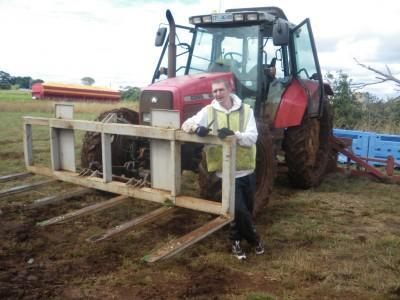 From a broccoli farmer in 2010 to a business backpacker in 2014.
How did I become a Business Backpacker?
The simple answer is through this website, Don't Stop Living. This website has now become a handy and successful resource for keen travellers, new and old. I get over 20 e-mails a week now from people who have read 1 or 2 of my stories and want some advice, tips and inspiration. I get over 50 e-mails a week from travel companies, sponsors and advertisers. Through this blog, I have helped other people break the mould and travel the world. That's the hard facts.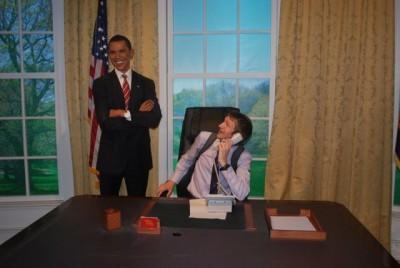 I get so many e-mails and calls, I had to ask Barack Obama to use his office.
I helped people get jobs teaching in Hong Kong, I helped others secure visas for countries like China and Suriname and I recently helped another backpacker in Australia find a job. My get up and go attitude in life stood me in good stead. Thanks for reading my stories, thanks for following me on Facebook and thanks for reaching out and e-mailing me everyone – you're always welcome and I try my best to reply to every e-mail with direct honesty and forwardness. Through my travel writing, new opportunities came my way and my lifestyle has turned me into a business backpacker.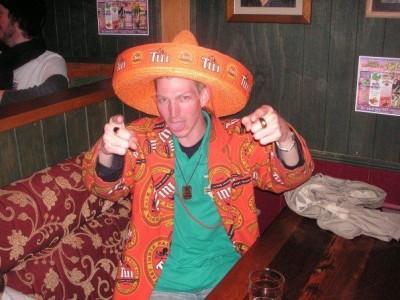 In party animal mode in New Zealand back in 2007 – who says a Northern Irishman with a sombrero can't run a business through backpacking ?
When did the penny drop for me and Don't Stop Living?
This blog started shyly and unknown way back in summer 2007 when I took my lonely soul and backpack to a hostel in Toronto, Canada. In that very hostel I decided to transfer my written notes into a typed blog. Don't Stop Living was just another travel blog to join the thousands of others out there. It wasn't until 2012 that the penny dropped for me, and that I saw the business opportunity through it. I'm a slow starter for these things in fact. I was too busy living to understand what power and authority this travel blog had. Then one day in May 2012 I was nonchalantly backpacking in Japan. This is the day, when it all changed…
1. Being Recognised by a reader in Tokyo, Japan (May 2012)
It was a busy Sunday in Tokyo and my travel buddy Neil Armstrong and I were just watching a parade in Shibuya. Someone taps me on the shoulder and asks if I'm Jonny from Don't Stop Living blog. I realised people read my stuff, this guy even knew my name, where I was from and while I certainly wasn't famous, my page views had increased and people got interested in my lifestyle.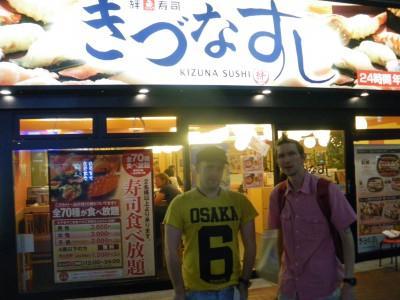 Me and my mate Neil were in Japan when things were about to change for Don't Stop Living.
2. Being the "Modern Traveller" in Vietnam (August 2012)
Just after Japan I was in Vietnam on a hike in Sapa. Two of my travel companions, on seeing that I was busy writing notes and taking photos only for my readers called me over, asked me to chill out with a beer and join them. I did. They called me a "modern traveller". Notebook, laptop, pen, paper, Facebook, camera. I was the first travel blogger they had met and as I typed up notes on Vietnam for my blog, it made me realise I was a different kind of traveller to most. I took time out to write my blog. I was hungry, eager and informative. I wanted my readers to read my stuff, love it and want to go and travel.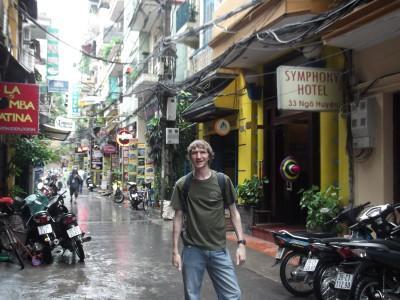 As I backpacked through the streets of Hanoi in Vietnam, things were changing once again. I was basically becoming a full time travel blogger.
3. Living Less Ordinary and Moving One Step Forward (October 2012)
Fast forward about two months after Vietnam and I'm approached by Allan Wilson of Live Less Ordinary, a travel and food writer based in Bangkok, Thailand. Not only was I impressed by Allan's story, but he asked me about monetizing my blog. I told him the truth – I'd used Google Adsense and found it useless at the time and was happy writing my stories but wanted my website to look better. I hadn't previously spent any money on my blog, was using the free site Blogger and just writing away. Then I decided to take the plunge. I took a risk. I spent money on my site. I got a new design, a new domain, a new logo. Don't Stop Living was now a lot more professional and I knew it. I used my PR skills to market the site better, I told all the "big name bloggers" about it and I was getting more page views to my site.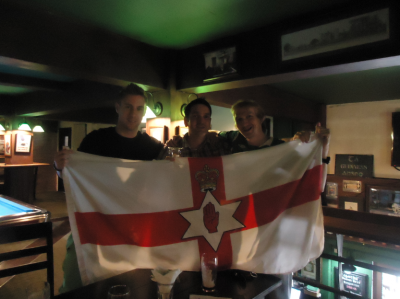 Living less ordinary and making one step forward with Alan Wilson and Johnny Ward in Bangkok, Thailand.
Then I found out about fellow Northern Irishman Johnny Ward, who runs the site One Step 4 Ward. As far as backpacking goes, Johnny is a legend. His stories sell themselves. From his tales of backpacking all the way from Cape Town to Cairo, taking in hyena feeding in Ethiopia, hiking Mount Kilimajaro and crossing into Somaliland. I contacted Johnny saying I loved his site, his outlook on life and his enthusiasm for travel and blogging. I didn't expect a reply. Who was I? I was just a long term worker and backpacker from Bangor but I had bunged 7 continents into my backpack without flinching an eyelid though. Low and behold, Johnny replied. He was positive, helpful and just seemed like a top bloke. He knew the score. He went from growing up poor to travelling the world to making some money for himself and I loved that. I knew I had to make the money myself from this point on.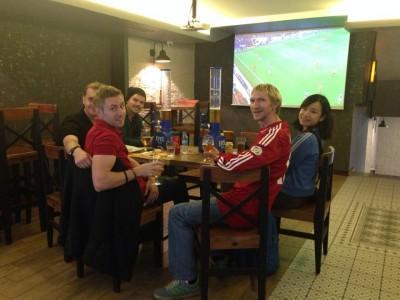 A few more beers with fellow travel blogger Johnny Ward in Ankara, Turkey.
These two guys, Allan and Johnny helped spearhead my campaign. They supported my site and I was on a roll. Thanks guys

Beers in Bangkok soon?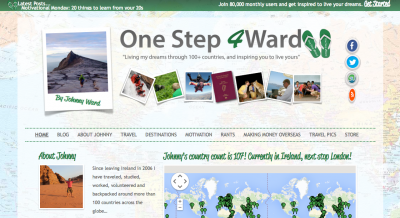 Johnny Ward's excellent "One Step 4Ward" website.
Around the same time, I came across Nomadic Matt's excellent book "How to make money from your travel blog". This proved to me that others are out there making money from travel sites and blogs. These guys that also make money, are also by default "Business Backpackers". Check out Nomadic Matt's site and link there.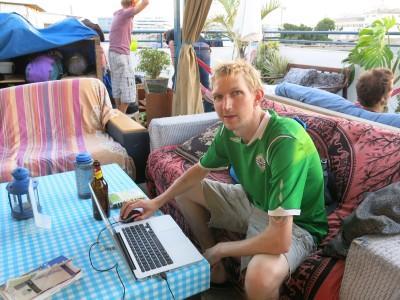 Working overtime on the move to update my travel stories.
4. Business Plans while backpacking in China (December 2012)
I've done some proper backpacking in China. I've been to towns housing 100,000 people that nobody has ever heard of, or written about. You better believe it. I shake your hand if you've also backpacked successfully through Shangrao, Jianshui, Taxia and Shaoguan. I started concentrating on writing about this sort of stuff, and ignored all the other bloggers writing about Paris, Bangkok and Sydney. While I've also been to those three cities a few times, I've never wanted to write about them. It felt pretty authentic to be travelling to places like Gaobei Hamlet in Fujian Province and telling my stories. Even if nobody was reading, I was confident I was writing the best stuff of my life.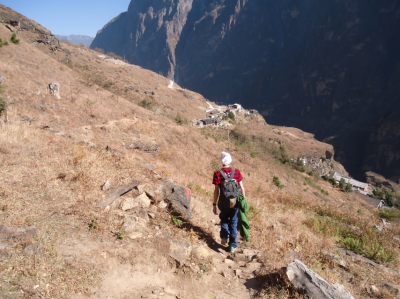 Business Backpacker – Arrival at Tinas Upper Trail Hike – Yunnan – China
I've been to 12 out of 29 Chinese Provinces now, inspired my the delightful Panny Yu, my girlfriend who, has travelled more than me…one day while sat in a hostel in the Yunnan Province, I was so inspired and sure that Don't Stop Living was going to be a big success. I set myself some targets and business plans. I had never done that before.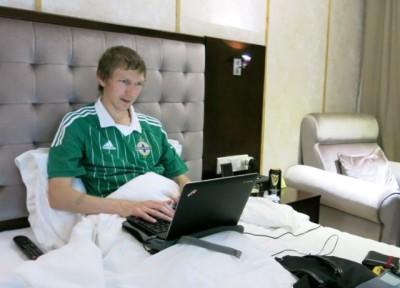 While backpacking in China, I took time out to blog and draft up a business plan for Don't Stop Living.
5. Then An Advertiser Contacted me (December 2012)
In December 2012, I was sat in a primary school in Shek Kip Mei in Hong Kong ready to teach English. I had got into work early to check my e-mails and have a coffee while I planned my lessons. And there it was – in my inbox. An advertiser wanted to post and advert on my travel blog!! I got a bit excited! I was sitting with a Page Rank of zero at the time. But I had been to all 7 continents, over 70 countries, I'd written 1,200 blog posts, I knew my stuff and I was attracting attention, even from the so called "bigger bloggers" – though shamefully the likes of Gary Arndt and Erin of Never Ending Voyage couldn't bring themselves to admit it.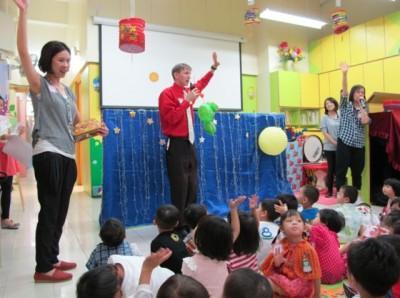 I was busy teaching English in Hong Kong when an advertiser came knocking on Don't Stop Living's door…
Erin refused to interview me on her site (thanks) and Gary refused to add my blog to his list of 300+ travel blogs (nice one Gaz). Secretly I knew my blog was in the top 10 travel blogs in the world. I wouldn't be arrogant to assume that – read my back catalogue of stories from almost 100 countries – all real life experiences! When that advertiser contacted me, I saw the chance to earn some money from my blog, I jumped at it, made my first $65 US and got on with my travels. China, Phillippines and Sri Lanka were up next and in the meantime I was flat out based in Hong Kong working in 3 jobs.
6. Sponsored Trips (2013)
By early 2013, my work was attracting attention from tour companies and I was offered sponsored trips. Companies were now paying for my travels and I loved it. In 2013 I worked with 5-6 travel companies on sponsored trips. I loved the whole "business" aspect of it. I'd turn up for a "business meeting" in some far flung country, dressed in a Northern Ireland football shirt, having not shaved for a few days and just been in the jungle. I handed my business cards over, got some new contacts and I was working on the move. I took a total of 10 sponsored or discounted trips in 2013.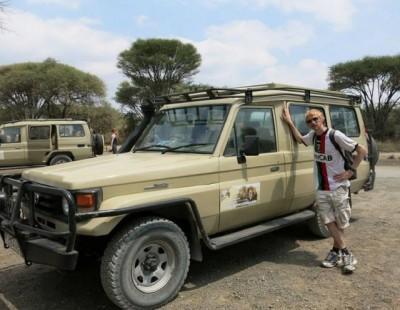 On a safari tour in Africa now officially a "Business Backpacker"…
As well as this, I got free and discounted accommodation in return for coverage on my blog and my social networks. As a result, I got too busy to work in Hong Kong. I stopped working for Internations in June 2013, I stopped working in the Primary School in June 2013 and in mid July 2013, I had left my job (seeing out the contract) as a kindergarten teacher in Hong Kong. It wasn't that I didn't need to work, or need the money. It was that I was too busy – I had made travel plans with other companies, I had agreed to go to a wedding in Israel, a football match in Azerbaijan and had a slight longing to visit Iraq. I took time off to travel and in the last 6 months I have only worked for myself online.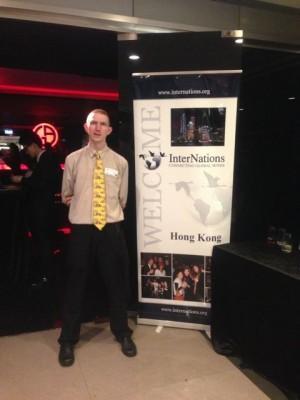 My last night working for Internations in Hong Kong before becoming a business backpacker.
7. The Business Backpacker (2014)
When January 1st 2014 came round, I was replying to e-mails from my hotel room in Iraq. I realised that over 90% of these emails and Facebook messages were related to my travel blog and my new found "business". I had planned itineraries for companies like Vadovia, I had become an online travel adviser at Think Places, I had more advertising e-mails every week and I was also being asked to write articles for companies and websites. I even got an email out of the blue in 2013 asking if the BBC could interview me in Northern Ireland. I duly obliged and ended up on BBC Radio and on their website. Probably my proudest "business backpacking" moment to date.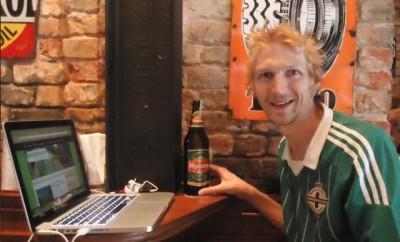 With over 90% of my emails being about Don't Stop Living, I was now obviously working on the move…
So I thought I'd share this notion all with you today – as well as being a superb platform for telling my travel stories to you all, Don't Stop Living has acted as the launchpad and platform for me to earn some money and get myself onto some cool trips. What this all means is, I'm now concentrating on online work. I may go back to teaching English next month to top up the wage bill to ensure I can backpack after the World Cup but the reality is, I'm a business backpacker these days. I'm really happy with this lifestyle at the moment, and will enjoy it for however long it lasts!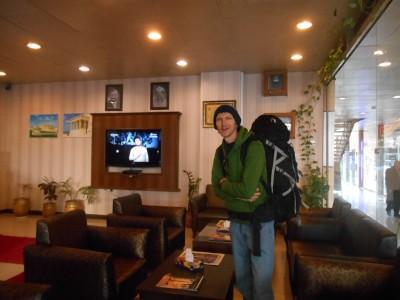 Backpacking in Iraq this week – with business on my mind…
I may have invented a new term there as well. Business Backpacker. I live up to it – I turn up to business meetings in bars in random countries. I dress in a football shirt and baseball cap. I don't wear a shirt or tie or drink expensive champagne. Cheapest beer on the menu please!

I give my travel industry colleagues my business card.
Touring Iraq last week – Erbil's Citadel.
What's next for Don't Stop Living?
Next up I hope to continue to use this website to earn some money to keep me on the road. Advertisers can contact me through my advertising page, or by simply e-mailing jonny at dontstopliving dot net . Travel companies are welcome to ask me to work for them. I'm in the process of setting up some other sites including the new Crossing World Borders Travel blog. I'm planning to do a trip to Kerala in India with Allan Wilson next month, working in Hong Kong and Thailand from my laptop, my final fling with teaching English, then heading to French Guyana and Brazil for the 2014 World Cup.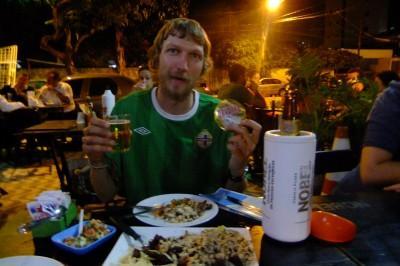 Enjoying Brazil back in 2011 – aiming to head back this year!
One thing I won't ever do though, is change what I do on Don't Stop Living. I won't accept other people to write for me, if you want to feature on this site, then either meet me and I'll stick a photo up, or become part of my World Traveller Interviews. I will keep writing my first hand stories from my travels. I will keep writing as much as I can and I will keep you all updated on my whereabouts and my travel plans. This is the longest running one man travel blog that covers all seven continents.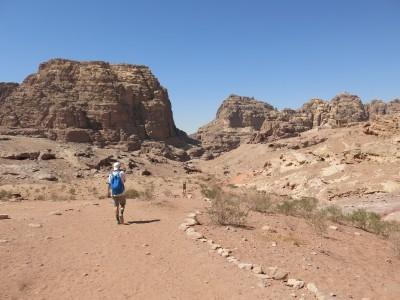 The business backpacker drifting through Petra in Jordan…
You can call me a traveller, a backpacker, a nomad, a blogger, a writer, a travel expert, a vagabond. But I'd like to be known as a Business Backpacker from this day forth. It's been a long old journey through broccoli farms in Tasmania, ice cream kiosks in Bournemouth and obscures towns in Iraq, but this is one journey I'm enjoying…
Safe travels my friends, followers and advertisers.
Jonny Blair
Original article: Working Wednesdays: I'm a Business Backpacker, the Life and Times of Don't Stop Living
©2014 Don't Stop Living. All Rights Reserved.