Don't Stop Living - Jonny Blair - a lifestyle of travel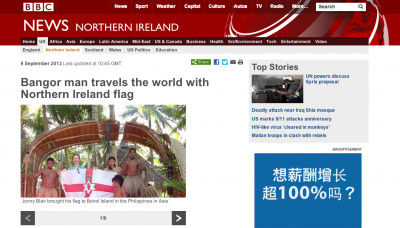 Working Wednesdays: My recent feature on the BBC Website
I make no apologies about the fact that my recent "working Wednesdays" features have been more travel related than random jobs lately. To be honest, a load of new opportunities have come my way in the last 12 months and it almost beggars belief. I'm contacted all the time now by companies for travel advice, advertising, stories and all sorts of things. I almost can't believe it and each time I get a chance to check e-mail, I'm excited. You might have read (or even heard) my recent radio interview on BBC Radio Ulster – the main radio station in Northern Ireland.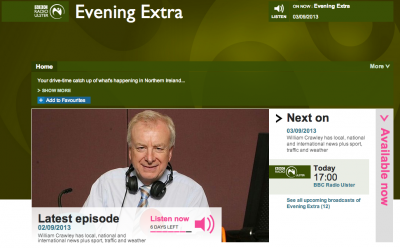 Working Wednesdays: I was interviewed on BBC Radio Ulster which lead to a feature on the BBC website too!
They came across my niche idea of backpacking the globe with a Northern Ireland flag and wanted to interview me. I was over the moon and to be honest, it ranked as one of my best travel moments of recent years. Finally all that hard work had paid off with something I didn't want to get paid for. Something I had longed for all my life. The opportunity to preach to the people of Northern Ireland that you can escape the streets of Belfast, Coleraine and Bangor every now and then and see the world. And you can be a proud Northern Irishman. And you can carry a flag that should, to all intents and purposes represent the people that reside in my home country of Northern Ireland. Yes, my travelling Northern Ireland flag got me a radio interview, after 10 years of backpacking. Nobody can take that away from me now, nor can they say it's undeserved. I was proud and almost cried as I did an interview while staying with my mate Neil in Hong Kong (the same Neil Armstrong who has also backpacked with me on a few trips, including Japan, Malaysia, Thailand and even Brunei!). Hi Neil and Melanie by the way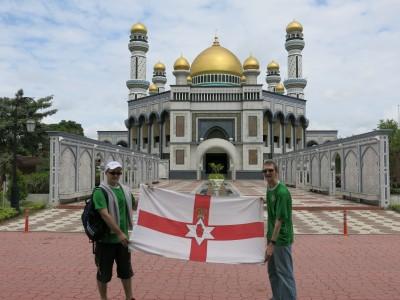 Flying the Northern Ireland flag in Brunei – me and my travel buddy and former flat mate Neil Armstrong!
From that opportunity came what is easily the online highlight of my 10 years of travels – a feature on me and my flag on the BBC Northern Ireland website. Yes, they featured me in an article dedicated to my zany travels with my Northern Ireland flag. Let me set the record for something straight here – I have a load of Irish friends, north and south. They know me, they know I'm a proud Northern Irishman and I fly that flag. They know who I am. I am not a bigot. I do not have a political agenda. I just love to promote Northern Ireland, my type of Irish people. The good old Norn Iron football team, our Ulster Frys, our Bushmills whiskey, our Tayto crisps and the Giant's Causeway. I love it and I'm proud of it.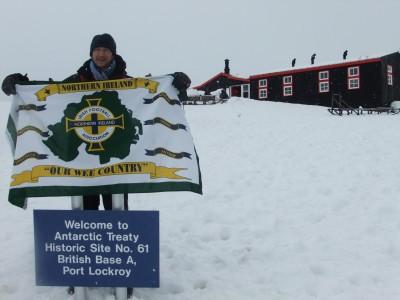 Proudly flying my Northern Ireland flag at the entrance to the British Base of Port Lockroy in Antarctica in 2010. This sort of stuff got me featured on the BBC!!
So you can read my article on the BBC Northern Ireland website here, where they featured me. I also want to mention that they said "five continents", well I'm being greedy again and counting it as "eight continents". I've been to all 8 with that flag. So here's my eight top Northern Ireland flag photos just for the banter, one from each continent. Nothing political, just one man and his flag. As I traipse across endless borders with my flag, a year or so ago I set up my travelling Northern Ireland flag website (which still needs updated by the way).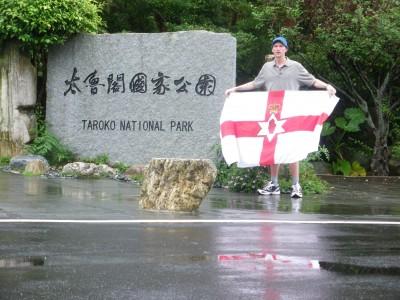 Flying the Northern Ireland flag at Taroko National Park in Tailuga, Taiwan.
If you're Northern Irish, or even a friend of mine and are reading this, then "hello, bout ye!" it's nice to have you here visiting my site and hopefully I'm inspiring fellow Northern Irish people to travel. If you're not from Northern Ireland and are reading, then thanks for checking out my site, seeing me featured on the BBC website and following my own travel stories. You might have seen me flying the Northern Ireland flag and wondered what the hell it was all about. It's just me, being proud of where I'm from and flying the flag.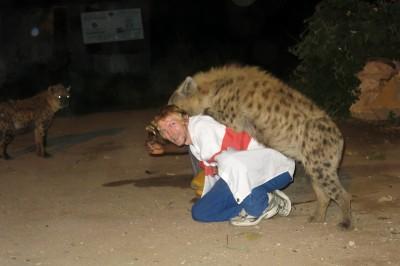 A hyena jumps on my Northern Ireland flag (and my back) in Harar in Eastern Ethiopia.
The main point is, you can travel the world, but don't forget where you're from and don't set limits. You can get out there and do anything you want. I'm from a small town in Northern Ireland (Bangor) and out seeing the world. I want to inspire others to get out there and see it. You can, because I can.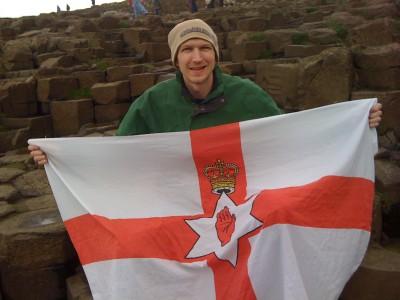 Back home in Northern Ireland on a rare visit – flying the flag at the Giant's Causeway.
I've made the BBC news now, and that's the icing on the cake for me this year in terms of travel writing. Everything is falling into place nicely for me. From the Working Wednesdays days of harvesting broccoli, cleaning bins and toilets, milking cows and teaching English to the freedom to be backpacking the world, working online from my laptop. Working Wednesdays are changing for me, and I won't look back.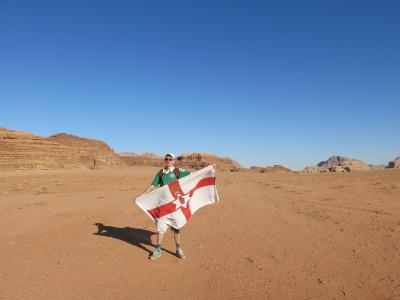 Flying the Northern Ireland flag in the Middle East – here at Wadi Rum desert in Jordan celebrating a decade away from Bangor, my hometown.
A laptop and a beer have become my online office. I write this sat on the border between 4, arguably 5 countries in the Middle East. I'm in Aqaba in Jordan, staring over at Taba in Egypt, Eilat in Israel and Palestine and only 20 kilometres from Ad Durra and the Saudi Arabia border. Life is pretty good for me now. I'm not working 12 hours a day in a farm and sleeping in a tent. I'm doing what I want. Working online and travelling across the Middle East.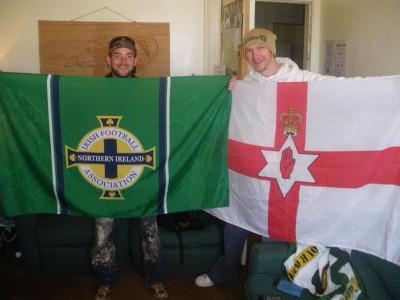 Flying the flag in Tasmania with Chaz a travel buddy from Belfast.
I'd like to thank BBC Northern Ireland for contacting me and featuring me. It was an absolute pleasure and I was touched emotionally by my appearance on their website. I was actually in North Korea at the time my interview went live and so I didn't see it until a few days later when I had a load of mates contact me and tell me they'd seen me on the BBC.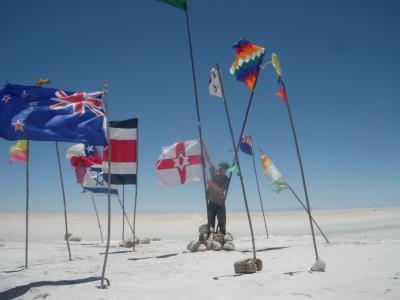 Flying the Northern Ireland flag at the Salar de Uyuni in Bolivia.
My travels have no limits, nor do my working Wednesdays…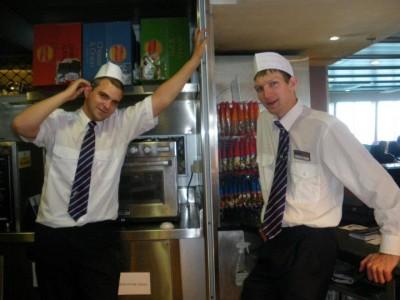 Working Wednesdays of days gone by were all about enjoying jobs like this – being a ferry steward on the England to France routes with my buddy Chris Bilsland. Things are changing…
In closing, please get in touch with me if you want travel advice, want to interact, want to advertise with me, want to interview me or want to work with me in ANY way. I'm open to offers and I don't have limits. As I sip an 8% Petra beer tonight, life is rather sweet for me right now.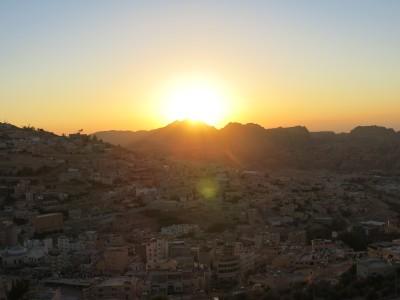 Sunset over Wadi Musa and Petra in Jordan this week. It was sweet being on BBC Northern Ireland…
Follow me on Facebook, Twitter and Google Plus and reach out. You can also contact me on the form below.
"Libraries gave us power, then work came and made us free". I'm starting to believe the Manic Street Preachers got it right back in 1996.
Safe travels my friends.
Jonny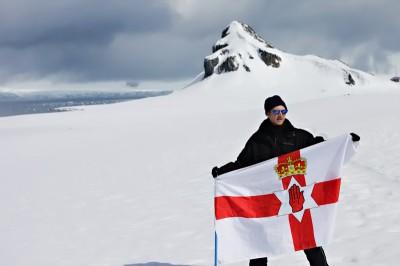 Flying the flag for Northern Ireland in Antarctica got me on the BBC…
Original article: Working Wednesdays: BBC Northern Ireland Feature on Jonny Blair's Northern Ireland Flag
©2013 Don't Stop Living. All Rights Reserved.