Serial Stalker Johnny Ward starting phoning my friends (former or current – irrelevant – these are my friends, not his) Karolina, Ola, Magda and Kasia pretending to care – he did it for his own publicity and goody goody nature. He also promised he would put ALL our emails to each other in public and copying those girls in.
It is now we realize HE LIED – he didn't have the balls to do it. Almost as bad as Ola Mueller sending me no tips to her town when I was front page – POST me the newspaper please!! Any decent person who claimed to be a "friend" will do it!! I will DO IT FOR ANYONE.
If someone begs me for an apology, I will give it to them because I understand depression and suicide and I am so nice.
Johnny Ward LIED. Ola Mueller Lied. Karolina (name changed by her request but we all know who she is) LIED – she said she didn't speak to Ola!!!
So below, so that you can all see the full email transcript, I have posted it because I hate creepy, behind the scenes behavior. Ward, who has NOTHING to do with those girls, contacted them of his own accord and then claims I am creepy because I backpacked through their villages to write about them. He is so unintelligent not to see the truth here and I can never convince him that it was the lies of Ola Mueller, deliberatly trying to cause my suicide that caused me to act in this way. Nothing else.
Here are the emails:
WONT REPLY TO THE FIRST PART AS ITS EXCREMENTAL AND YOU FOUND IT ON A FARM.
BUT VISITING THEIR VILLAGES IS NOT CREEPY IN THE SLIGHTEST. SO ALL THESE VISITS TO MY OTHER FRIENDS VILLAGES WERE CREEPY???? ALL YOUR TOURIST TRIPS ARE CREEPY THEN TOO, BY YOUR OWN ESTIMATION.
I am a tourist and travel writer – it is WHAT I DO,. I visit my friends towns and villages and write about them. So if tomorrow I visit Kilkeel, to write about it, that is CREEPY??? YOU ARE A TOTAL STUPID IDIOT. THIS IS TOURISM AND TRAVEL, NOT STALKING. THESE ARE MY PREVIOUS CREEPY EXPERIENCES IN THAT CASE:
http://dontstopliving.net/a-secret-religion-exploring-isfiya-druze-village-israel/
http://dontstopliving.net/backpacking-in-austenasia-becoming-the-first-tourist-to-visit-wrythe-the-capital/
http://dontstopliving.net/backpacking-poland-exploring-peaceful-pleasant-holy-pelplin/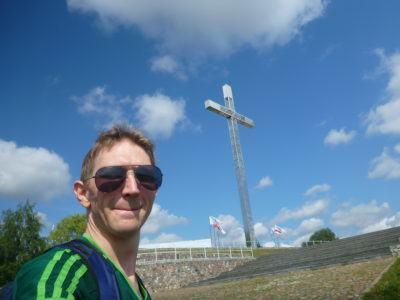 Backpacking in Poland: Exploring Peaceful, Pleasant, Holy … dontstopliving.net I made the pleasant, lonely walk out of Pelplin this morning to climb to the Hill of Jan Pawel II on a Sunday morning as well as touring the sights of this tranquil …
AND I HAVE OVER 1000 MORE EXAMPLES – THEY ARE NOT CREEPY YOU IDIOT. THIS IS TOURISM.
From: [email protected] <[email protected]> on behalf of Johnny Ward <[email protected]>
Sent: 09 February 2017 08:20
To: Jonny Blair
Subject: Re: APOLOGISE AND STAY OUT OF MY LIFE YOU IDIOT
Let's get back to reality here, you're obsessions are clouding your grasp on reality. Here is the reality – 2 adults have kindly asked you to stop contacting them, stop speaking about them, stop blogging and tagging them online etc etc. Yet for months and months you kept harassing them, contacting them, their families, creating fake profiles, obsessing over them, despite their constant pleas for you to leave them alone. This is what it's all about. That's wrong Jonny, stop it. Just stop it.
Eurrrgh it's tiring but let me put this right. I said i spoke to them Jonny, not called. I spoke to them via FB, stop fixating on small details and blowing things out of proportion. Secondly I didn't say I'd cc them in, I said "we can cc them in", that is not saying I'll do it, it's stating a possibility. Get a grip. Finally, (why am i wasting my time?) I said we CAN upload screenshots, not we WILL upload screen shots, very different. If you're abuse about one of the girls 'lies' is as weird, obsessive and plainly wrong as my three 'lies' you accused me of, i feel even more sorry for them now.
'Poor girls' Johnny, wow. Poor, in this context, =  "people deserving of sympathy". They are 'poor girls' cos you're fucking harassing them and they deserve sympathy = 'poor girls'. Get a grip mate. And yes, visiting their villages is creepy Johnny. You didn't randomly stumble across a couple of villages that they just happen to be from, but whatever, you're entitled to be as weird as you want, as long as you don't upset, bother or hurt other people. Right now you are doing all those things. Stop it. On Thu, Feb 9, 2017 at 2:04 PM, Jonny Blair
<

[email protected]

>
wrote:
SO YOU LIED. YOU ARE A LIAR.

I NOW HAVE PROOF.

FIRST LIE:

YOU TOLD ME VIA INSTAGRAM THAT YOU PHONED THESE GIRLS. MY FRIENDS, NOT YOURS:

https://www.instagram.com/p/BP9zyCflIl0/?taken-by=onestep4ward

(WHETHER OLD OR NEW FRIENDS – IRRELEVANT – MY FRIENDS – NOT YOURS)

NOW YOU SAY YOU DIDN'T PHONE THEM????

YOU ARE A LIAR.

SECOND LIE:

YOU TOLD ME YOU WOULD MAKE THIS ENTIRE EMAIL THREAD PUBLIC, WORD FOR WORD. HAVE YOU DONE IT YET?

(I'LL GIVE YOU UNTIL FRIDAY MIDNIGHT, THIS WEEK)

THIRD LIE:

YOU TOLD ME YOU WOULD "CC" IN "THESE GIRLS":

labuda.***@gmail.com

aleksandra***@gmail.com

(I am not giving you their full personal emails because they are my friends, not yours it is suspicious how you got their phone numbers in the first place – I assume through me and my websites)

ALSO YOU CALL THESE GIRLS "POOR"??? HAVE YOU EVER MET THEM?? THEY ARE RICHER THAN YOU.

AND OF COURSE I VISITED THEIR TOWNS, THIS IS NOT CREEPY. IT IS MY JOB. I HAVE VISITED 3,000 PEOPLE'S TOWNS IN 14 YEARS, YOU HAVE ALSO DONE THIS. IT IS LOVE OF TRAVEL, NOT CREEPY.

From: Johnny Ward <

[email protected]

>
Sent: 09 February 2017 01:56 To: Jonny Blair
Subject: Re: APOLOGISE AND STAY OUT OF MY LIFE YOU IDIOT Jonny if you ever get help and grasp reality you are gonna look back at these episodes and regrets all the bridges you burned. I won't stand quietly while you make others suffer, and I will continue to try to held and defend people when they are being bullied or are being stalked. I have experience with a crazy stalker, so I understand what these girls are going through. Stop it Jonny, please. On Thu, 9 Feb 2017 at 07:14, Jonny Blair <[email protected]> wrote:

HONEST MAN OF YOUR WORD J WARD???? DO IT BEFORE I END UP POSTING ABOUT THIS IN THE NEXT FEW DAYS IF I SURVIVE MY CUTS.

POST ALL THESE CONVERSATIONS WITH PHOTOS/SCREEN GRABS OR WHAT YOU HAVE AND CC IN "THOSE GIRLS" (PROBABLY WHAT YOU MEAN IS MY GIRLS WHO YOU DECIDE ARE YOUR FRIENDS NOW TOO – THEY'RE NOT – THEY'RE MY FRIENDS YOU STOLE).

CAN YOU DO WHAT YOU SAID????

Sent from Outlook

From: Jonny Blair <[email protected]>
Sent: 08 February 2017 15:51
To: Johnny Ward
Subject: Re: APOLOGISE AND STAY OUT OF MY LIFE YOU IDIOT

YOUR LAST MESSAGE SAID YOU WILL CC IN THE GIRLS YOU PHONED AND ALSO SEND ANY SCREEN GRABS AND PUT IT PUBLIC.

PLEASE PLEASE DO NOT TELL ME YOU ARE AS BAD AS THEM AND ALSO A LIAR???

https://www.facebook.com/donotstopliving/posts/733835093435082 I PUT OUR ENTIRE CONVERSATION ON MY FACEBOOK THREAD, LINK HERE:

AND IF THAT WAS YOU AND THEM THAT PUT A FRAUDULENT PAYMENT ON MY BANK CARDS – TELL ME NOW AS I WILL FIND OUT (WHEN i AM ALREADY IN DEBT FROM $1,500 OF DEPRESSION COSTS – DOCTORS, TABLETS, DAYS OFF WORK ETC.).

CC THEM IN AS YOU SAID, MAN OF YOUR WORD??? HONEST MAN??? PROVE IT!
J Ward,
I know you don't understand depression properly – can you admit that?? most of my friends, enemies and followers also don't. BUT IT IS HONEST and REAL and I cry hourly for the last 8 months. I will always admit my errors and apologize. You are WRONG to interfere with MY friends (whether current or former – I have proof that those 4 girls were at one point friends)
Keep all the live posts and comments for now, ok, please, for now.
When things are good with me, I am genuinely one of the NICEST guys you can meet. This is true. Ask others. When I am lied to and disrespected, I turn into a suicidal, depressed person. I have NO QUALMS with anything being public.
YES I want that with the screenshots!!! I already was happy when Magdalena (name maybe changed) showed my screen shots in public. I was happy for 2 days until you started contacting my friends when you had no right. CC the girls in then please and put this thread public, I am happy with that 100%!!! Then in this situation my depression will be gone. Do it as you say, you are honest so keep to your word. I can't wait to have the four of us on a thread and resolve things.
(later if i recover we can always mutually agree to delete things on your blogs, my blogs or Karolina's blogs)
But for now, doing these things you said you would do, they will help me and maybe end things. As you said, you WANT to help, so do it – prove it.
After I will survive, either with suicide or happiness.

Word for Word email with Johnny Ward: APOLOGISE AND STAY OUT OF MY LIFE YOU IDIOT
Re: APOLOGISE AND STAY OUT OF MY LIFE YOU IDIOT
Johnny Ward <[email protected]>
Today, 12:49You
There is nothing sneaky, I tried to help you time and time again, but you don't want help. If you think this is sneaky, I would happily post the ENTIRE email thread (not missing anything, every single word) but I'm telling you mate, it only confirms that you have serious mental problems. We can even CC the girls who you are  threatening in too, and have them upload all the screen shots, do you really want all that information out? It would bring an end to all of this because everyone would finally see that it's you who caused all your own problems, it's you who hurt these people, it's you who puts words in other people's mouths. I don't wanna embarrass you publically Jonny, I want you to get better. But I also won't sit around watching you stalk and harass innocent people, so like I said, please stop contacting anyone who doesn't want to be contacted.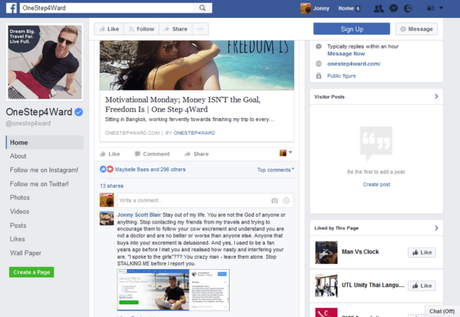 Word for Word email with Johnny Ward: APOLOGISE AND STAY OUT OF MY LIFE YOU IDIOT
On Wed, 8 Feb 2017 at 19:42, Jonny Blair <
[email protected]
> wrote:
YOU SAID LYING IS DOING NOTHING WRONG.

YOU SAID THAT KAROLINA, OLA, MAGDA, KASIA DID NOTHING WRONG.

WHY ON EARTH DO YOU PHONE OTHER PEOPLE'S FRIENDS??? HOW DID YOU EVEN GET THEIR PHONE NUMBERS??

aND WHETHER ITS FORMER OR CURRENT FRIENDS IS NOT THE ISSUE – THESE ARE MY TRAVEL FRIENDS. NOT YOURS.

CAN I CONTACT YOUR MUM, GIRLFRIEND, FRIENDS???? IS THAT OK???

I AM FIXATED ON SOCIAL MEDIA AS I HATE SNEAKY PRIVATE MESSAGES – IF YOU HAVE SOMETHING TO SAY YOU CAN DO IT ON SOCIAL MEDIA SO OTHERS CAN SEE WHAT YOU ARE REALLY LIKE.

I ALREADY ADMITTED I MADE MISTAKES, APOLOGISED AND SUFFER FROM BRAIN PROBLEMS. I ADMITTED IT.

THESE GIRLS WANT "NOTHING TO DO WITH ME???" I HAVE A MESSAGE SAYING WE ARE FRIENDS AND SHE IS SENDING ME HER TIPS FOR TOURING KOCIEWIE!

SHE HASN'T WRITTEN TO SAY SHE CHANGED HER MIND OR IS SORRY, SO I AM STILL WAITING OF COURSE.

IF SHE DOES APOLOGISE OR GIVE ME TIPS, I WILL RECOVER. I KNOW IT.

Sent from Outlook

---

From: Johnny Ward <[email protected]>
Sent: 08 February 2017 12:37
To: Jonny Blair
Subject: Re: APOLOGISE AND STAY OUT OF MY LIFE YOU IDIOT Of course lying is not ok Jonny, what are you talking about?! And I don't respond to threats Jonny. What are you going to do? Create fake profiles again? Harass me? Buddy get some serious mental health treatment, you've gone too far this time. During your 'suicide bid', and the whole 'share this on social media or I'll kill myself' you were only risking yourself. However now you've taken it too far, scaring innocent people, threatening and harassing girls who want nothing to do with you I don't know if you think you're in love with these girls, or just simply obsessed with them as is your nature, but they have asked, and begged, you to leave them alone. Now I'm asking you on their behalf too. Neither of us want to see you get arrested mate. Seriously, stop worrying about comments and blog posts and social media, why are you so fixated on that stuff? Live in the real world, take a good long look at how upset these girls are, and the damage you've done to yourself and the people who once looked up to you. Fix yourself mate, even if not for others, do it for yourself, you've completely lost the plot and it's sad and worrying. Get help ASAP. On Wed, 8 Feb 2017 at 19:23, Jonny Blair <[email protected]> wrote:

YOU DELETED THE COMMENTS BECAUSE I WAS HONEST.

YOU THINK LYING IS OK, THAT'S WHAT YOU SAID AND YOU DIDN'T LIKE MY HONESTY.

PUT MY COMMENTS BACK ON YOUR PAGE ASAP, OR I WILL POST THEM AGAIN MYSELF.

Sent from Outlook

---

From: [email protected] <[email protected]> on behalf of Johnny Ward <[email protected]>
Sent: 08 February 2017 06:43
To: Jonny Blair
Subject: Re: APOLOGISE AND STAY OUT OF MY LIFE YOU IDIOT

Clearly your 'help' is not helping.

Self-reflect, look at yourself. Your behavior is less and less rational Jonny. It's absolutlely nuts actually. Have a look at your IG, your FB etc, these ramblings are not the acts of a normal person. Andt hese girls are not your friends, they want you out of their life, they're terrified and you're harrassing them. You're delusional, and that's another symptom of psychosis. Deleting your comments, Jonny, is to help you – I'm not sure if you're aware, but you're coming across like an absolute crazy man to the rest of the world. People are talking about you like you've lost the plot, and it's this crazy behavior that's making them think like that, rambling about things that just aren't sane.  I delete the comments so more people don't see how much you've lost it. I'm astounded everytime I receive these crazy monologues mate, send you their phone numbers? What are you on about? Why would that help anything? Mate, you're cyber stalking people, cyber bullying and harassing people. You can get arrested for this stuff. And you'll deserve it. Get help. Urgently. Before you dig a hole you can't get out of, you're nearly there already 🙁

On Wed, Feb 8, 2017 at 1:13 PM, Jonny Blair <[email protected]> wrote:

You are an idiot. WITH NO CLUE. YOU SAID THAT "lying is doing nothing wrong" – please EXPLAIN THIS YOU MORON.

and DELETING ALL MY COMMENTS BECAUSE THEY DONT AGREE WITH YOU.

OF COURSE I WENT TO THEIR TOWNS – I WAS WRITING ABOUT THEIR TOWNS I AM A TOURIST. I AM A WRITER. I WILL GO TO YOUR TOWNS, ANYONE TOWNS. WHAT HAS THIS GOT TO DO WITH ANYTHING??? I BACKPACKED THROUGH THEIR TOWNS AND ASKED THEM FOR TRAVEL TIPS. THATS WHY I WAS THERE. YOU ARE A TOTAL CLUELESS IDIOT.

I WILL NOW WRITE ABOUT YOU STALKING ME.

YOU HAVE CONTACTED THEM BEHIND MY BACK AND THINK YOU ARE COOL

"olahasnotips" refers to the FACT I ASKED HER FOR TRAVEL TIPS NICELY IN JULY AND SHE REFUSED TO GIVE ME TRAVEL TIPS ON HER REGION, SO I HAD TO GO TO THE TOURIST BOARD MYSELF AND GET THEM. She has no tips. IT is FACT. READ IT HERE:

NONE OF YOUR BUSINESS. NOTHING TO DO WITH YOU.

YOU HAVE NO RIGHT TO CONTACT MY FRIENDS, FAMILY AND ENEMIES ABOUT THIS.

YOU ARE A LIAR. IF YOU ARE

"happy to help in any way you can" then:

1.do not DELETE any of my comments on your blogs or social feeds.

2. STAY OUT OF KAROLINA, MAGDA, OLA AND KASIA'S LIVES. STAY AWAY FROM THEM. THEY ARE MY FRIENDS, NOT YOURS.

3. ADMIT YOU LIED TO ME. YOU SPOKE TO THESE GIRLS???? SEND ME THE PHONE NUMBERS FOR THEM, SEND ME THE MESSAGES, IT IS HORRIBLE WHAT YOU ARE DOING.

FOR THE LAST TIME, I GOT HELP, I AM GETTING HELP.

---

From: Johnny Ward <[email protected]tep4ward.com>
Sent: 08 February 2017 00:07
To: Jonny Blair
Subject: Re: APOLOGISE AND STAY OUT OF MY LIFE YOU IDIOT I was talking about your mental breakdown to a mutual friend, they were saying it's horrific how you are cyber bullying these girls, -and everyone is standing by and watching, doing nothing, only because you always go on about killing yourself and they are scared to tip you over the edge. So we do nothing but watch and the girls suffer. It's not right. Then 2 of my readers in one week messaged me to ask what the hell u were doing, obsessing over these girls who want nothing to do with you and how it's creepy and illegal. Then I felt it's the right thing to do, to stop ignoring your stalker-behaviour and call you out on it. I have a stalker, and it's horrible. What you are doing to these girls is exactly the same thing. You're using this suicide rambling as a buffer to get away with really creepy behavior and the 2 girls are upset and scared. You told them you'd go to their towns mate?! What the hell?! That's so not fucking on, they're scared ur gonna turn up on their doorstep. Don't u see how abnormal that is?!? Leave them alone! I honestly hope they do go to the police, and I'm sure they will, at least then you can get the help you need. You need to be sexioned and put in a mental hospital urgently before you hurt yourself, or worse hurt someone else. Randomly and incessantly hashtagging Ola is photos that have nothing to do with anything is pathetic and not fair on her "olahasnotips"?! Wow. You are nearly a 40yo man mate, get a grip. This is not how Normal people behave. Where the hell is ur mom and friends during this elongated breakdown?! No one is there to go and get u? No one is there to help you? Let's be clear mate, I don't want u to die but even more I don't want innocent people to suffer, and you are making people suffer for your own weird desires. Reach out and get help. You are psychotic. If you can pause ur hatred for me and self reflect I'm happy to help in any way I can, but for full transparency, I will do all in my power to make u stop harassing these girls. If that involves contacting Instagram, Facebook, WordPress for them to ban your accounts, then so be it, it's not right what you are doing On Wed, 8 Feb 2017 at 00:44, Jonny Blair <[email protected]> wrote:

WARD WHAT ARE YOU DOING YOU IDIOT??

CONTACTING GIRLS, MY FRIENDS, THEN STALKING AND BLACKMAILING ME? I HAVE BLOCKED YOU ON SOCIAL MEDIA – APOLOGISE TO ME IMMEDIATELY.

AS FOR YOUR OUTBURST "I HAVE SPOKE TO THE POOR GIRLS AND THEY HAVE DONE NOTHING WRONG"

YOU SPOKE TO THEM?? WHO?? WHAT ARE THEIR NAMES?? PHONE NUMBERS?? WHY WOULD YOU SPEAK TO THEM?? SHOULD I PHONE YOUR MUM, GIRLFRIEND, FRIENDS FOR YOU??? DOES THAT SEEM OK TO YOU??

"POOR GIRLS"? THEY ARE RICHER THAN YOU AND ALWAYS WILL BE

DONE NOTHING WRONG?? THEY HAVE LIED, CAUSED SUICIDE AND DEPRESSION. ONE OF THEM TIPS THE ICEBERG:

http://dontstopliving.net/backpacking-in-kokoszkowy-top-13-ola-mueller-lies/

STAY OUT OF A SITUATION YOU KNOW NOTHING ABOUT BEFORE I REPORT YOU. THIS IS NONE OF YOUR BUSINESS YOU IDIOT.

APOLOGISE.
Join 15,017 Monthly Readers! If you enjoyed this article and LOVE travel and SAVING money, get e-mail updates from Don't Stop Living – a lifestyle of travel! (It's Free) 😉 Jonny