Sunday's Golden Globes tribute to Woody Allen opened up, once again, a firestorm of criticism. Not of Woody the artist, the filmmaker, but Woody the man. The guy who had a relationship with his longtime girlfriend's adopted daughter. It's still a messy, unpleasant situation for a lot of people. Is it possible to look at Woody's films and career without always dredging up the Mia/Woody/Soon Yi debacle?
If it's possible to step away for a moment from the stone-throwing, and debating whether he was a perv or not (Rowan and Mia and Dylan say absolutely "Yes," a New York court judged "No" at the time), another difficult question kept coming to my mind. What is my responsibility, as a viewer, in a case like this? Do I need to keep an artists's morality in mind as I consider their work?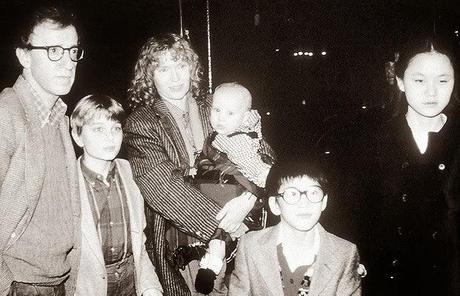 Woody and Mia and the kids
I guess I used to think the answer to that question was emphatically "Yes." I lived in New York in 1992
when the scandal was at its peak
, and I have to admit that I steered clear of Woody's films for quite a while afterward. But looking at his catalog, the films that he worked on and released in subsequent years after the scandal were far from his best (
Mighty Aphrodite, Bullets Over Broadway, Manhattan Murder Mystery
). I eventually started checking out his films again, first, tentatively, on cable, and then later, in the theater. Most of these didn't leave much of an impact. There were a few exceptions —
Deconstructing Harry, Everyone Says I Love You
, and the brilliant
Match Point
, which Woody set in London. Did he have to leave the U.S., like another scorned Hollywood director, Roman Polanski, to get his artistic groove back?
When I look at a Picasso painting or watch
City Lights
do I try to gauge their creator's morality against my own? Picasso was far from a feminist's dream, and Charlie Chaplin was well-known for his predilection for (very) young ladies. Should I care or even consider what the artist was up to in his off time, or just concentrate on the work? After due consideration, I tend to lean more towards the latter. That doesn't mean that I excuse or endorse bad or illegal behavior.
Woody and Mia had an unconventional relationship, maintaining separate houses and (sort of) raising her kids together. It's really no one's business except theirs what went on between them during their relationship. It is entirely Mia's business to protect her family both then and now from someone she deems a negative influence, even a predator. But does that mean that Hollywood should never honor his work? I don't think so. I have no problem with Ronan Farrow
tweeting
his disapproval, as well as Mia tweeting that it was time to turn the channel. They feel strongly, personally, about the man. As in the case of Roman Polanski, I think the wronged party should have their say and the rest of us take a step back. But if you, as a member of the audience, loathe the man, then simply turn the channel.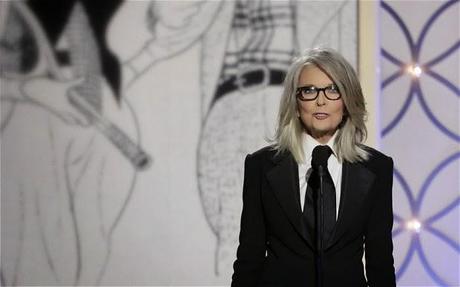 Diane Keaton accepts the Cecil B. DeMille Lifetime Achievement Award for Woody Allen
Possibly what set people off the most was not that Woody was being given an award, but Diane Keaton's loopy acceptance speech on his behalf. Woody has always shunned such gatherings and accolades. A public display of the accolade (the Cecil B. DeMille lifetime achievement award) was probably his worst nightmare. He was never going to show up. But to have Keaton up on stage free styling on
his great love of women and women's roles
— probably not the best idea. Folks who were maybe just a tad uncomfortable with the tribute were more than likely completely turned off by the end, especially when she started singing a Girl Scout song.
I tend to have a less black and white view of the world, the older I get. Would I let Woody babysit my daughter? Hell no. Did I find the Woody/Soon Yi romance creepy and beyond inappropriate? Most definitely. But if he puts out a movie that sounds interesting to me, will I go see it? Yes, I probably will. Woody Allen has made some great movies over the years. Everyone loves his "funny," early films, but my favorites are the ones he made in the '80s. Yes, the ones with Mia.
Broadway Danny Rose, The Purple Rose of Cairo, Hannah and Her Sisters, Crimes and Misdemeanors
. I love films by Polanski, too.
The Ghost Writer, Frantic, Rosemary's Baby
. And I'll let Samantha Geimer decide whether Polanski has paid adequately for his crime. I still like songs by Michael Jackson. "Black Or White," "Man in the Mirror," "Don't Stop 'Til You Get Enough," "Off The Wall." Life has so many gray areas, but does art?