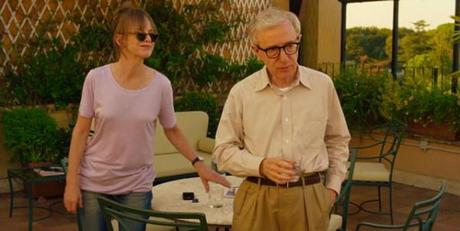 Last year, Woody Allen had one of his greatest financial and critical successes with Midnight in Paris. He will try to follow up that success with To Rome With Love. To Rome With Love has a lot of the more familiar elements of Woody Allen films including the fact that the movie is a vignette-based romantic comedy. The cast includes Jesse Eisenberg, Greta Gerwig, Ellen Page, Alec Baldwin, Penelope Cruz, Roberto Benigni, Judy Davis and Woody Allen will be back in front of the camera. It will be hard to match the success of his previous film, but hopefully To Rome With Love comes out alright.
Yahoo has the trailer. To Rome With Love opens on June 22.
The film consists of four vignettes, one of which a husband (Allen) and his wife (Davis) travel to Rome and meet the family of the Italian man their daughter is going to marry. Another of the vignettes will feature Benigni as a man named Leopoldo who gets mistaken for a movie star. A third segment will feature Baldwin as an architect from California visiting Rome with his friends. In a fourth segment two newlyweds go to Rome in order to visit some relatives but instead get lost in the city.
Did you enjoy this article? If so, we'd love to hear your thoughts in the comments below. It would be great if you subscribed to our RSS feed or signed up for email updates to get more goodness. There's lots more where this came from!