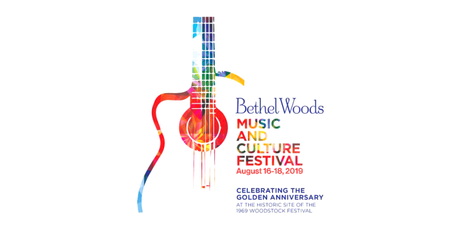 Bethel Woods Music and Culture Festival to Celebrate 50th Anniversary of Woodstock with Three Days of Music
It's hard to believe that the most beloved festival in music history will celebrate its 50th anniversary this summer, but it's true. And this summer, at Bethel Woods, live music, TED-style talks and special exhibits will all be scheduled exactly half a century after acts including Jimi Hendrix, The Who, Janis Joplin, CCR, The Grateful Dead and more thrilled more than 400,000 people.
The August 16 - 18, 2018 festival has not yet announced a lineup, but that hasn't stopped anyone from getting excited and hasn't stopped us from thinking about the artists we'd like to see included. We hope we're looking at a multi-stage, massive lineup, but we don't know. So, we've started with a list of 40 artists that we think would be a great fit in a festival that both keeps to the tradition of the original fest and updates things to 2019.
We've got returning entertainers, hall-of-famers, rockers, rappers, new country renegades, and what we think would be a great long weekend of music.
Check out our list, and leave a comment with artists you think should play at Woodstock's 50th anniversary, Bethel Woods Music and Culture Festival 2019!
artists listed in alphabetical order
Woodstock 50th Anniversary Festival Lineup Wishlist
Arcade Fire
These indie-rock darlings are loved by their hardcore fans, hipsters, and Grammy voters, and they'd make a great fit at a Woodstock tribute of any kind.
Alabama Shakes
They've got four Grammys, critical and fan acclaim, and our fingers are crossed that a new album is on the way. Put Brittany, Zac, Heath, and Steve on stage and let them rock out.
Arkells
These Canadian rockers are entertainers to the core with a live show that never fails to get people out of their seats and dancing. We've seen them on a festival stage before ( WayHome 2016) and know they've got the material, the gumption, and the pizazz to make a splash at Bethel Woods.
Ashley McBryde
This country singer-songwriter has had a helluva year, earning praise for her debut album, Girl Going Nowhere, and love from President Obama for her single Girl Goin' Nowhere as it landed on his favourite songs of 2018 list.
Banks
Banks has been celebrated as an artist since she broke onto the scene, and with a new album coming in 2019, she feels like a perfect addition to the festival.
Bob Dylan
Someone give us one good reason that Bob Dylan shouldn't be on stage at this festival. We'll wait.
Broken Social Scene
If you want folky rock that features a large cast of characters, top-tier talent, and a show that you can't predict, bring Broken Social Scene to the stage.
Cardi B
If you want to whip up the crowd, if you want to get some bodies moving, if you want fresh and contemporary included at the 50th anniversary of Woodstock, Cardi B's gotta be there.
Crown Lands
This duo is a throwback, they rock like the old days, they make a ton of sound, they ooze energy, and they are on their way to being big stars. This festival would give Crown Lands a chance to prove it and take a huge step forward.
Drake
Hit after hit after hit after hit, Drake just keeps them coming and shows no sign of stopping. Whether he takes the stage alone, or with a co-star, it would be a smash.
Eminem
Let Em mix the old stuff with the new stuff. Let him get a little political, let him get a little fired up, and the crowd will be right there with him.
Feist
Feist is a Grammy-nominated, Juno-winning, Coachella playing, multi-instrumental, indie pop artist that has all of the right Woodstock vibes for this.
Florence + the Machine
Bring the British indie rockers to New York and give them a big stage to play on. Fans, get ready to sway and dance and sing and love.
Foo Fighters
Biggest rock band in the world? Probably. Get these guys up on stage in front of as many people as you want and let them rock out, hard!
Gary Clark Jr
As a guitar player, Gary Clark Jr. has proved that he's good enough to hang with Clapton, B.B. King, and other legends. And as an artist, he brings rock, blues, soul and hip-hop to the stage. Let him show everyone that he's got a ton to offer, and entertain the hell out of the Woodstock anniversary audience.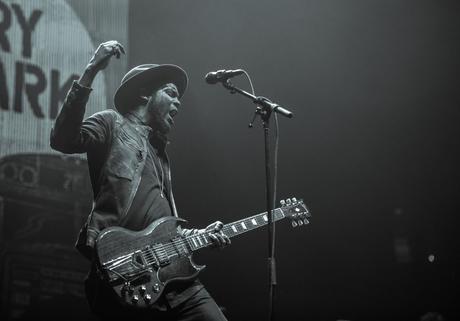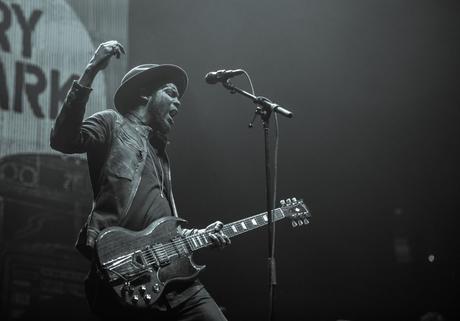 Greta Van Fleet
These throwback rockers are high on a lot of lists right now, give them a shot to bring the past to the present.
HAIM
Sisters Este, Danielle, and Alana are crazy talented, charismatic, and entertaining. Please let's get them on stage at this festival.
Jack White / The Raconteurs
Either solo or with the band, Jack White should be playing at the 50th anniversary of Woodstock. Can we all agree on that?
Joey Bada$$
Do you want some hip-hop at this festival? If yes, get Joey Bada$$ on the bill and let him go all in.
John Mayer
Tasty guitar licks, modern classic pop and rock songs, and John Mayer doing everything that he can to make things special. We'd bet on all of that.
Kacey Musgraves
Some country fans don't think she fits in, and that makes her perfect for this festival. Let her glitter and shine and follow her arrow and dance in the golden hour.
Kendrick Lamar
He's got 122 award wins, a Pulitzer Prize for music, eight more Grammy nominations for 2019, and he's as good as it gets. We've seen Kendrick Lamar on stage, we've seen him entertain tens of thousands, everyone else deserves the chance to see him too.
Meek Mill
He's Back!!!!
Get Meek Mill up on stage and give him the chance to cement himself as part of the now and the future, again!
Melissa Etheridge
She's a light and a legend and an icon, with a list of hits that includes Bring Me Some Water, Like The Way I Do, I'm The Only One, and Come To My Window. Give her the stage.
Neil Young & Promise of the Real
Dear Neil Young, 50 years ago you hit the Woodstock stage as part of Crosby, Stills, Nash, and Young, you are a legend if there ever was one. 50 years later, we think Canada's Uncle Neil deserves the opportunity to get on stage and play and deliver sermons about the environment and anything else he wants to do!
Noname
She has credited Avril Lavigne, Nina Simone, Andre 3000, Kanye West, and Missy Elliott as influences in her career, and she's got a new album, Room 25, to share, and she's awesome. Get this poet and performer up on stage and let her show it all off.
Oddisee
The DC rapper has released more albums, EPs, and mixtapes than we can count on two hands. He knows what he's doing, and he deserves a shot to show 'em all on a big platform.
Pearl Jam
They've done everything and played everywhere. They've released 10 studio albums, including the classic, Ten. And there are 16 live albums too. Let them get their Woodstock on.
Post Malone
He was born in nearby Syracuse, he's one of the brightest young stars in all of music, and if we're really looking to put on a big show here, it seems like Post Malone is a slam dunk addition to the lineup.
Santana
Santana played the original festival in 1969, so bringing Carlos and the band back in 2019 sounds perfect, and like the right thing to do. Someone make it happen.
Sheryl Crow
Legend. Pop, rock, country, she's got it all and she can do it all. Let her play the classics, let her play her favourites, let her do whatever she wants!
Sturgill Simpson
The country, Americana, singer-songwriter is a favourite among the people that know him and recognize his talents. Get him out to Bethel Woods and let him share his songs and stories. In the words of The Cadillac Three, "put old Sturgill on".
St. Vincent
We've seen St. Vincent on a big stage, we've seen her command a crowd and put on a show. And we would do it all over again. Get her and the band up at Bethel Woods for the 50th anniversary of Woodstock and let her show an even bigger audience what we saw.
SZA
With nine Grammy nominations in her young career already, SZA is making a name for herself in a big way. And if Kendrick is going to be there, let's get them up together to perform All The Stars!
Tenille Townes
The Canadian country music singer-songwriter is turning heads in Canada and the United States for her recent work, and the chance to play on a stage for people who want to hear real lyrics and stories would be a good fit.
The Beaches
These Toronto rockers are the real deal, and when Eliza, Kylie, Leandra, and Jordan get the chance to impress, they don't fail. Plus, Elton John loves them, and that's a good reason to give The Beaches some play on this big stage!
The Cadillac Three
This rockin' country trio gets as loud as any rock and roll outfit on the list, and they know how to party. Get them out here!
There's also new music coming from The Cadillac Three, and why not let them introduce it to a massive crowd?
The Carters / Beyonce & Jay Z
Do you want to see Beyonce and Jay Z at this festival? Of course you do. Do you need anything more than that? No.
Willie Nelson
The man is a legend, he's a hippie, he's still going strong, and it would be a mistake not to ask him if he wanted to play at Woodstock's 50th anniversary.
Wu-Tang Clan
All of the Wu-Tang Clan's living members have been on stage and reunited to perform recently, including a hot stop in Toronto. If you want legends at the 50th anniversary of this legendary weekend, these are your boys. Let them run through 36 Chambers, let them do whatever they want!