I love seeing products like this Wonderland Cask Strength Blend of Straight Whiskeys in the market. It's not a new idea to take whiskey from other distilleries and blend them to create something new, the whole Scotch industry is built on it, but it is fairly new in America… kinda. More like a modern resurgence really. Back in ye olden days of American Whiskey, Rectifiers would blend whiskey together from other sources to create their product.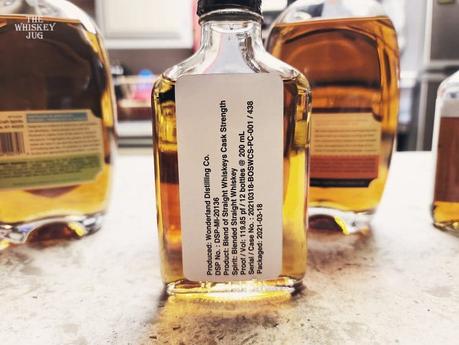 Four Roses, Old Forester and other big brands all started as "rectified" whiskey blended from multiple sources till their respective distilleries were established or bought. It's a long standing practice that pretty much died out due to prohibition and wasn't truly re-embraced till the last 10 years. For a while, you had High West and that was about it. Now you have HW, Barrell, Lost Lantern, these folks (Wonderland) and more sprouting up regularly.
Blending is an art, but it's an art that's only as good as the materials used, and American Craft Whiskey definitely has some duds. One might say that it's plagued by more duds than stars (me, I say that), but it's all about the source. If you source well and blend well, you'll end up with something good. Where does this Cask Strength Blend of Straight Whiskeys sit? That's the question at hand and we'll need to get to drinkin' to find out.
Wonderland Cask Strength Blend of Straight Whiskeys – Details and Tasting Notes
Whiskey Details
Style: Blended Whiskey (Straight)
Region: Michigan, USA
Distiller: Various (Undisclosed)
Blender: Wonderland Distillery
Blend: Corn Whiskey + Wheat Whiskey + Rye Whiskey
Cask: New Charred Oak
Age: 4+ Years
ABV: 59.925%
Cask Strength | Non-Chill Filtered | Natural Color
Price: $62*
Related Whiskeys: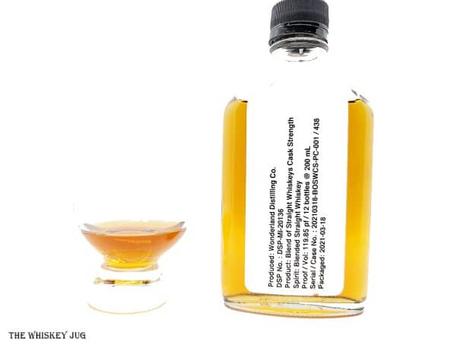 "Wonderland has concentrated the flavor of Michigan into its Cask Strength Blend of Straight Whiskeys, for the freedom to mix, proof, blend, and live life at our own pace." – Wonderland Distilling
Wonderland Cask Strength Blend of Straight Whiskeys Tasting Notes
EYE
Caramel
NOSE
Lemony copper, herbal baking spice, vanilla taffy and a light pop of oak.
Without water I'm not getting much out of the aroma. With water I'm getting a bit more wood and dried fruit… but only just.
PALATE
Lemony metal, tannic craft wood, dried fruit, stale spice and some odd herbal notes.
Water is this whiskey's enemy. Adding it shoots that tannic craft wood note right to the top and all I end up tasting is that woody note and the metallic lemon note.
FINISH
Med-long -> Crafty wood and metallic lemon.
BALANCE, BODY and FEEL
Not balanced, full body, dry and tannic feel.
---
Wonderland Cask Strength Blend of Straight Whiskeys – Overall Thoughts and Score
That tannic, crafty wood note keep growing as it goes and adding water makes it worse. This is an incredibly tannic, dry whiskey that instantly sucks all the moisture out of the mouth. It's like a cup of tea you forgot about and left steeping for an hour… but woody and lemony and metallic.
I get the idea, I like the idea. Blending craft whiskey together to make something new and interesting, but I'm not tasting success here. Lost Lantern is doing the same thing and they're not doing too bad at it, but it's all about the sources. If you're gathering crafty crap, and blending crafty crap, you're not going to suddenly get a good whiskey. I didn't think I'd be saying this, but I like this Wonderland Cask Strength Blend of Straight Whiskeys less than the regular Wonderland Blend…
SCORE: 1.5/5 (terrible, only recommendation is to avoid – C- | 70-72)
*Disclosure: The sample for this blended whiskey review was graciously sent to me by the company without obligation. The views, opinions, and tasting notes are 100% my own.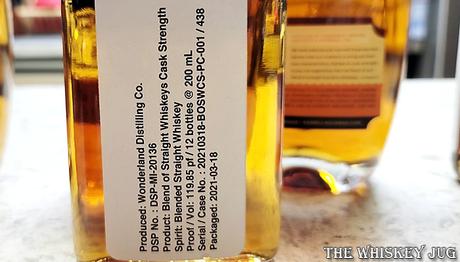 Wonderland Cask Strength Blend of Straight Whiskeys Review
$62
Summary
Not a successful blending of casks. Dry, tannic, metallic and harsh, this isn't something I'd sip again.
Overall
1.5
Nose

(1)

Palate

(2)

Finish

(1.5)

BBF

(1.5)
Sending
User Review
0

(

0

votes)
Comments Rating
0

(

0

reviews)

''''