Sprinkles Cupcakes, which has locations across the United States, is selling four limited edition Women's History Month white chocolate raspberry cupcakes this March, starting today, March 4, and ending March 24. They have three different sayings celebrating women and girls. From March 4 to 10, they're selling a pink cupcake that says "Who Runs The World? Girls" and from March 11 to 17, they're selling a cupcake that says "She believed she could. so she did." Then from March 18 to 24 they're selling a cupcake that says "Be You For You Do You." Finally, from March 25 to 31 to round out the month they're selling a Girl Power cupcake (actual letters: GRL PWR). Get all the details on their site.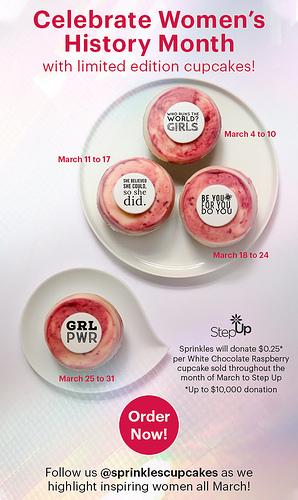 They also have some seasonal cupcakes. From March 4 to 17, they also have a shamrock cupcake for St. Patrick's Day, which has a chocolate cake base on the bottom plus green mint frosting and it's studded with mint dark chocolate M&Ms.;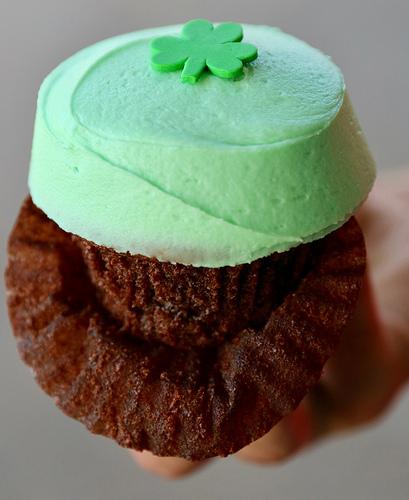 And I'm not sure exactly what these are celebrating but coming up they also have Flaming Hot Cheetos cupcakes! According to their website, those have a vanilla cake, which is cored and filled with Flaming Hot Cheetos, plus white cheddar cheese frosting and even more Flaming Hot Cheetos on top. Talk about a spicy cupcake!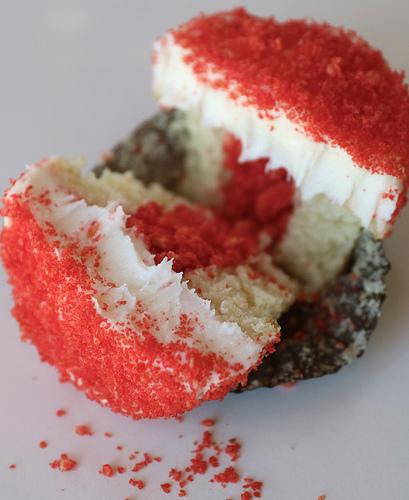 You can follow their website, where you can sign up for their mailing list to see what their latest specials are, and follow them on Instagram, Facebook and Twitter.