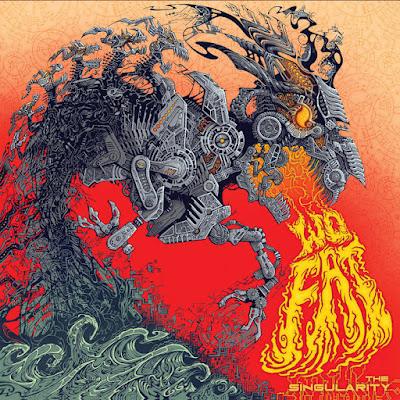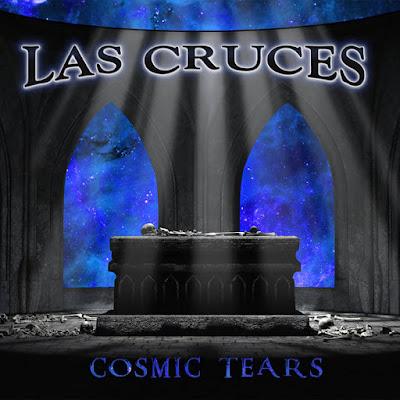 Red or blue, that's they're current color schemes, if you look at the album covers. It makes a nice & artsy-looking juxtaposition. Still, when I thought about it, there were a few other reasons I decided to go outside my normal box and talk about these 2 together. (As if anything about this clown Ray Dorsey is normal).
LAS CRUCES is from San Antonio TX. They formed in 1994 and have released 4 albums. The newest, "Cosmic Tears," was just released this year on Ripple Records and comes a full 12 years since their previous one, "Dusk."
WO FAT is from Dallas, TX. They formed in 2003 and have released 7 albums. The newest, "The Singularity," was just released this year on Ripple Records and comes a full 6 years since their previous one, "Midnight Cometh."
So there are some tie-ins:Both are bands from Texas. They've both released several albums over 20+ years. Each is signed to Ripple, so you know that they're heavy as fuck and they've each released new records recently after lengthy passages of time. So, you know both their fan bases have been waiting for new heavy-as-fuckness. Another thing, and one that I'm not especially proud of, is that my knowledge of both bands up till nowhas left something to be desired. Let's talk a few details then, as I do something about that last point!
LAS CRUCES has been absent from the new release rack for a long time. They originally began work on what would become "Cosmic Tears" in 2016/17. The lineup had changed with vocalist Mark Zamarron leaving in favor of Jason Kane. Then, the pandemic hit in early 2020 and worse still, their drummer Paul DeLeon died of Covid in early 2021. Despite these devastating circumstances and with Paul's drums already recorded, they've forged on & "Cosmic Tears" is the result. They come out swinging with the big doom riffs on opening instrumental, "Altar Of The Seven Sorrows, leading right into the 7:48 title track. I have to say that as a self-styled aficionado, melodic doom metal gets no better than this nor the 8 tracks that follow. Sure, there are aspects of CANDLEMASS here, and lovers of that band who don't already know these guys would do well to check them out. Still, keeping Texas in the equation, I'm reminded of the first time I heard SOLITUDE AETURNUS. I was then, and am now, like "Wow! This is doomy & heavy like the Sabs but with vocals that really soar, in a FATES WARNING/Ray Alder kinda way. Mando Tovar lays down leads that toe the wah in a very Iommian way and Jason Kane paints gorgeous vocal melodies over the top. The rest of the band crushes hard, & the thunderous drums of DeLeon are a bittersweet thing to hear. As I noted earlier, fans of CANDLEMASS, SOLITUDE A and Dio-era SABBATH need this. And if you've got LAS CRUCES' previous works, especially "Ringmaster," they haven't lost a step, in fact have gained a few. Songs that came in as favorites for me are "Stay," "The Wraith" and the lengthy "Egypt," but it all rules.
WO FAT, I'm ashamed to admit, is a name I've been more familiar with as the character on the old Hawaii Five-0 series. Still, this new release sent me back down the rabbit hole to re-explore the band's prior history. Having done so, I've not only found a few past choice holes in my collection, but can see that 6 years in the making has produced yet another gem. Granted, the band, thank goodness, hasn't had the tragedy LAS CRUCES endured in 2021. Still, they've emerged from the shitstorm of the last few years with this long-awaited album in tow. How does it fare?
Let me explain a little bit to you about why I've very easily adopted WO FAT into my inner sanctum. You see, the neighbors in my old family neighborhood would probably white-knuckle their easy chair arms at the sound of this band. Back in my teens, in the early/mid 70's my parents always knew where I was. God, did they. And so did the fucking neighbors. I was in my sweltering upstairs bedroom (facing the west!) all summer, with my Lafayette Electronics guitar & Kimberly amp cranked to 700 & plugged into a Big Muff Pi. I couldn't read music but I could listen to rekkids. I'd spin Side Two of "Flowers Of Evil" and then I'd launch.As many gnarling metallic riffs as I could find and then I'd just explore space, soloing for half hours at a time. I wasn't very good at it but I'd end up drenched in sweat and satiated. Temporarily.
Enter WO FAT. They're good at it. Very good at it:Unleashing torrents of caustic doom-laced metal riffs to build a memorable song and then casting off the shore in jam mode as guitarist Kent Stump slings long, seething runnels of distortion-laced lead across a baking desert landscape. Highlights? That's like asking about what side of the sun you'd like to be sucked into. This is simply neutron star materiel from pillar to post. But I'd be remiss as a country motherfucker if I didn't list my personal favorites, "The Witching Chamber" (9:26) and "The Oracle" (16:33). Through the course of the album, Stump's vocals tell hypnotic stories of darkening things but it's the music that is the real narrator here. And it will hold you rapt.
It's funny. I mentioned several things earlier on about why it seemed cool to review these 2 albums together. Yet the most important reason may have just struck me now. Sure, there are a whole lot of great young bands coming out now, doing the heavy music we love. Yet here are a couple veteran bands, lifer guys, the lot of 'em. They've each not only held their own with the young guns but put their best feet forward in 2022. DOOM!!!
-Ray Dorsey
LAS CRUCES:
George Trevino - rhythm guitars
Paul DeLeon - drums & percussion
Jimmy Bell - bass guitar
Jason Kane - lead vocals
Mando Tovar - lead guitars
WO FAT:
Kent Stump - guitar, vocals & rhodes
Zack Busby - bass
Michael Walter - drums, congas, bongos, shakers, percussion, vocals
www.ripple-music.com