In a World Run by Men, Two Women Pioneer an Industry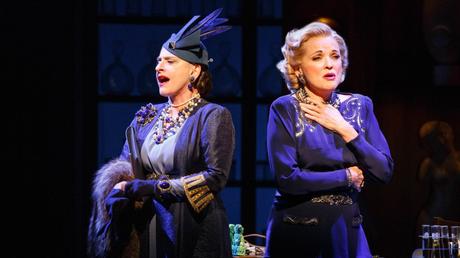 Photo Credit: Playbill
The highly anticipated debut of "War Paint" starring Tony Award winners Patti LuPone and Winnetka-born Christine Ebersole was worth the wait. This world premiere paints a musical picture of cosmetic queens Helena Rubinstein and Elizabeth Arden, who defined an era and launched an industry.
Helena Rubinstein (LuPone) and Elizabeth Arden (Ebersole) were women ahead of their time, or maybe at the right place at the right time, who made their mark on American women and society. What they sold was hope. They were brilliant innovators with humble roots, who were fierce competitors, not even able to mention the other's name. They were the first to create and lead international corporations when women were accustomed to being in the kitchen, not the lab. Both made great sacrifices in their personal and professional lives, switching lovers and marketing gurus as they battled Congress, Fifth Avenue, and a fickle marketplace of women. The references to competitors Charles Revson and Estee Lauder who successfully targeted the drugstore market were met with knowing laughter. And incidences of anti-Semitism and other snubs made the story even more real. When two legends finally meet in person some 50 years later, they come to realize how great they could have been together.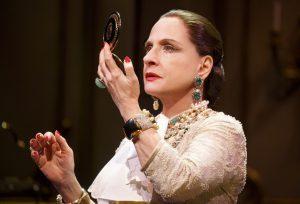 War Paint, Goodman Theater
"War Paint" reunites Scott Frankel and Michael Korie—the acclaimed composer and lyricist team of "Grey Gardens" and "Far From Heaven"—with Tony Award and Pulitzer Prize-winning playwright Doug Wright ("Grey Gardens," "I Am My Own Wife," "The Little Mermaid"). Expertly directed by Michael Greif, he kept the story moving at a fast pace. Songs and dances were clever and full of meaning. The musical is inspired by the book, "War Paint", by Lindy Woodhead, and the documentary film, "The Powder & The Glory."
LuPone and Ebersole are outstanding, performing with the presence of divas and the prowess of powerful vocals. They play off of each other with humor and sarcasm, making the audience wonder about their real life relationship.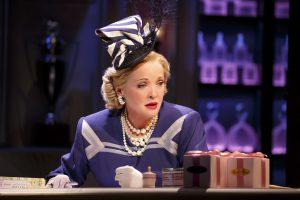 War Paint, Goodman Theatre
Patti LuPone is most well known for her role in "Evita" (Tony and Drama Desk Awards) as well as "Gypsy" (Tony, Drama Desk, Outer Critics Circle and Drama League Awards) and John Doyle's production of "Sweeney Todd" (Tony, Drama Desk, Outer Critics Circle Award nominations). LuPone is also a founding member of the Drama Division of The Juilliard School and of John Houseman's The Acting Company and the author of the New York Times best-seller, "Patti LuPone: A Memoir."
Christine Ebersole has received virtually every off-Broadway award and her second Tony Award for Leading Actress in a Musical for her dual performance as Edith Beale and Little Edie Beale in "Grey Gardens." She also received a Tony Award as Dorothy Brock in the smash hit revival "42nd Street." Other Broadway roles include "Steel Magnolias," "On the Twentieth Century," "Oklahoma," and "Camelot" opposite Richard Burton.
Mention must be made of Catherine Zuber's gorgeous, elegant costume designs, which reflect the changing times. The costumes in the glittering "Fire and Ice" number are sexy and sensational.
Don't miss your rare chance to see these two divas together on stage. Due to high demand, "War Paint" has been extended for a second and final time through August 21. For tickets, call 312.443.3800 or visit GoodmanTheatre.org/WarPaint.
All photos by Joan Marcus