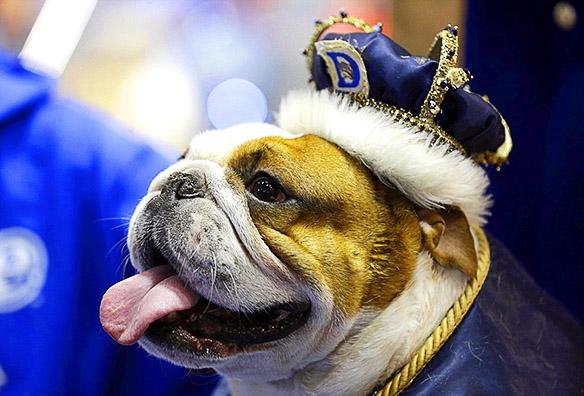 4-year old Huckleberry takes the crown this year at the 34th Annual "Beautiful Bulldog" contest | AP

They say that beauty really is in the eye of the beholder - in the human world that is, but this week 47 slobbering contestants competed for the crown, cape and title of this years "Beautiful Bulldog".  You won't believe your eyes until you see the full spectacle of how these pooches held court!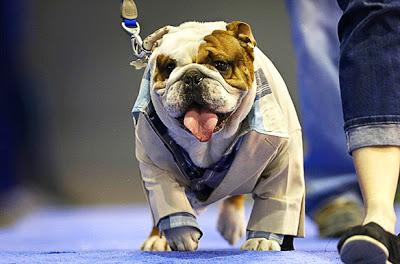 Huckleberry with his Forest Gump outfit walks the stage
before being crowned the winner | AP

Held annually at Drake University in Des Moines, IA, this year's 
34th Annual Drake Relays track and field meet. T adorable winner was 4-year old pup named Huckleberry. As a past contender in 2010 who wore a mohawk, this year Huckleberry snatched the crown as he strutted down the blue runway in a beige outfit as the main character in the film "Forrest Gump" which his owner Stephanie Hein spent weeks shrinking and sowing that included a blue-checkered
T-Shirt similar to the one worn by Forrest in the movie 
"Forrest Gump"
.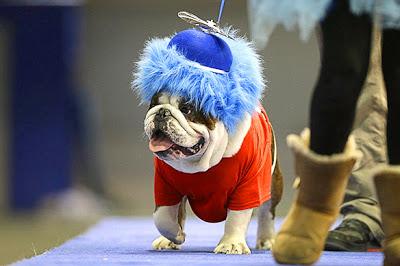 Capone Sabotage dressed as the "Thing" character from Dr. Seuss | AP
Huckleberry beat out 46 other Bulldog contestants vying for the coveted title. 
"He was just a puppy then," recalls Hein on Huckleberry's first attempt. "But he's certainly grown into himself now," according to an interview by 
AP
Other contestants put up a good show with costumes ranging from a Dr. Seuss costume dressed as a "Thing" character, another sporting an eye patch and fake hoop-earring to match his owner's Pirate-themed attire. A Bulldog named Diva wearing a Tutu won title of best dressed.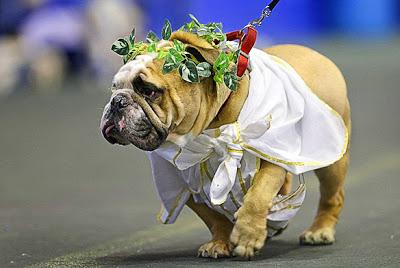 Zeus the  Bulldog sports a Greek Toga in true Greek spirit | AP
Drake University's mascot is of course a Bulldog. Every year the winner of the annual pageant becomes the official mascot for the relay track and field meet event, quite a title of responsibility for the selected pooch.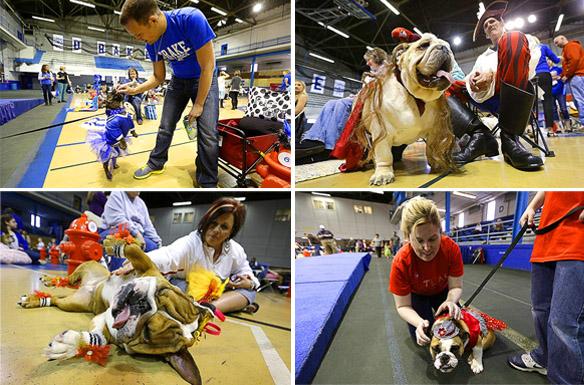 Contestants and their owners get prepped for the big event | AP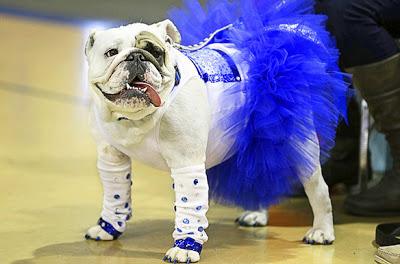 Diva the Bulldog looking stunning in a blue frock | AP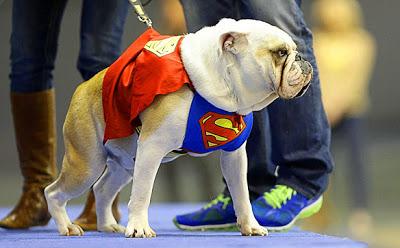 Buster, Cape-crusading Bulldog looks to the crowd | AP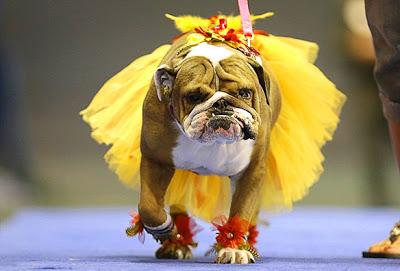 Addie, struts the runway in a dress for a queen | AP


SOURCE:  

AP | Daily Mail