Why now?  That must have been the reaction many X-Men fans felt yesterday upon learning that director Bryan Singer had taken to twitter to rather succinctly announce:
"#Xmen #Apocalypse 2016!"
Legitimizing this news was 20th Century Fox who later clarified that indeed a movie entitled X-Men: Apocalypse is now scheduled to be released on May 27, 2016 [viaVariety via LivingTheGeekLife].  We don't know who's producing, writing, or directing it nor do we know who is set to star.  We can assume that since Singer is the one who made the announcement that he'd be back as would longtime franchise producer Lauren Shuler Donner.  Inevitably, with no more concrete information the rumors have already popped up, specifically that Apocalypse will be a direct sequel to Days of Future Past and again feature a cast comprised of First Class actors and original trilogy actors [via BleedingCool via ScreenCrush].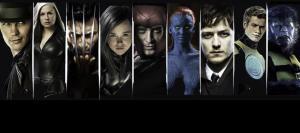 Before yesterday, we hadn't heard a single thing about this now-confirmed movie, an extreme rarity in a spoiler-filled era of movie development.  As far as the X-Men franchise was concerned, we knew that X-Men: Days of Future Past is due to come out this May, James Mangold and Hugh Jackman are working on a story for a sequel to The Wolverine, and Kick-Ass 2 writer/director Jeff Wadlow has finished a script for a potential X-Force film, X-Force being a more aggressive off-shoot of the X-Men in the comics.  We'd also heard rumors that Days of Future Past's budget had grown to such a level to now make it the most expensive film in X-Men franchise history.  Lacking anything else, it had been assumed by some that perhaps X-Force would be the follow-up to Days of Future Past.
However, now all of a sudden we know that Fox is going all in on X-Men, so confident in Days of Future Past that they have already committed to a sequel.  This is probably just as surprising as this past June when Sony appeared to stun even their director (Marc Webb) and star (Andrew Garfield) by announcing a fourth The Amazing Spider-Man film to be released in 2018.  But, again, why now?  We're still 6 months away from the release of Days of Future Past, and now we're talking about a sequel?  Is this just because Jennifer Lawrence is so hot right now given Catching Fire and American Hustle?  If so, they would have at least verified whether or not she'll even be involved in this new X-Men movie.  It is also entirely possible Singer jumped the gun and announced something he wasn't supposed to, putting Fox in a bad position.
Well, given some time to process this information many have noticed something else that happened yesterday, and now they're connecting the dots.  As exclusively revealed by The Hollywood Reporter yesterday, writer-producer Simon Kinberg re-upped to a 3-year deal with 20th Century Fox.  Why is this important?:
"Kinberg is heavily involved with next summer's X-Men: Days of Future Past and the studio's upcoming Fantastic Four reboot as both writer and producer. The new deal lets him continue to expand those franchises into full-blown universes, with the hope of creating for Fox something akin to the Marvel model of interlocking movies. 'I have a lot of ideas on how to built those brands and do what everybody is thinking of these days: Be like Marvel,' Kinberg tells The Hollywood Reporter. 'I want to be able to build stories over multiple movies.'"
By some reports, it was Kinberg who first suggested adapting Days of Future Past as a way to bridge the gap between First Class and the original trilogy.  Surely, it is no coincidence, then, that the day he officially committed to three more years at Fox his Days of Future Past director (Singer) announced a sequel.
So, Fox got their guy to help orchestrate their shared cinematic universe, possibly even eventually doing something involving both The Fantastic Four and X-Men.  Comic book writer Mark Millar was thought to already be doing that for them in his role as a consultant, like a lesser-Joss Whedon.  Millar is still there, but now he's got some major back-up from Kinberg for at least three more years.  However, for reasons argued more extensively elsewhere on this site Days of Future Past is a both a colossal financial and artistic gamble on Fox's part.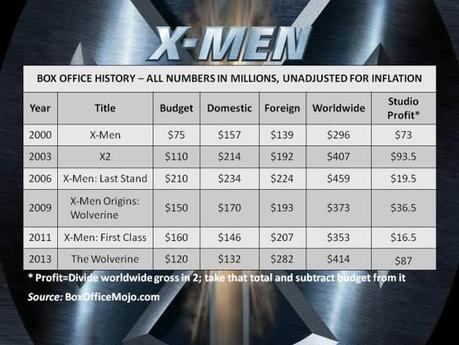 This is a film franchise which ever since X-Men: The Last Stand in 2006 has been declining rather sharply at the domestic market while rebounding significantly from an initial decline at the foreign market.  On the plus side, the foreign market has never been more important to a film's bottom line than it is now, and The Wolverine was made for a rather modest budget of $120 million.  On the down side, the last time they spent over $200 million on an X-Men film (X-Men: Last Stand) they recouped dang near the lowest studio profit in franchise history.  Remember, studios generally have to split box office gross 50/50 with distributors meaning the rule of thumb is that for a studio to break even let alone make any money the movie has to at least double its production budget.  It's because of this that many films don't actually make money for the studios until secondary sales from from toy, home video, and cable sales, something which is not captured in the above table nor does the table factor in marketing costs.
If the rumors about Days of Future Past's budget are to be believed, Fox is heavily investing in this franchise.  Perhaps they think that since this will be the first major superhero team-up to hit the screens since The Avengers they'll be able to pull in some of that sweet Marvel dollar and join the $1 billion club.  To do so, they are entrusting the franchise back into the hands of Bryan Singer, who was riding high when he jumped ship after X2 and took over Superman.  Since then, though, he let the budget for Superman Returns get out of control and thus set the bar for profitability too high, and gave us one of the biggest box office bombs in history earlier this year with Jack the Giant Slayer.  In other word, it's been a long 10 years since he was the guy who directed X2.
However, you've got to admire Simon Kinberg's honesty in straight up acknowledging that they are trying to copy off of Marvel.  Leveraging their intellectual properties to create their own shared cinematic universe is absolutely the way to go for Fox, and by announcing a sequel for Days of Future Past this early they are sending out a clear vote of confidence.  We will now have a new X-Men movie in 2014, new Fantastic Four in 2015, and a follow-up X-Men movie in 2016.
Regardless of anything to do with money, they are at least riding a hot streak right now since First Class and The Wolverine are both generally good movies.  They are still repairing the damage to the critical reputation of the franchise after The Last Stand and Origins: Wolverine.  Plus, by tipping their hand about Apocalypse they are signaling to fans that there is a bigger plan in place and a larger story to be told.   And although it would certainly be embarrassing if Days of Future Past is a financial disappointment there's no reason Apocalypse couldn't be delayed or canceled.  After all, if a studio announcing a comic book movie title and release date was so ironclad we would have had a Batman Vs. Superman movie way back in 2004 after WB announced it in 2002.
So, Who or What Is Apocalypse?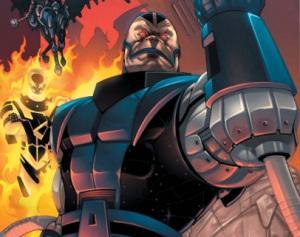 In the comics, Apocalypse is basically the X-Men's version of Thanos, a central, all-powerful bad guy.  SceenCrush has a primer on Apocalypse from the comics, but they, as most others are, assume any Apocalypse film would be an adaptation of the 1995 comic series "Age of Apocalypse" from Scott Lobdell:
Charles Xavier is dead – killed 20 years in the past during a freak time-travel accident – and the world that has arisen in his absence is dark and dangerous indeed. The Darwinian conqueror Apocalypse rules with an iron fist, ruthlessly enforcing his dictum that only the strong shall survive – and in Apocalypse's long shadow, hidden among a downtrodden humankind, are a group of ragtag freedom fighters led by Xavier's oldest friend, Magneto: the Amazing X-Men! When Bishop, last survivor of the true Marvel Universe, locates the X-Men and explains how the world went wrong, these embittered mutants and their tenuous allies must risk everything – and undertake a dangerous and multi-pronged quest – to put things right!
Days of Future Past currently has a scheduled 5/23/14 domestic release date.  Check out the trailer below and leave any thoughts you might about this article in the comments section: