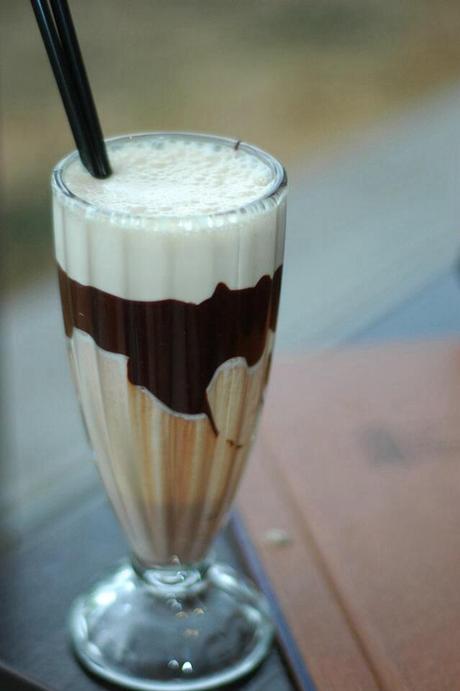 The cold wind has set in and the snow is starting to fall. Winter wants usually go as follows: warm socks, reliable boots, and a coat that uses your body heat to create a personal furnace. It is a fact that winter serves up its fair share of cold but that doesn't mean you have to give up your favorite flavor of ice cream! Here are ten wonderful places to enjoy a scoop during the winter months:

Served up "a la mode" during the holidays: Whether or not you get along with your family, ice cream can make any gathering of familiar faces a little bit more enjoyable. Make sure to check out our post on pie and ice cream pairings for a few delicious places to start.
At the Movie Theater: Many movie theaters now sell a selection of ice cream along with other typical movie treat favorites. Shake up a regular cold weather outing with a dish that reminds you that summer days are slowly approaching.
On Top of Hot Chocolate: Okay, so this isn't technically a "place" but who wouldn't be smitten over the idea of melted ice cream and a cup of warm hot chocolate? Kick back after a day of sledding or holiday shopping with a little bit of merry in a mug.
Your Favorite Shop: If it isn't broken, don't fix it! Many of your favorite shops are still open during the winter and they would sure love some business. Give your favorite summer haunt some winter love while enjoying either a seasonal flavor or a personal classic.
At Home During Holiday Cookie Baking: Even some of the most unseasoned bakers pull out their apron once a year for holiday baking. Take the experience to the next level by smushing your favorite ice cream in between two warm cookies.
On Vacation: With the kids out of school, many families use this break from the daily grind to go somewhere new and exotic. Use your vacation as an opportunity to try local ice cream shops or nosh on an exotic flavor. There is always something new to try.
Inside Your Favorite Museum: Ice cream might not be the sole reason for an educational outing. New exhibits and a chance to get out of the house might be reason enough. But many food courts offer bars and bowls that can add a little something extra to your trip.
In Front of the Fireplace: Curl up in your blanket, watch the fire roar, and enjoy the winter weather blowing outside your door. It's really that simple.
At Home with Your Kids: Looking for something fun to do with your kids during winter break? Consider making ice cream! The possibilities are endless: snow ice cream, coffee can ice cream makers, or crumbling extra holiday treats into a ready made pint!
While Watching Holiday Parades: And for those of us who might just be a little vindictive, watch others freeze outside on the parade floats while you eat ice cream from the comfort of your couch. A little evil? Maybe. Enjoyable? Definately.