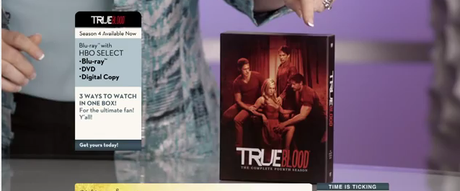 Just a little over a week ago we here at True Blood Fan Source and Kristin Bauer Online announced that we would be giving away two True Blood Season 4 Combo Packs to our readers. And now I'm happy to report that we have our winners! In order to enter, readers had to give their favorite moment of season 4 and what they couldn't wait to see in season 5. Many of you entered and two winners were chosen from each site. Without further ado here are the winners and their answers:
True Blood Season 4 Combo Pack Winners
Brooke Knox
"Gosh there are so many favorite moments. The best visual moment was when Sookie is trapped in the Goddess Emporium and Bill and Eric are outside. After some bickering and Jessica grabbing an oozie, Bill, Eric, Pam and Jessica, all dressed in black….. walking toward the building in slow motion, side by side, ready to kick some witch butt, like a freakin' kick a** swat team.!!! That was bad a**!!!!!"
Latoya Washington
"My favorite part in season 4 was when Pam was pissed about Eric's willingness to die for Sookie and how obsessed he is with her. "I'm so sick of Sookie and her Fairy Fucking Vagina!" I could not stop laughing. I love that Eric is showing his softer side in this season. I also loved the scene where Sookie is looking very voluptuous and sexy with Bill and Eric both telling her that she should be with one of them. And she explains that she wants them both. YUM! So amazingly spicy and hot. I love everything about True Blood, I've been a faithful watcher since the very first episode, I just can't get enough! Truebie till the end. I cannot wait till season 5, I want to see how The Authority operates and so excited to see the yummy Detective Elliot Stabler (Chris Meloni) in this season. And as always I'm dying to see what Sookie must endure this season. She's one tough cookie, in all honesty I can't wait to see how everyone is and what's in store for the people of Bon Temp…..does Tara live or die…or maybe she becomes the living dead? Ohh please let her be a vamp, she would be so amazing to watch considering her aversion for the living dead."
True Blood Fan Source "Blood Sucker" wristband Winners:
Irene Quinonez
My favorite moment from season 4 was when Eric got drunk from drinking all of Claudine's blood and ran off and then Sookie & Alcide find him swimming in the lake. I loved it all starting with Alcide undressing before he changed, Eric telling Sookie to come play with him, Sookie telling Eric to get out before the big gators bite off his you know what & Alcide "growling". Definitely my favorite moment.

What I look forward to most in Season 5 is seeing Bill & Eric work together, that should be interesting.
Sherry Davidson
"My favorite moment from Season 4 was when Marnie finally went away. I really didn't like her. For Season 5 i'm waiting to see if Tara is alive or dead, and more of Pam and Eric."
Congratulations to all of the winners!
Image Credit: HBO, Inc.