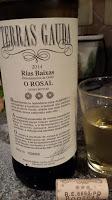 Whereas the first month of #WineStudio's Rías Baixas focused on Albariño, this month we are discussing other allowable varieties even though they constitute only 10% of all plantings. According to the Rías Baixas website, these grapes are Treixadura (traditionally blended with Albariño), Loureiro (a high-quality local variety particularly associated with O Rosal), Caiño Blanco, Torrontes, and Godello. Caiño Blanco almost disappeared from Rías Baixas in the 1980s until Terras Gauda resuscitated it after discovering its inherit qualities. According to the winery, Caiño "adds aromas of exotic fruits, balsamic notes and, most importantly, great structure and singularity". The first week of the 2nd session on Rias Baixas featured two wines from wineries located in the O Rosal sub-region which borders Portugal and is adjacent to the Atlantic Ocean.
These two wines provide a distinct comparison between a simple 100% Albariño and an Albariño based blend. Cheers to Rías Baixas.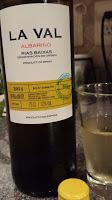 2014 Bodegas La Val Albariño DO Rías Baixas Condado do Tea ($17) - the winery is located in O Rosal, close to the Miño River. This 100% Albariño wine plows straight ahead with grape fruit flavors until the time delayed acids. A simple, but refreshing wine.
2014 Terras Gauda O Rosal DO Rias Baixas ($24) - this wine is a 70% Albariño, 15% Caiño, and 15% Loureiro blend. Terras Gauda is located in the extreme southwest of the province of Pontevedra and the Loureiro comes from  high altitude and cooler vineyards This leads to more intense aromas and along with the Caiño helps produce a more complex wine with an interesting stone fruit interface. The finish provides a bit of citrus tang and decent acids.