Protocol Wine Studio's Online Session 32 online session continued with two Italian wines from Tanaro River Imports. And like last week's Florian Beck-Hartweg wines, George Tita has focused on two young winemakers utilizing old world methods.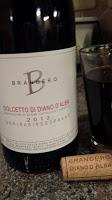 Azienda Agricola Brangero 2012, Dolcetto di Diano D'Alba "San Rabino Soprano" Piemonte, Italy ($18, 13.5%) is produced by 3rd generation winemaker Marco Brangero in the town of Diano di Alba. This area is an approved Denominazione di Origine Controllata e Garantita (DOCG) for Dolcetto as it's high elevation favors the early-ripening grape. On the front end Dolcetto is known to be soft and fruity, yet the wine comes to abrupt u-turn at the finish delivering a healthy dos of astringent tannins worthy of its Nebbiolo cousin. This wine from Brangero Winery is fermented and aged entirely in steel including long maturation process. Thus there are no outside wood influences which leads to a soft tart cheery wine with rustic earthiness finishing with almond like astringent tannins.  Beaujolais with teeth.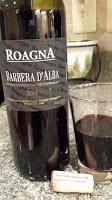 Cantina Roagna Giuseppe di Marco 2014 Barbera d'Alba Roero, Italy ($18, 14%) is produced by another third generation winemaker Marco Roagna from Priocca, a small town in the Roero. The soil contains more clay than other vineyards in the area so Marco's grandfather Bartolomeo selected clones that were best suited for this specific soil profile. Until the early 1980's the family was just selling it's fruit on bulk, but when mad cow disease wiped out the family's herd of livestock, Marco's father Giuseppe turned to a more higher yielding investment - wine production. Barbera is one of these wines and it's the complete opposite of the preceding Dolcetto. The initial taste focuses on it's juicy sour cherry flavor followed by an herbaceous and lively underbelly. There are plenty of acids with will allow this wine to age for a few more years. It finishes softly with easy tannins. This is one friendly and approachable wine. 
Session 32 of #Winestudio concludes tonight, February 26 at 9Pm ET. Join the conversation.