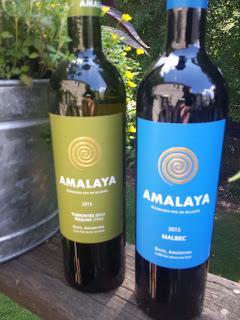 At it's highest peak - 5,900 feet (1,800 meters) above sea level - the Calchaqui Valley is one of the highest viticulture regions in the world.  The high altitude provides intense daytime sunlight and cool nights that help better retain the acidity and concentrated fruit characteristics of the grapes. The valley lies within the Salta Province of NW Argentina and specializes in Torrontés and Malbec grapes. There are three varieties of Torrontés with Torrontés Riojano (the most common), Torrontés Sanjuanino, and Torrontés Mendocino. Each are believed to be separate crossings of the Mission grape and Muscat of Alexandria. And Salta is its main base in Argentina.
I recently received two wines from Amalaya, part of Hess Family Estates. Amalaya translates to "Hope for a Miracle" from the native Calchaqui Indians and that's how Donald Hess felt regarding his first investment in Argentina in the vineyards of

El Arenal

. No need for miracles as grapes thrive in the Calchaqui Valley and Hess Family expanded their acreage. Today the grapes for the Amalaya brand are harvested from the Finca San Isidro Vineyard and Las Mercedes Vineyard. Both are located in arid parts of the Calchaqui Valley with the main difference being soil types.
2015 Amalaya Blanco ($12; 85% Torrontés / 15% Riesling) Sourced from the Finca San Isidro vineyard, this is the first time I've seen this blend composition. Torrontés is generally aromatic and this blend elevates the peach characters and possibly the grapefruit flavors as well. This is a fresh, acidic wine; very refreshing and favorable at that price.
2015 Amalaya Malbec ($16; 85% Malbec, 10% Tannat, 5% Syrah) Sourced from both the Finca Las Mercedes and Finca San Isidro vineyards. A quarter of the wine was aged in once-used French Oak barrels for ten months so while this wine is fruit forward and smooth there's a dusty, spicy, and vanilla character resulting from the oak. The finish is very easy, very easy.