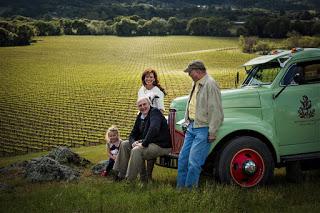 Welcome to Winephabet Street Season 2 Episode 9 - I is for Indigenous Yeast. Winephabet Street is a monthly series where Lori Budd of Draceana Wines and I work our way through the alphabet exploring wine and wine regions one letter at a time. The show is live on the third Monday at 8pm and is free, but you must register to attend. Put it on your calendar, pour yourself a glass of wine and hang out with us.
This month we have a special guest - Guy Parcurar from Fathers + Daughters Cellars. All their wines in their portfolio are produced with indigenous yeast. Guy talks about his wines and the indigenous yeast found in the vineyard and winery.
You may not realize if you are drinking a wine made with indigenous yeast. Look on the label as it can be labeled
Ambient yeast
Feral yeast
Wild yeast
Native yeast
The yeast is carried in on the grapes and occurs naturally in the vineyard. Once in the winery there is yeast that is present in that environment. They call the yeast in the winery - finishing yeast. There can be some complications from using indigenous, like a stuck fermentation. It can be very finicky and the winemaker has to watch and monitor the winemaking closely.
Fathers + Daughters Cellars
Listening to Guy talk about his journey into wine and the creation of Fathers + Daughters Cellars flashed memories of special times I had with my father. Especially looking at their lane, a big memory trigger.
Fathers and Daughters is a journey of a family of fathers and daughters. Guy moved up to Mendocino County and purchased an inn - Brewery Gulch Inn. Then he met his beautiful wife Sarah Schoeneman, whose father owns Ferrington Vineyard in Anderson Valley.
The family always sold the grapes from Ferrington Vineyard and never made wine. When Guy and Sarah had their daughter Ella, they decided to make a Pinot Noir to celebrate her birth. That is where it all began. The currently produce approximately 600 cases of wine. The wines they produce are: Pinot Noir, Sauvignon Blanc, Chardonnay, Gewurztraminer, The Dance which is a white blend, Rose of Zinfandel, Petillant Naturel (Pet Nat) and an occasional cider.
I had the opportunity to taste 4 of their wines. My tasting notes are below.
Most important
,
please watch the video or listen to the podcast for all the detailed information about indigenous yeast and
Fathers + Daughters Cellars
with Guy Pacurar. He talks about everything from his family, the vineyards, the yeast and production.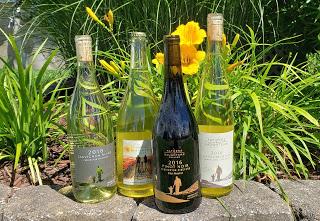 Fathers + Daughters Sarah's Rustic Bubbles 2018 SRP $21
- This is a petillant naturel rustic sparkling wine made with 100% Chardonnay from the Roederer Estate Vineyard. Very nice and easy drinking with notes of pineapple, citrus, melon and some stone fruit with hints of minerality. Guy said it pairs well with breakfast danishes. I can see why. It has a slight sweetness to it but balances out with the acidity.
Fathers + Daughters Sauvignon Blanc 2018 Ferrington Vineyard SRP $25 -
Pale in color with aromas of lemon and some herbal notes. Moves to a palate of juicy pink grapefruit, apple, balanced acidity with apple and a hint of lemon curd on the finish sprinkled with cinnamon.
Fathers + Daughters Gewurztraminer 2016 Ferrington Vineyard SRP $23 -
Lovely aromas of jasmine, floral, pear and lychee notes that lead to a palate that is soft and silky with layered flavors of pear, tropical fruit, lime and pineapple. The finish has a touch of sweetness to it.
Fathers + Daughters Ella's Reserve Pinot Noir 2016 Ferrington Vineyard SRP $52 -
This is the wine that started it all. It is a stand-out. The aromas are just coming at you from the glass. Black Cherry, pomegranate, hints of roses as you swirl the glass. Complex plate that is well balanced with flavors of raspberry, bright red cherry, pomegranate with a hint of black spice on the finish mixed with the lingering flavors as it winds down.
Watch the webinar or listen to the podcast
For more episodes of Winephabet Street visit
http://winephabetstreet.com/
Webinar
Podcast