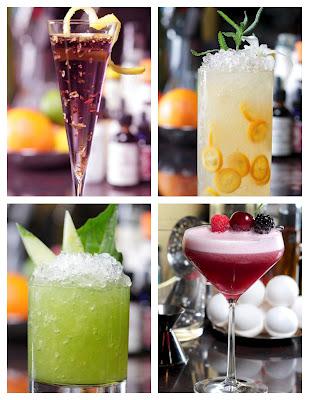 Craft Cocktails Texas is a new 4-day festival designed to celebrate the growing movement toward craft cocktails, artisan spirits and classic techniques being employed at bars and restaurants throughout Texas.
The brainchild of local bartenders and consultants, Nico Ponce (The Instigator) and Brian McCullough (Co-Founder), Craft Cocktails Texas will take place June 14th through the 17th.
Part conference and part cocktail party, Craft Cocktails Texas will feature a variety of educational seminars, spirited tastings, happy hours and competitions, as professionals and enthusiasts alike explore Texas' craft cocktail scene.
Though based in Dallas, Craft Cocktails Texas will draw participants and attendees from throughout Texas, as well as nationally-recognized spirits brands and industry veterans from around the nation. "Some of the country's best cocktails are being made right here in Texas," said Founders Nico Ponce and Brian McCullough. "Through Craft Cocktails Texas, we're excited to showcase our state's talented bartenders, while also offering educational resources and networking opportunities to industry professionals and liquor brands."
 A portion of proceeds from Craft Cocktails Texas will benefit the Youth Foundation of the American Heart Association and the North Texas Chapter of the United States Bartenders Guild. For more information, to review the full list of events and to purchase tickets, please visit craftcocktailstx.com.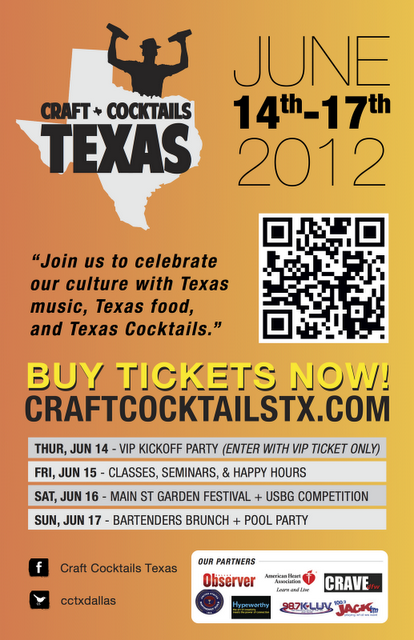 Sounds amazing - right? Well, here's your chance to attend this boozy event for free! I have 2 pairs of tickets to the VIP opening night party and 2 pairs of tickets to the USBG event at Main Street Gardens!
To enter to win leave a comment on this post and tell me, what's your favorite cocktail? 


I will pick the winner at random from all qualified comments and announce them on Monday, June 11 at 5PM. 


Kick off party: http://www.prekindle.com/promo/id/22349996750106499
2 VIP Opening Night tickets = $300 value
USBG competition: http://www.prekindle.com/promo/id/22349996749992644 2 USBG Competition tickets = $80 value